Best free plug-ins this week: Burier, Dyno Mod and ttm000
In this week's collection of free plug-ins: Bury your signal in rich saturation with the savage Burier plug-in from KIT, bathe your electric pianos in the classic Dyno Mod effect and have some fun with a funky virtual tonewheel organ for Windows. Here's Burier, Dyno Mod and ttm000.
KIT Plugins Burier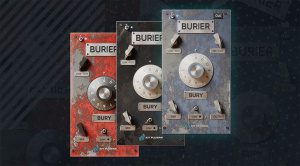 Burier is a saturation and filter plug-in with a "seriously savage" saturation stage. The large knob in the center lets you dial in anything from subtle harmonics to full-on carnage. The pair of resonant high pass and low pass filters feature a 12 dB slope and are based on an analog state-variable filter circuit. There's a mix knob for parallel processing, and you can choose from three color schemes. The developer says that it works on anything: drums, bass, synths, guitars, vocals – you name it!
Burier is available for macOS 10.11 or higher (M1 not supported yet) and Windows 7 or 10 (64 bit). It comes in VST3, AU and AAX formats.
Sampleson Dyno Mod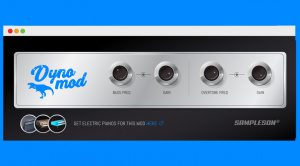 Sampleson brings the classic Dyno Mod add-on to your DAW, which is a favorite for electric pianos. The plug-in is designed to enhance the high and low harmonics of the developer's own, modeled electric piano instruments like REED106, Suit73, 1959, Markus 88, and Reed200. While you can of course throw it on anything, the developer says that it works best with modeled, rather than sampled, sound sources. There are separate controls for the bass and overtone frequencies, each with its own gain.
Dyno Mod is available for macOS and Windows in VST and AU formats.
TTM Works ttm000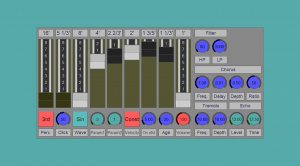 This plug-in's GUI is about as technical-looking as its name. But beneath the rather dull surface is an emulation of a classic tonewheel organ. All the essentials are there: 9 drawbars, percussion, key click, chorus, tremolo and echo, and you can even adjust the age of the virtual organ. As a bonus, ttm000 lets you choose from saw and pulse waves in addition to sine. Don't expect the most authentic emulation from this freebie, but it's fun to play with and delivers some great results.
ttm000 is a VST plug-in for Windows.
Videos
Image Sources:
kit-plugins-burier: KIT Plugins
sampleson-dyno-mod: Sampleson
ttm-works-ttm000: TTM Works