Baby Audio Parallel Aggressor: Spank and Heat your audio!
Expired
Developer Baby Audio is gaining steam with its modern, thought-through plug-ins. Super VHS, for example, degrades your audio in a nostalgic and vibey way. Magic Switch is a free chorus based on Super VHS, while Comeback Kid is an unorthodox delay. Now, Baby Audio is throwing its hat into parallel processing again. It has followed up its I Heart NY parallel compressor with a new plug-in called Parallel Aggressor – a compressor, filter and saturator!
Baby Audio Parallel Aggressor
Parallel processing is about processing copies of a track individually, rather than piling up all your effects onto a single track. The heavily processed individual tracks are blended with the dry original to form a cohesive, good-sounding whole. The technique works on all kinds of audio, including drum buses, individual tracks and entire mixes.
Parallel Aggressor splits audio in three ways. First comes the dry track. A second copy is run through the Spank compressor, which features four modes – Extra Punch, Extra Smack, Sidechain Filter, and Mono. A third copy goes into the Heat saturator module, which also has four styles – Extra Hot, Tone, HP Filter, LP Filter.
At the end, the three tracks are blended between each other using the provided mixer. Each track can be soloed to hear exactly what the processing is doing. Tracks are also automatically gain-matched to the input signal so you can make your decisions easier.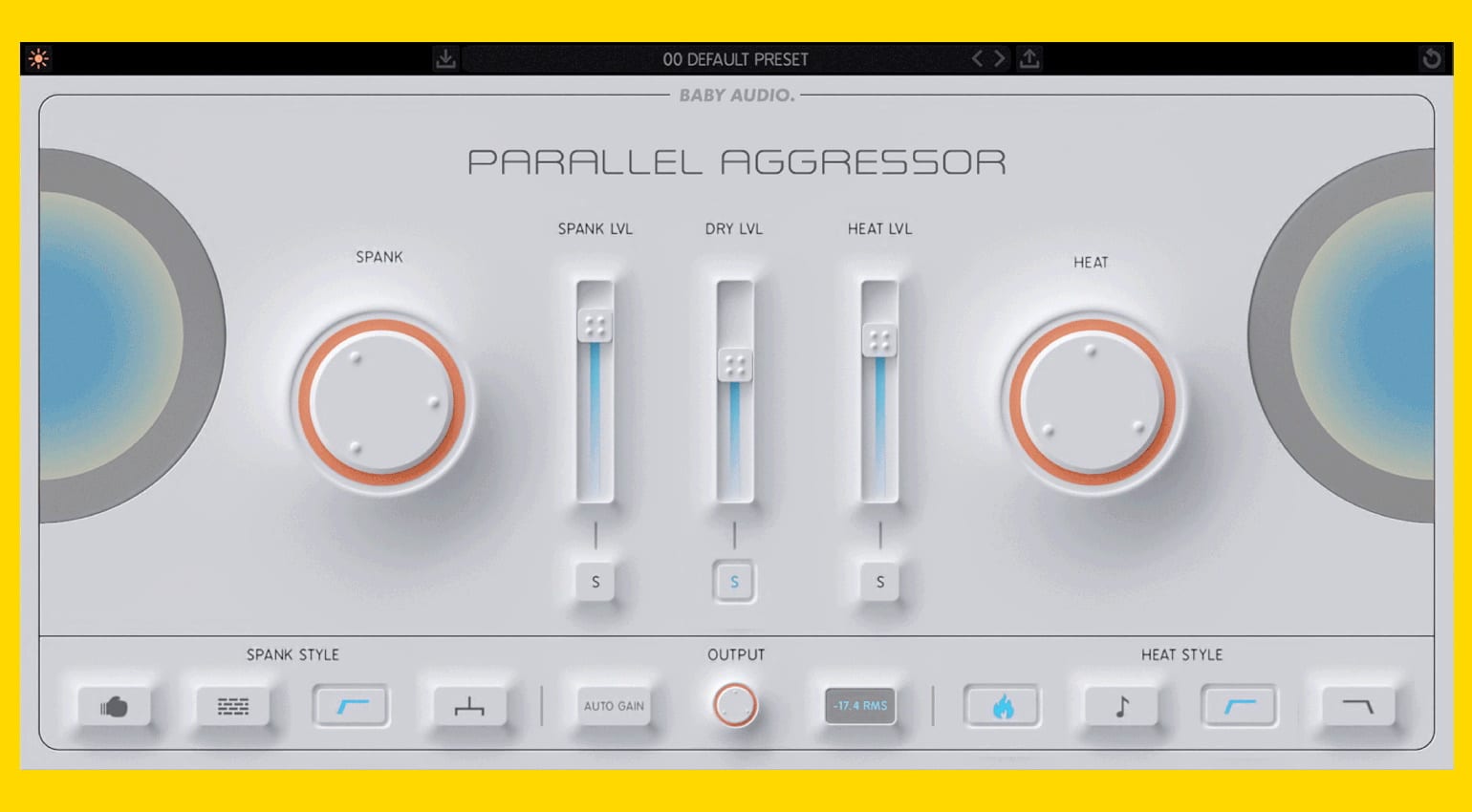 As a final touch, Parallel Aggressor has three color schemes for its interface in addition to 25 presets done by name producers that are friends with the developers. All in all, a spankin' hot release!
Price and availability
Parallel Aggressor is on sale for USD 29 until August 30. The regular price will be USD 49. The plug-in is available in VST, VST3, AU, and AAX formats for Windows and macOS computers. A free demo version is available on the website.
More information
Image Sources:
Baby Audio Parallel Aggressor - 2: Baby Audio