Apple MacBook Air, MacBook Pro 13, Mac Mini 2020: ARM-powered production powerhouses
Apple ramps up the power available to musicians with new ARM-powered computers
At its third, and likely final event for this year, Apple introduced three new Mac computers powered by its in-house developed M1 system-on-a-chip. The new MacBook Air, 13-inch MacBook Pro and Mac Mini mark the beginning of what could very well be Apple's strongest computer line-up to date. Here are the most important things you need to know about the new Macs, the exciting technology behind them, and a brief look at how the transition from Intel will initially play out in terms of application compatibility.
Before you ask, the computers are already up for pre-order and deliveries will start as soon as next week. Take that, COVID-19!
MacBook Air M1 2020
The svelte new MacBook Air was Apple's first to show. You'd be forgiven if you used to wince at the prospect of a MacBook Air handling moderate to serious music production projects. By the looks of it, those times are gone. This bad boy sports the full 8-core M1 ARM-based Apple processor, dual Thunderbolt 3 / USB 4 ports, and can be configured with up to 16GB RAM and 2TB of SSD storage. It also has a 13.3-inch Retina display with P3 wide color gamut, and battery life is rated at an eyebrow-raising 18 hours. It starts at USD 999 and you might catch yourself looking at it and the new 13-inch MacBook Pro side-by-side, wondering whether the latter is worth the extra cash.
Here's why I think it is – the MacBook Air is completely fan-less! It might be a pessimistic outlook, but I can easily picture thermal throttling kicking in as tracks and plug-ins begin to pile up. I have my reservations whether the M1 processor will be able to scale to its full potential within this slim, passively cooled chassis. Hence, I'd strongly consider the new MacBook Pro for serious music production duty.
13-inch MacBook Pro M1 2020
The new 13-incher is the MacBook Pro as you know it – only said to be 3 times faster than the base model Intel 13-inch MacBook Pro introduced in May. With 20-hour battery life, Wi-Fi 6 support and the new unified memory architecture, this one is going to eat plug-ins for breakfast and be a super-snappy production laptop. While its 13-inch screen may feel a little cramped, the computer is able to drive displays of up to 6K-resolution from its Thunderbolt 3 ports. Apple also talked up a "studio quality" triple mic array, which probably won't cut it for professional vocal/instrument tracking, but it ought to be capable of a solid demo recording. So all is good, and even the starting price stays the same – USD 1299.
Mac Mini 2020
The Mac Mini was the first ARM Mac in existence, but it was only sold to developers. It would have been a missed opportunity if Apple didn't bring it to consumers – thankfully, they did! While it's not a laptop and the screen, keyboard, and mouse are sold separately, the USD 700 starting price will make this one quite hard to resist. It's got the full M1 chip, dual Thunderbolt 3/USB 4 ports, gigabit ethernet, HDMI 2.0, and can be configured with up to 16GB of RAM / 2TB of SSD storage. This could very well be the most powerful computer you can get at this price at the moment.
Apple M1 – flying start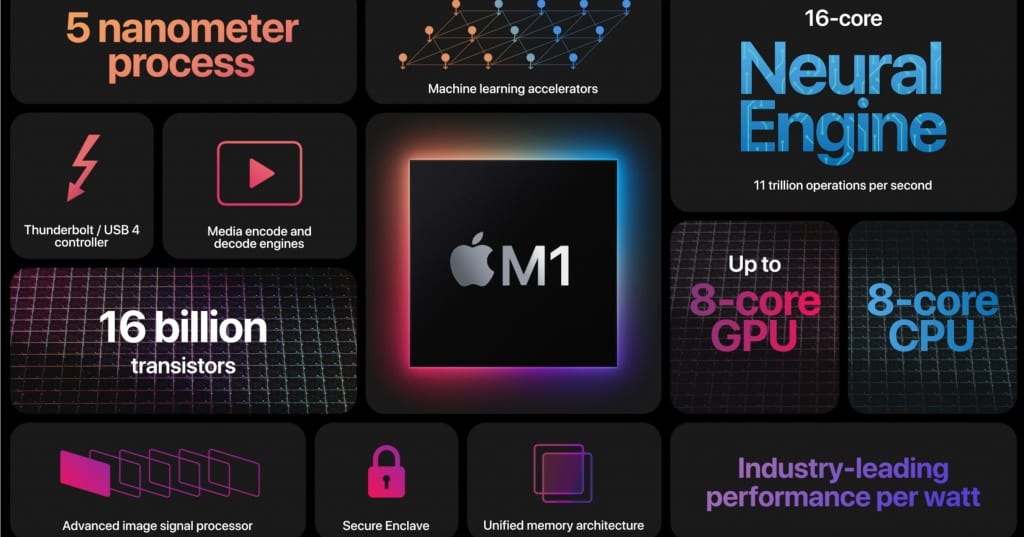 Although it's probably a descendant of Apple's A-series ARM chips used in iOS devices, the M1 system-on-a-chip (SoC) is a new design meant for laptop and desktop computers. It's quite unlike anything else on the market, giving Mac users and developers access to the same technology that makes the latest iPhones and iPads turn heads. The CPU module has 8 cores – 4 high-performance cores and 4 high-efficiency cores. The GPU is also 8-core and racks up some impressive performance metrics for an integrated unit. Added to them is a 16-core Neural Engine for machine learning acceleration.
Machine learning is getting big in professional audio plug-ins, such as ones made by iZotope, Native Instruments and sonible. Having a machine learning accelerator on hand could push them into very interesting and powerful developments. There's also an advanced image signal processor that could help out a good bit if you are doing photo and video on the side.
All in all, the new M1-driven Macs are rated as roughly three times faster at CPU performance than comparable laptops in their price class, and up to 6 times faster in GPU performance. Early benchmark result do lend some credibility to Apple's claims.
The app transition question
Apple spent some of the presentation time dedicated to macOS Big Sur on shedding some light at Universal Apps and Rosetta 2. Here's the gist of it – developers are expected to create Universal apps, compatible with Intel processors and the new M1 platform. You won't be able to tell them apart on your side – simply head to the App Store, and if the app is available for your Mac, you can purchase and download it. That aside, Apple is betting big on its Rosetta 2 emulation layer to handle the initial weight of the app transition before developers come up with native ARM versions of their software. The company went as far as to claim that some apps ended up performing better under Rosetta than they do natively on a Intel Mac. Hmm!
Personally, I'm well excited for these Macs. I think the computer chip industry was in need of a good, hard kick in the butt for some time, and Apple is going at it with karate moves. The computers look very promising, the prices are right – let's take it easy and see how the transition plays out over the next two years!
More Information
Image Sources:
Apple Mac Mini 2020 M1: Apple
Apple M1 SoC: Apple
Apple MacBook Air M1 2020: Apple
Apple MacBook Air M1 2020 - Keyboard: Apple
Apple MacBook Air M1 2020 - Side: Apple
Apple MacBook Pro 13 2020 M1 - Front: Apple
Apple MacBook Pro 13 2020 M1 - Keyboard: Apple
Apple MacBook Pro 13 2020 M1 - Side: Apple
Apple Mac Mini 2020 M1 - Rear: Apple
Apple Mac Mini 2020 M1 with display: Apple