Acustica Audio aims for classic British console voicings with Gold 2 plug-in suite
Acustica Audio, makers of audio plug-ins such as the Water suite and Cream channel strip, has released version 2 of its Gold suite of outboard gear emulations. Designed for lovers of vintage British console sounds, Gold v2 introduces a new equalizer and three more preamps. Everything has been updated to Acustica's proprietary CORE 12 engine and now has an extended threshold for improved compression behaviour.
All in all, Gold v2 has 6 different eqs, 2 compressors, 15 preamps and a routing control section. The modules are titled GOLD 2 (channel-strip), GOLD 2 COMP (standalone compressor), GOLD2 PRE (standalone preamps) and GOLD2 EQ (standalone EQ). Each plug-in has a Standard version and an alternative ZL variant which operates at zero latency – at added CPU cost.
The GOLD2 PRE module has 9 solid-state and 6 tube preamp emulations, including 2 compressor preamps and a hybrid 73-type EQ. One solid-state and one tube preamp emulation can be selected simultaneously and chained in series for added coloration.
The GOLD2 EQ module has two separate racks that let you choose a specific EQ model for more flexibility. The included models are 8066, 8122, 8093, 8193, H073, and 8077.
The GOLD2 COMP module includes the 8052 and 8053 compressors, and finally, the GOLD2 channel strip is almost everything contained within a single plug-in – that makes two rack EQs, two compressors, and 7 preamps.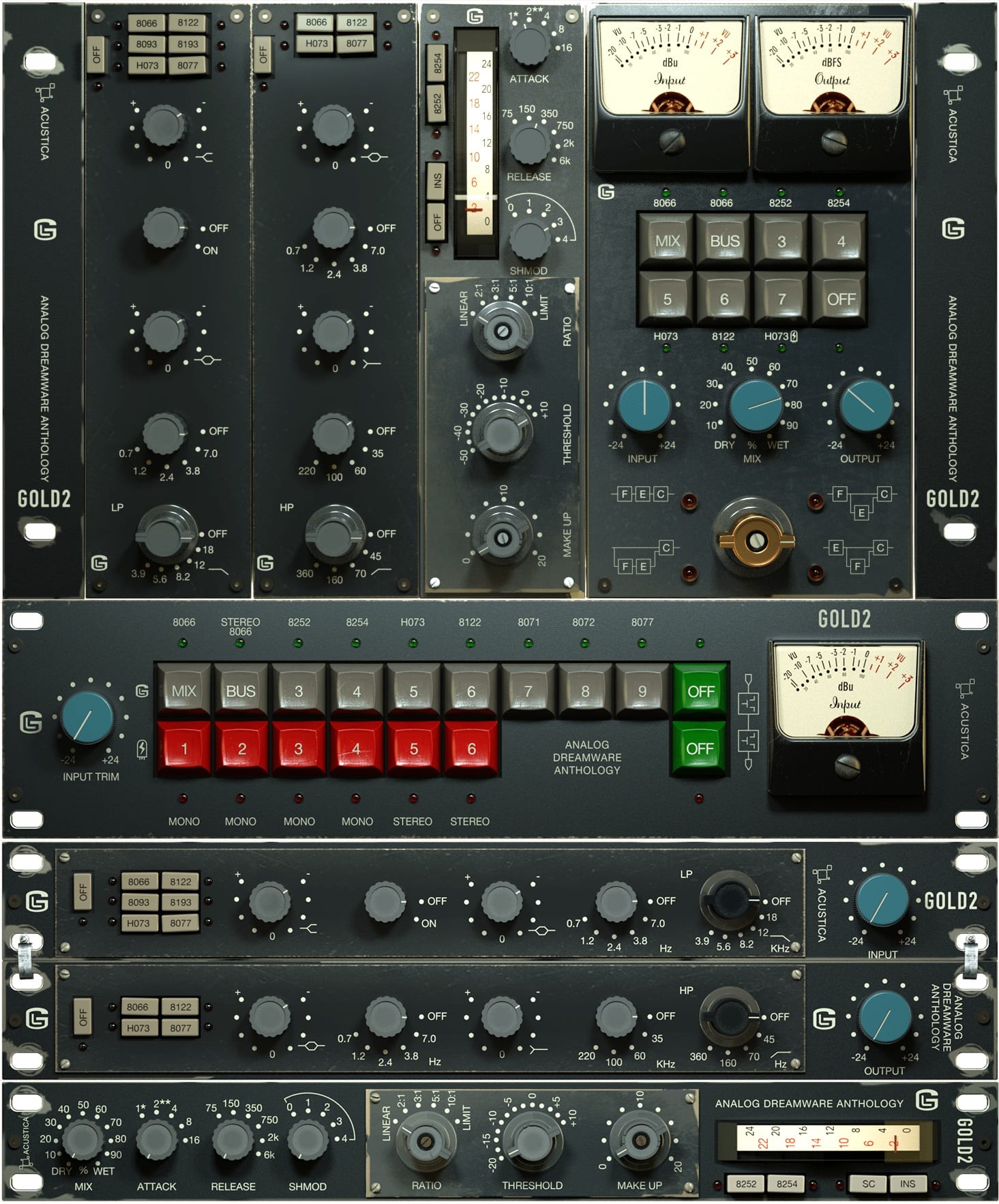 Price and availability
All in all, this seems a compelling suite for those chasing that warm British sound. You can trial the collection for 4 weeks with unrestricted functionality before buying into it. Speaking of buying, the plug-ins are available in VST2, AAX, and AU formats for 32- and 64-bit macOS and Windows systems at the price of EUR 199, with a pre-sale price of EUR 169.15 for the first four weeks after the release.
More information
Image Sources:
Acustica Audio Gold v2: Acustica Audio