'48 Dual Professional Amp JB Edition: Joe Bonamassa signature Fender
Rare Fender amp reissued exclusively for Bonamassa
This Fender '48 Dual Professional Amp JB Edition is the new Joe Bonamassa signature model which has been teased for quite some time now and it is finally on sale as of now. The amp is available exclusively from Bonamassa's own site.
'48 Dual Professional Amp JB Edition
The new Fender '48 Dual Professional Amp JB Edition is Bonamassa's latest signature product. It is being sold directly via his own website, and that appears currently, to be the only way to buy one.
There are two options for buying, either the standalone amp, priced at $3,499 or a $4,000 package which comes with two tickets to a Bonamassa show with access to one of his Meet 'n' Greet sessions.
This could make this model quite a hard amp to acquire for many fans outside the USA, as shipping/taxes, etc
Tube Amp
The original Fender 1948 Dual Professional guitar amplifier is an extremely rare and very collectable model that has never been reissued until now.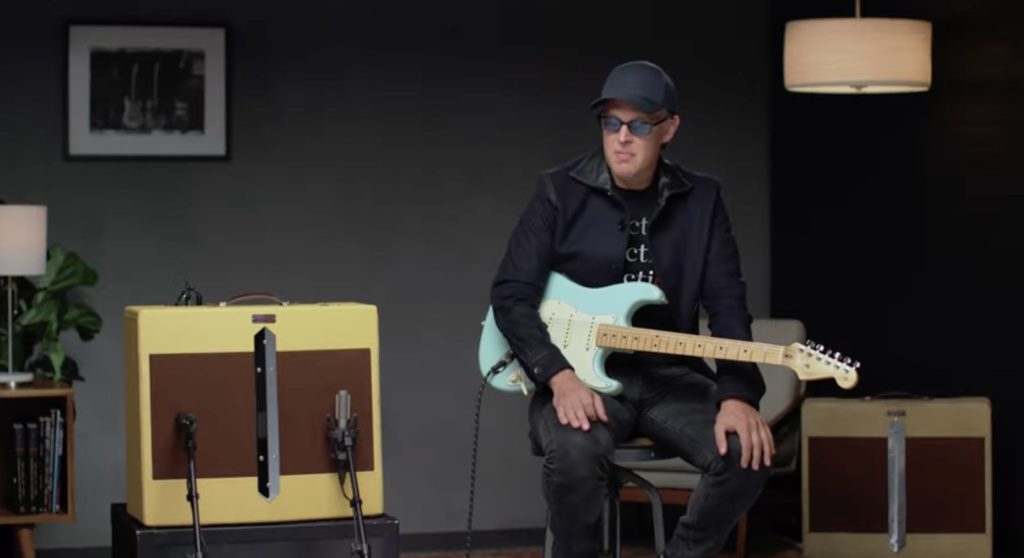 It is a 26-watt all-tube combo, powered by two EF806S and one 12AU7  in the preamp. This is not 100 per cent faithful to the original, but those old tubes are now no longer available. The power section consists of a pair of 6L6 tubes. The cabinet is loaded with two of Bonamassa's signature 10″ Celestion JB35 speakers.
Vintage Aesthetics
The amp design features a Lo Gain, two Instrument and one Mic input, which replicates the original design. The distinctive V angled cabinet is finished with a period-correct white tweed' covering with a brown grille cloth and brown leather handles. The controls are all vintage-style chickenhead knobs.
Each amp is individually serialised as DP001, DP002, etc
Owners will find this exclusive numbering located on the tube chart and safety sticker inside the amp. Overall, it looks like as faithful a recreation as possible.
I'm actually surprised the price is quite low, considering the low amount they will build/sell. This could be a great little combo for tone chasers, who want vintage tube tones.
MSRP – USD 3499.99 and USD 4000 including gig tickets/meet and greet
More Information
Video
Image Sources:
Joe Bonamassa signature amp: Joe Bonamassa
Bonamassa: YouTube/Joe Bonamassa
Rear Panel: Joe Bonamassa