TrapTune Second Hand Edition, PECS, Basslane: Free Plugins of the Week
This week's collection of the best free plugins kicks off with TrapTune Second Hand Edition, a free version of United Plugins' excellent auto-tuning plugin. Full Bucket Music emulates a classic Korg string machine with PECS, and Tone Projects overhauls the free Bassline bass control plugin.
TrapTune Second Hand Edition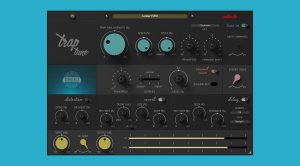 TrapTune by SounDevice Digital and United Plugins is one of the most popular auto-tuning plugins, and now there's a free version! While the so-called "Second Hand Edition" doesn't let you edit all the details and effect parameters, you can still load the presets of the full version, turn the effects on and off, and adjust the intensity, speed, and style. Try it at your own risk – you'll likely want to upgrade soon! The full version is currently on sale for €39 (50% off).
To get TrapTune Second Hand Edition, simply download the full version from the United Plugins website and activate the 15-day trial. After the trial period, the plugin will automatically switch to the limited Second Hand Edition.
TrapTune runs on macOS 10.10 or higher and Windows 8 or higher in VST, VST3, AU, and AAX formats.
Get TrapTune Second Hand Edition here
Full Bucket Music PECS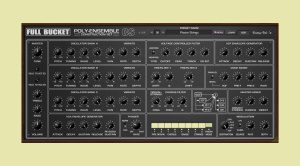 Full Bucket Music makes some of the best free software synths, and now there's a new one! PECS is an emulation of the Korg PE-2000 Poly-Ensemble S, a classic string machine of the late 70s. All eight presets were meticulously modeled. In addition to a simple version that lets you pick a preset and tweak a couple of knobs, there's a "Construction Set" for precise editing of all parameters. Check out the demo video below – it sounds surprisingly un-cheesy.
PECS is available for Windows and macOS in VST, VST3, AU, and CLAP formats.
Tone Projects Basslane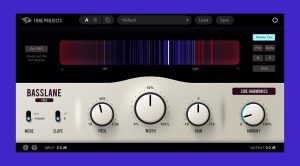 Along with the release of the new Pro version (€99 intro sale), Tone Projects has updated the freeware classic Basslane. The plugin's main job is to control the stereo width in the low-frequency range. That's vital when you're mastering for vinyl, but it can also contribute to an overall more defined sound. You can adjust the threshold frequency, width, and gain, and choose from flat and classic modes and two filter slopes. There's also a neat visualizer that shows you what's going on. Excellent!
Basslane is available for macOS and Windows in VST3, AU, and AAX formats.
You'll find many more free plug-ins in our archive!
Videos about TrapTune and other free plugins
Image Sources:
united-plugins-traptune-second-hand-edition: United Plugins
full-bucket-music-pecs: Full Bucket Music
tone-projects-basslane: Tone Projects