TAL-Vocoder 3.0, SuperCrunch, Simple Hit: Free Plugins of the Week
TAL-Vocoder 3.0 is the latest version of the popular freeware vocoder that comes with a number of improvements. This week's collection of free plugins also includes SuperCrunch, a great-sounding guitar amp simulation, and Simple Hit, a fun little ROMpler that delivers some serious 80s vibes!
TAL-Vocoder 3.0: New GUI, flexible Routing and more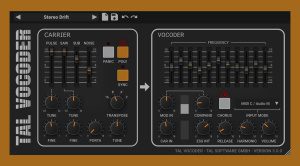 TAL Software has updated its popular TAL-Vocoder plugin to version 3.0. Besides a shiny resizable user interface and a new preset browser, the latest version of the vintage vocoder comes with an improved engine with better audio quality. They've also added a compander for the modulator signal, volume controls and meters for the carrier and modulator, as well as new routing possibilities for external sidechain signals. Still the best freeware vocoder around!
TAL-Vocoder 3.0 is available for macOS, Windows, and Linux in VST, VST3, AU, and AAX formats.
Linda Audio SuperCrunch: Tube Amp Simulation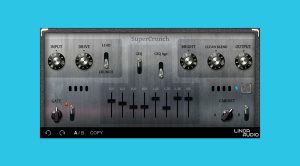 SuperCrunch by Linda Audio is a guitar amp simulation that isn't modeled after any particular hardware amp. Instead, it focuses on a straightforward set of controls for dialing in anything from clean sounds to heavy distortion. You can flip a switch to choose from Crunch and Lead channels and tweak the sound using the Gain, Drive, and Bright Controls. An additional 8-band graphic EQ before the tube stage allows you to shape the distortion character. A cab sim is also included.
SuperCrunch is available for Windows in VST2 and VST3 formats.
Pepto Audio Simple Hit: Orchestra Hit Galore!
No, this plugin doesn't turn every song into a hit at the push of a button – although that'd be great! Instead, Simple Hit by Pepto Audio is a simple ROMpler that contains no less than 15 of the ubiquitous orchestra hit samples that shaped the sound of so many classic records in the golden age of sampling. Love 'em or hate 'em – these sounds were everywhere! There's even a built-in reverb for good measure. For some serious 80s nostalgia, be sure to give Simple Hit a try!
Simple Hit is available for Windows and macOS in VST, VST3, and AU formats.
For many more free plugins like TAL-Vocoder 3.0, check out our huge archive!
Videos about TAL-Vocoder 3.0 and other free plugins
Image Sources:
tal-vocoder-3: TAL Software
linda-audio-supercrunch: Linda Audio
pepto-audio-simple-hit: Pepto Audio