Superbooth 2018: Erica Synths Techno Drum System with 15 different modules
Drums are definitely a thing this year with lots of percussive possibilities on show. Erica Synths decided to completely smash that idea with a 15 module system built for Techno.
Techno Drum System
It all starts with their Drum Sequencer which we first saw at last years show. Now it is just starting to become available and this system is the perfect place to show off what it can do. But we have plenty of other articles about that.
Moving on to the new stuff lets have a look at the drum modules.
Sample Drum
The first one is Sample Drum, which looks a bit like the Graphic VCO with the screen and encoders. It takes samples from an SD card and can run two channels of sound independently triggered. Three parameters at a time can be CV controlled and you have editing over start/end, attack/decay and tuning.
Bass Drum and Snare Drum
We saw these two 909 inspired drum modules at NAMM back in January. The Bass has a field of 9 knobs for control parameters and how much control. Made in collaboration with a drum machine manufacturer but redesigned for modular and CV control. You have control over the usual tuning, pitch, attack, decay but there's also a drive circuit for some additional bite. the Snare is similar but without the drive circuit but with a Noise Tone knob.
Toms
Toms contains Low, Mid and High toms in the one module. Controls are available over Pitch, Decay and Tuning.
Clap and Hi-Hats
A suitably small module for Clap with tone and decay and a combined open and closed hi-hat module, with separate decay on both sounds.
Dual Drive
This is a completely new drive and distortion module. 2 channels with 3 different drive modes with gain and drive controls. Sounds pretty chunky.
Mixer, Mixer Lite and Stereo Mixer
One key component is the 7 channel Drum Mixer which is fed by all the other modules. The built-in compressor gives this something a bit special. The Lite version is smaller and hides the compressor behind the panel which can be accessed through little holes – you kind of set it and leave it. The Stereo Mixer is a cool 4 channel mixer and output module with panning.
Dual FX
Two channels of effects featuring 8 different types derived from the Pico DSP. It has analogue wet/dry mix and CV controllable knobs for two parameters per effect and preset saving.
Bass Line
You can't have all those drums going with some kind of Bass Line. Bass Line is a complete analogue synth voice designed for making awesome bass sounds. It has a sub-oscillator, a multimode filter (from the Acid Box), filter and oscillator envelopes. The oscillator is CEM3340 based with 3 waveforms. There's an intriguing "Beef" control which emulates detuning. It's only 16hp so it's quite a compact module for complete acid bass sound.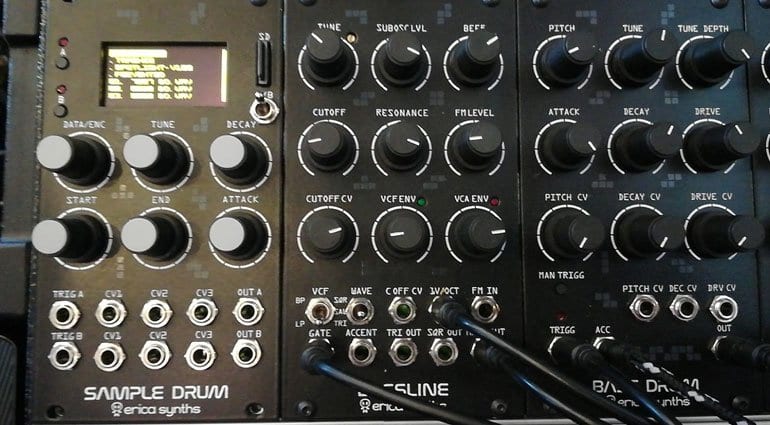 Techno Heaven
It's an immense system that would keep any Techno head in ectasy. My only thought is whether you would lose yourself in all those knobs of blackness and never find your way back. We're looking forward to hearing about the pricing and availability.
More information
Video
Image Sources:
Erica Synths Sample Drum: sonicstate
Erica Synths Bass and Snare: sonicstate
Erica Synths Toms: Erica Synths
Erica Synths Clap and Hi-Hat: sonicstate
Erica Synths Bassline: Gearnews
Erica Synths Mixer and Dual FX: Gearnews
erica-bassline: gearnews