Serenity 2 Lite, Samplur PROGATE, MShift8: Free Plugins of the Week
Serenity 2 Lite is full of relaxing, organic pads and soundscapes perfect for Ambient and Chillout music. Other free plugins this week include a stereo trance gate and a unique 8-band pitch shifter.
Quiet Music Serenity 2 Lite: Relaxing Pads from Nature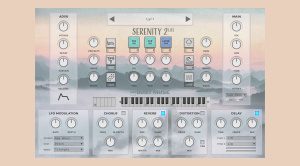 Serenity 2 Lite by Quiet Music gives you a glimpse of the sounds you can expect from the full version (intro price: $18). This software instrument is specifically designed for relaxing chill-out vibes and dreamy natural soundscapes. Simply choose your favorite preset and then dial in various additional layers such as crickets, birds, rain, or waves. For sound shaping, the plugin offers a selection of effects, as well as an ADSR envelope and LFO for modulation. It comes with ten presets.
Serenity 2 Lite is available for macOS and Windows in VST, VST3, and AU formats.
Psytrance Plugins Samplur PROGATE: 2-Channel Trance Gate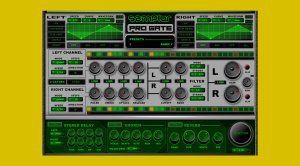 This handy trance gate plugin chops up your audio tracks on two independent channels with 32 steps each. Each channel offers controls for pulse, swing, attack, and release, as well as a state variable filter. You can use one channel for controlling the entire stereo signal, or separate the left and right channels for independent processing. There's also plenty of modulation with four envelopes/LFOs to control various parameters, as well as a selection of master FX.
Samplur PROGATE is available for macOS and Windows in VST, VST3, and AU formats.
Flandersh Tech MShift8: 8-band Pitch Shifter / Doubler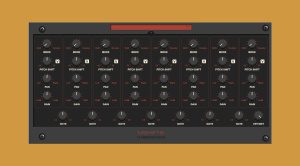 I don't think I've ever seen any other plugin like this. MShift8 by Flandersh Tech separates your audio into no less than eight bands. You can dial in the crossover points using MIDI note values rather than frequencies. Each band then offers a continuously variable control that lets you blend between pitch shifting and doubling. There are also separate pan and gain controls for each band, as well as a dedicated vocal mode. This should be capable of some pretty wacky effects.
MShift8 is a VST3 plugin for Windows.
Looking for more free plugins like Serenity 2 Lite, Samplur PROGATE, and MShift8? Head over to our archives!
Video about Serenity 2 Lite
Image Sources:
quiet-music-serenity-2-lite: Quiet Music
psytrance-plugins-samplur-progate: Psytrance Plugins
flandersh-tech-mshift8: Flandersh Tech