Origin Effects Super Vintage & '64 Black Panel BASSRIG – Classic amps in pedal format
Based on the Ampeg SVT and the Fender Showman/Bassman
These two new Origin Effects Super Vintage & '64 Black Panel BASSRIG pedals are based on the Ampeg SVT and the Fender Showman/Bassman bass amplifiers. Both use Origin Effects' proprietary All Analogue Amp Recreation circuitry and apply it to the bass. Plus, you also get an all-analogue recreation of two iconic bass cabs via the DI out.
Origin Effects BASSRIG
Both these Origin Effects BASSRIG pedals are designed and assembled by hand in England, and are all analogue with no modelling going on. The BASSRIG Super Vintage is based on the Ampeg SVT, while the BASSRIG '64 Black Panel is the company's take on the Fender Showman/Bassman amps. Both mimic a valve amp-style signal path and feature a dedicated Class-A preamp and push-pull output stage. So they should feel like a real amp, as well as sound like one. Which means you can treat them just like a real bass amp, and dial them in nice and clean, or go down and dirty by driving them hard.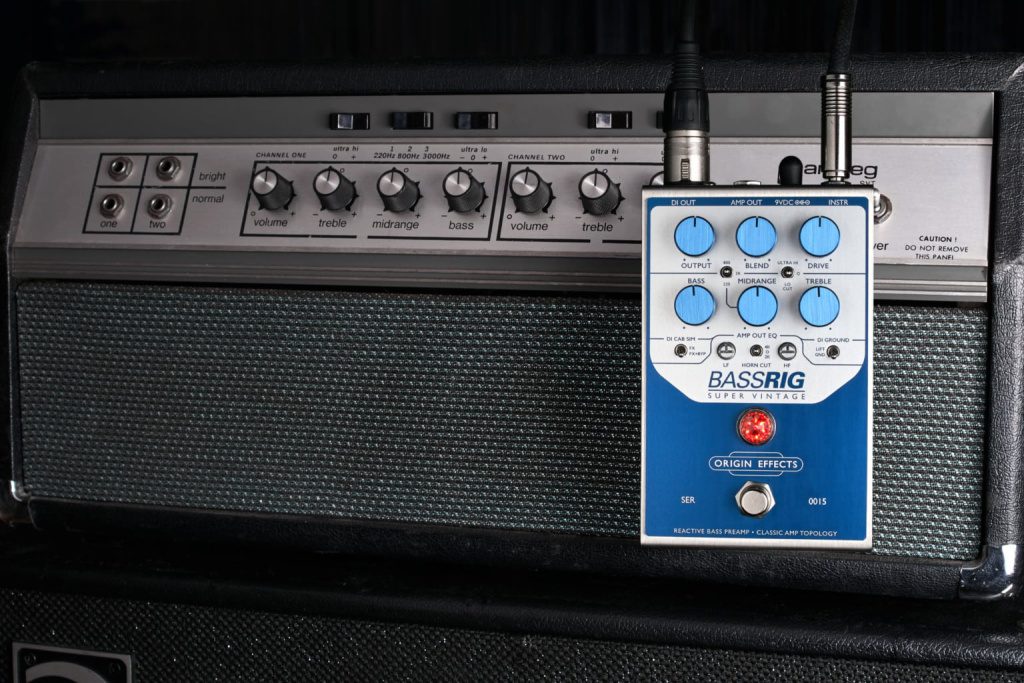 Amp Style Controls
Both pedals have pretty standard amp-like controls including Output and Drive, and a three band EQ. Each pedal also features a Blend control that lets you mix your drive sound in parallel with your clean signal. This is useful when you want to keep your dynamics intact and dial your tones in to taste. I'm also pleased that Origin Effects have an AMP OUT EQ, so you tailor the pedal's output to match your own rig. It's a great touch and makes them very useable. The LF and HF trimmers adjust the low and high frequencies after the drive circuit. The HORN CUT switch combats any fizziness when using overdriven sounds with a tweeter-equipped cab.
You also have a Ground Lift switch, and switch for the DI Cab Sim, allowing you to bypass the effect if you need to, so the cabinet simulator is always active or only on when the pedal is engaged. This lets you use the cabinet simulation on other external sources, for example, by adding it to other pedals.
On the '64 Black Panel model you get a FAT switch which Origin Effects says will get you into Bassman territory, replacing the Showman's tight low end with a deeper, squishier bass response. For dirtier breakup, switching from BLK to TWD harks back to the Tweed era, with thick midrange and raucous overdrive. There is also a sine wave oscillator shape that makes bias tremolo nice and smooth, and there is a full wave setting that gives the tremolo a more prominent, and choppier character. According to Origin Effects, this is great for keeping the effect obvious with more overdriven tones or with lazy, super-slow settings.
DI Out
Both pedals also feature a balanced XLR DI output with analogue cabinet simulations, meaning you can go straight into a rising desk, front of house, or your DAW. The cab sims include an early '60s Fender 2×15 bass cabinet for the '64 Black Panel, and an Ampeg SVT 8×10 cabinet for the Super Vintage.
They are both high-impedance pedal designs, with buffered bypass and silent switching, and should be well-suited for studio or stage work
RRP – GBP 399 each 
Special Edition
Origin Effects is also releasing special edition matching Cali76 Compact Bass pedals, that match the colour schemes of these new BASSRIG pedals.
More Information on Origin Effects
Origin Effects Demo Videos
Image Sources:
Origin Effects BASSRIG Super Vintage: Origin Effects
Origin Effects BASSRIG Super Vintage: Origin Effects
Origin Effects BASSRIG '64 Black Panel: Origin Effects