NUX MG-300 now shipping: A feature packed, wallet friendly powerhouse
We covered the new NUX MG-300 Modelling Guitar Processor pedal back in July, but now that it's been officially released, we thought we'd share some more details on this compact, wallet-friendly floor pedal.
NUX MG-300 Modelling Guitar Processor
NUX has officially released the MG-300 Modelling Guitar Processor, following on the recent release of the NUX Mighty Plug a few weeks ago. And just like the Mighty Plug, this new NUX product packs some serious features at a very wallet-friendly price. The MG-300 comes with USB recording, a nice easy-to-read colour digital screen, and an expression pedal that controls the overall volume and built-in effects.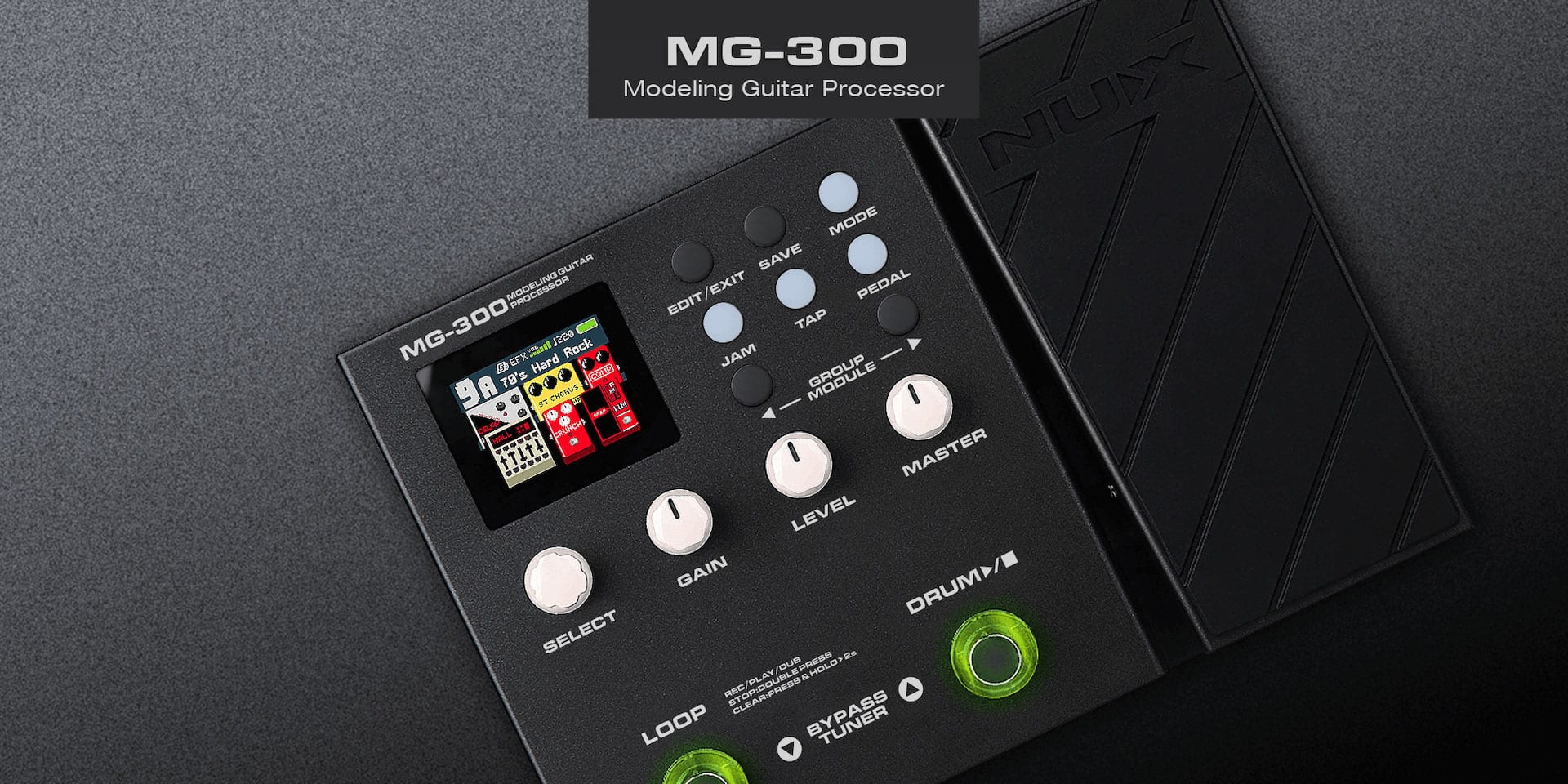 Virtual Effects and TSAC-HD
With the MG-300, you can model effects and amps, and then organise them in a simple manner. For example, you could use a pre-effect block for true analogue sounding overdrive and distortion pedals, then feed these into your virtual amp rigs. The virtual modelled guitar amps use NUX's proprietary True Simulation of Analog Circuit, or TSAC-HD for short, combined with an onboard cab simulation, one that uses 512 sample resolution of impulse response.
I'm really impressed with the amount of useable features that NUX has crammed into this super compact pedal, especially at this price point. You get 25 built-in cabinet IRs combined with four classic microphones, each with three positions, which is pretty decent. But that's not all, as users can also load third party IR files via NUX's QuickTone editing software.
Core Image Technology
The MG-300 effects engine is powered by NUX's Core Image Technology and features a whole host of classic guitar effects pedals including Chorus, Flanger, Phase, Vibe, Rotary, and Vibrato effects, as well as Delays (analogue, digital, modulated, tape echo, reverse, pan) and Reverbs (plate, room, spring, large hall). You also have a global three-band EQ to help shape your tones and sculpt them to taste.
Why didn't we have pedals like this when I was a kid? I would never have gone to school with all this at my disposal.
Drums and Looper
To make the new MG-300 a great all-round practise and song creation tool, NUX also included drum patterns, a guitar tuner, plus a handy looper function with a 60 second phrase loop recording time. There are eight rhythm styles on offer, each with seven different beats, which are way more fun to practise along to than just a basic metronome, and perfect for honing your chops.
QuickTone Control
The NUX QuickTone software I mentioned earlier allows you to tweak all your parameters, download patches, as well as load third party IRs. You can also use it to set up USB audio-stream routing. There's also a 3.5 mm aux input in case you want to plug in and jam along to backing tracks. It really is a bit of a bargain and I think it will be pretty popular. It will compete at the lower end of the market with units like Harley Benton's recent DNA FX GiT.
You can hear it in action in the demo video below or follow the link to head over to the NUX site for more detail.
More Information
Video
This article contains affiliate links that help us fund our site. Don't worry: the price you pay always stays the same! If you buy something through these links, we will receive a small commission. Thank you for your support!