Mooer launches the Steep I and Steep II USB audio interfaces
Mooer has launched the Steep I and Steep II USB audio interfaces. The Chinese manufacturer's first audio interfaces feature USB-C connectivity, zero-latency direct monitoring, and a 24bit/192kHz resolution.
Mooer Steep I and Steep II
Mooer first made a name for itself with its tiny Micro series guitar pedals, most of which are based on recreations of famous circuits from the past. The manufacturer later added guitar multi-effects and amp simulators like the GE250 and GE300 Lite to its lineup. Those already included USB audio capabilities, so it makes sense that Mooer now offers pure USB audio interfaces, as well.
Contrary to what the name might suggest, the Mooer Steep I is a 2-input interface with one mic/line/instrument input on a 1/4"-XLR combo jack and an additional 1/4" instrument/line input. In addition to a stereo line output on the back, there's a headphone jack on the side. The desktop interface offers input level controls and meters for both channels, as well as a master output level knob and a mix knob for direct monitoring. There's also a stereo monitor button for monitoring stereo input signals.
The Mooer Steep II also offers two inputs. This interface adds a second 1/4"-XLR combo input, so you can record two microphones simultaneously. Furthermore, the Steep II offers MIDI in/out, which the Steep I doesn't have.
Both interfaces connect via USB-C and record at up to 24bit/192kHz. Mooer says that the multi-platform interfaces work with computers and mobile devices. They both offer dual USB-C ports; the second one is used to supply power when connected to a mobile device.
Mooer is entering a highly competitive market with the Steep I and Steep II, so it remains to be seen how well they hold up against the competition. But if you're looking for an inexpensive desktop interface for home recording, you now have one more option to consider.
Price and availability
The Mooer Steep I and Steep II audio interfaces are available now at Thomann* for €139 and €159, respectively.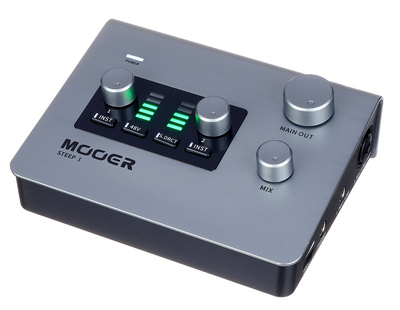 Mooer Steep I Audio-Interface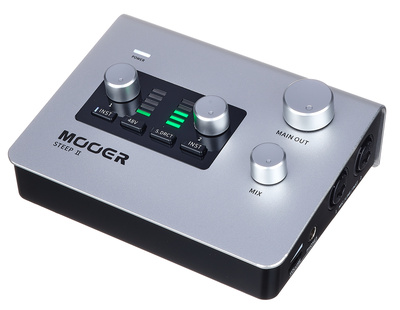 Mooer Steep II Audio-Interface
More information about the Mooer Steep audio interfaces
Video