MOTU introduces the M2 and M4 USB-C audio interfaces
MOTU has launched the M2 and M4 audio interfaces, adding two new budget-friendly options to its line-up. The MOTU M2 and M4 come with USB-C connectivity, mic/line/instrument inputs, latency-free monitoring and MIDI. As the new point of entry into the world of MOTU, they offer many features of the company's more expensive interfaces, including the converters.
With the new M2 and M4 audio interfaces, MOTU is entering the market segment of relatively inexpensive interfaces for home recording, podcasting, and mobile use. At about USD 170 and 220, respectively, they're in the same price range as the Focusrite Scarlett 2i2 and 4i4 (3rd gen), Steinberg's new UR22C or the Presonus Studio 24c and 26c, among others. How do they compare?
MOTU M2 audio interface
The MOTU M2 is a 2 in / 2 out audio interface with two mic / line / instrument XLR/TRS combo inputs on the front panel. Phantom power can be switched on for each input individually, and each input has its own level knob and monitor switch. There's a headphone jack and a large monitor level knob. The full-colour LCD level meters for the inputs and outputs are a really nice touch. Metering has long been a strong point of many MOTU interfaces, and I can't think of another 2×2 interface in this class that offers meters like this.
At the back, the M2 features a single stereo output, which is available in TRS and RCA formats. There's a USB-C port which also supplies power, MIDI In/Out on standard 5-pin DIN connectors, and a power switch.
MOTU M4 audio interface
As a 4×4 interface, the MOTU M4 offers two additional TRS line inputs at the back, along with an extra pair of outputs. Unlike the M2, the M4 has a dedicated blend knob for controlling the balance between the computer mix and the live inputs. Like its smaller sibling, it features a full-colour LCD level meter for all inputs and outputs.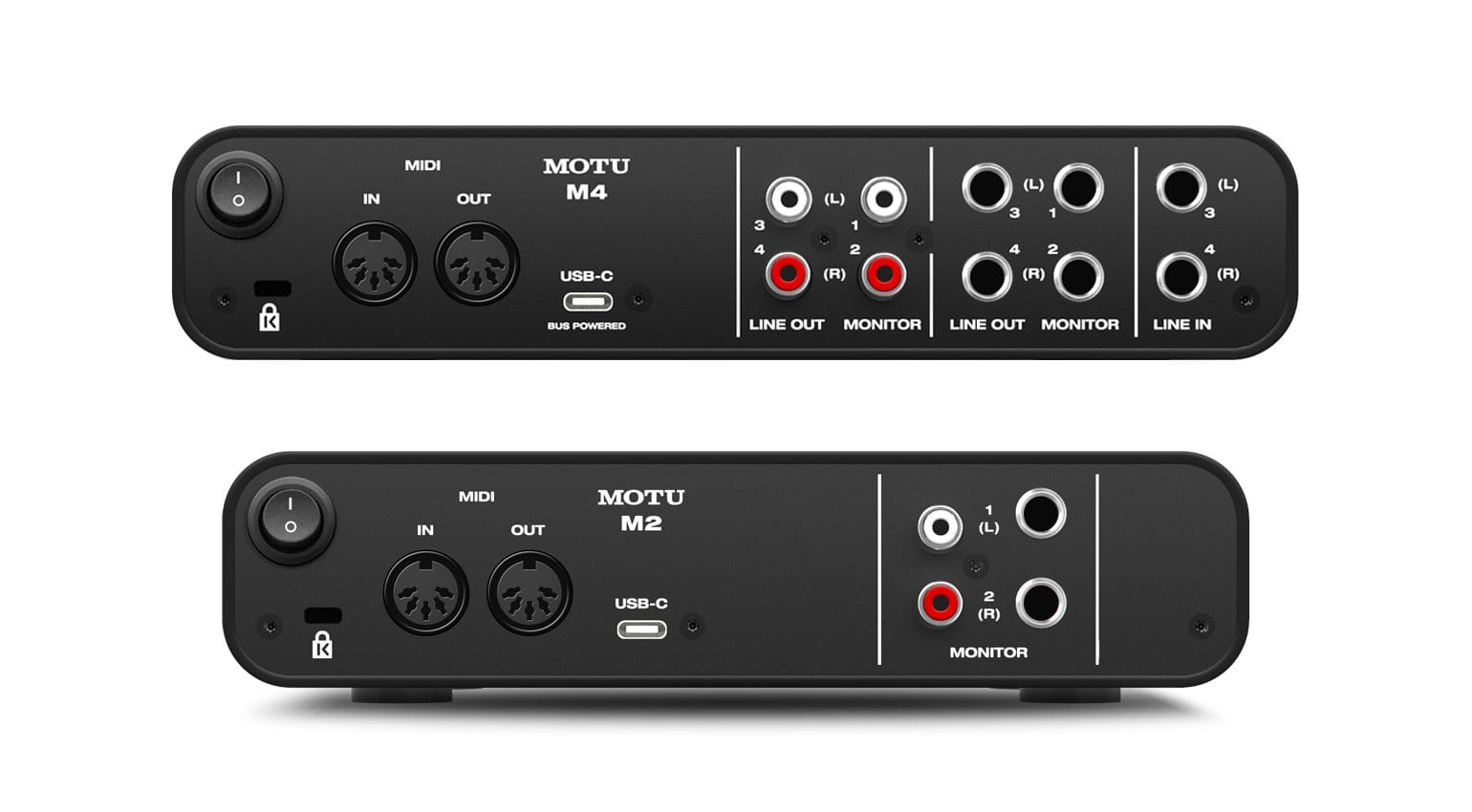 ESS Sabre32 Ultra converters
Both new interfaces feature ESS Sabre32 Ultra DAC converters, which are the same as in some of MOTU's much more expensive interfaces. The maximum sample rate is 192 kHz. MOTU states a dynamic range of 120 dB on the outputs and a THD-N of -129 dBu EIN on the mic inputs.
According to MOTU, the USB drivers deliver a round-trip latency of 2.5 ms at 96 kHz. The M2 and M4 are class compliant, which means that they work on Windows (7 and up), macOS (10.11 and up) and iOS. They come with a software package which includes MOTU Performer Lite, Ableton Live 10 Lite, and 6 GB of loops and samples.
Price and availability
The MOTU M2 and M4 are available now. They retail for about USD 170 (M2) and USD 220 (M4) in the United States.
More information