KrishnaSynth Legacy, DeeDoubler, The Prince: Free Plugins of the Week
KrishnaSynth is back! FKFX has resurrected the classic software synth and added a free option! Other free plugins featured in this week's collection include DeeDoubler, a vocal doubling tool, and The Prince, a neural-network-based distortion pedal.
FKFX Audio KrishnaSynth Legacy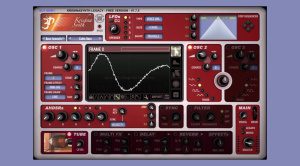 Remember KrishnaSynth? The software synth originally came out in 2007 as a paid plugin. And now it's back – fully rewritten for modern systems and with a FREE option! KrishnaSynth's killer feature is the F.A.T. oscillator that allows you to draw your own waveforms. While the free version can't import WAV files like the paid version can, that's still pretty neat! It's also got no less than six drawable LFOs that can be used as modulation sequencers, and a bunch of effects for creative sound shaping.
KrishnaSynth Legacy is available for macOS (including Apple Silicon) and Windows in VST, VST3 and AU formats. The free version comes with 88 presets. The paid version (USD 49) adds drag&drop import for WAV and AIFF files, loads of additional presets, and some other stuff.
Dotec Audio DeeDoubler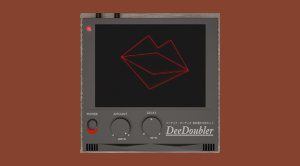 Forgot to double-take the vocals? DeeDoubler to the rescue! This free plugin by Dotec Audio simulates the effect of doubled vocal tracks by introducing slight variations in pitch, phase, and filtering. You can adjust the intensity of the effect with the Amount knob and dial in the desired width using the Delay control. There are even flashy animations that remind us of a retro screen saver. It's great for vocals, but I'm sure it'll produce some interesting results with other source signals, as well.
DeeDoubler is available for macOS and Windows in VST, VST3, AU, and AAX formats.
GuitarML The Prince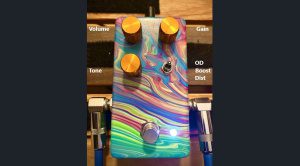 The Prince by GuitarML is a plugin clone of a unique overdrive pedal the developer built himself. The plugin is designed to showcase GuitarML's neural-network-based modeling technique, which also powers their other plugins like Proteus, Epoch Amp, and TS-M1N3. GuitarML used neural networks to capture the behavior of the gain and tone knobs for each of the three modes (OD, Boost, Distortion). Combine The Prince with an IR loader to emulate a pedal going through an amplifier.
The Prince is available for macOS, Windows, and Linux in VST3, AU, AAX, and LV2 formats.
Videos about KrishnaSynth Legacy and other free plugins
Image Sources:
fkfx-krishnasynth-legacy: FKFX Audio
dotec-audio-deedoubler: Dotec Audio
guitarml-the-prince-01: GuitarML