Fender and Gibson USA standard guitar models: Which would you buy?
Winter NAMM washed a shed load of new guitar models onto the market. With the ever increasing number of limited edition, custom shop and lower priced versions of classic Fender and Gibson designs, is there still a place for 'standard' varieties of American-made guitars?
The Winter NAMM 2020 release schedule was an onslaught of new guitars, reissues and boutique instruments. We saw the release of more Squier and Epiphone models made in China, Korea and Indonesia at the lower end of the market. Models made in Japan or Mexico now make up a considerable share of Fender's guitar range. Brands like Harley Benton are pushing into the lower market segment. At the top of the market, expensive boutique and Custom Shop instruments continue to proliferate unabated.
Once upon a time you bought, say, a Stratocaster or a Les Paul and they were made in the USA. Yes, there were Custom Shop models, but the standard USA-made instruments were your first port of call. Nowadays, these types of standard models still exist, but they are getting increasingly lost in the swirling release schedules of both brands. Not to mention the burgeoning competition selling similar instruments in all price ranges. When you take into account the cheaper import models at a fraction of the cost, the standard USA-made models can seem very expensive in comparison.
Traditional vs Modern
To give you an overview of the most recent launches of both Fender and Gibson, I have listed some of the more 'standard' models that were announced around the Winter NAMM release this year. These are what I call the 'middle of the road' guitars, the standard USA-made offering by both brands. Both Gibson and Fender appear to have split these models into the more traditional and modern versions of classic instruments, so I have included both in this article for you to take into consideration.
So, is either brand going to take your money in 2020? If you were going to buy a 'core' USA-made guitar from either of the big brands, which way would you go?
Fender American Ultra Series
For 2020, Fender replaced the old Elite Series with the new American Ultra Series, which has plenty of modern takes on those classic Californian guitar designs we all know so well. This was possibly the biggest update for Fender this year, and actually came in quite a while before NAMM had even kicked in.
Models include the Ultra Stratocaster, Ultra HSS Stratocaster, Ultra Telecaster, Ultra Jazzmaster, Ultra Precision Bass, Ultra Jazz Bass and Ultra Jazz Bass V.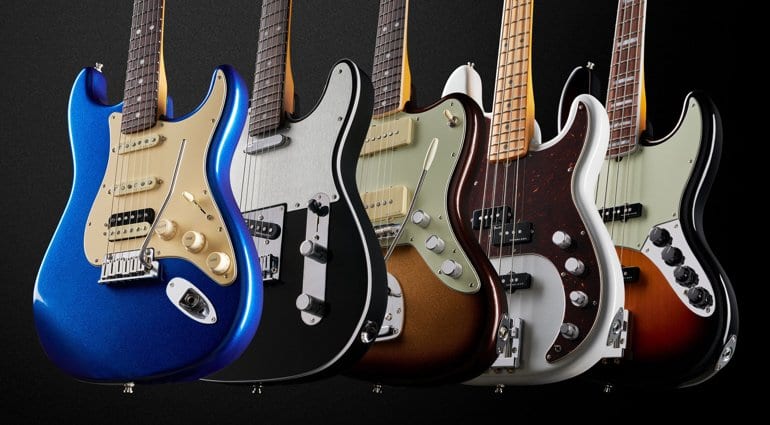 Fender American Originals
Fender also updated its American Originals series with the addition of the new '60s Telecaster Thinline and the '70s Telecaster Custom models. Again, both these guitars are made in the company's Corona factory in California, USA. Although there are several other models to choose from in this series, I decided on including these two models as they are the company's latest offering in this particular range.
More Information
Gibson Original and Modern Collections
Gibson had a few new offerings of its own, including the Original and Modern Collections. Both ranges come with several classic Gibson models, including Les Pauls, Specials, SGs, Explorers and more. Like the Fenders, the new Gibson ranges are American-made production run models, and not one-offs or Custom Shop models.
The following is a list of models you can expect from the new Gibson Original and Modern Collections:
Gibson Les Paul Classic
Gibson Les Paul Junior Tribute DC
Gibson Les Paul Special, TV Yellow
Gibson Les Paul Standard '50s
Gibson Les Paul Standard '60s
Gibson Les Paul Studio
Gibson Explorer
Gibson Firebird
Gibson Flying V Antique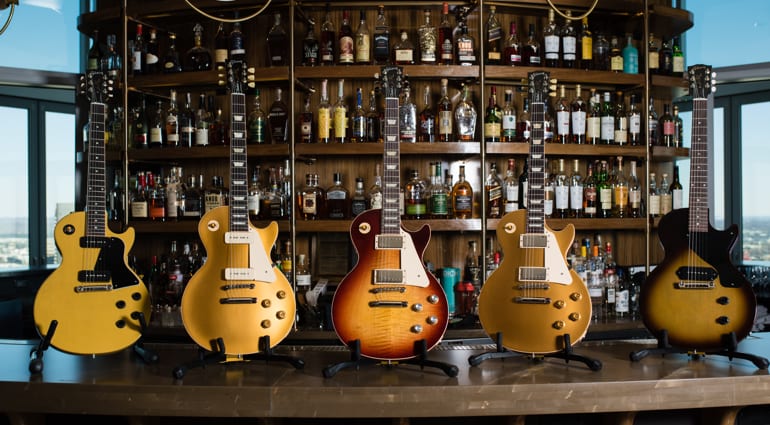 More Information
Image Sources:
Fender American Ultra Series: Fender
Fender American Originals 60s Telecaster Thinline and 70s Telecaster Custom: Fender
Gibson Original Collection Les Paul Standards_50s_60s: Gibson