Electro Harmonix Nano Operation Overlord: A mini JFET drive pedal for almost any instrument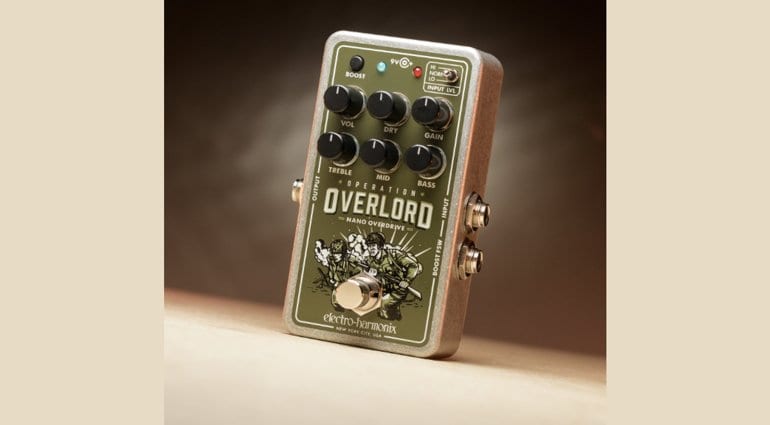 Electro Harmonix Nano Operation Overlord - New mini JFET drive for any instrument · Source: Electro Harmonix
Electro Harmonix' Nano Operation Overlord pedal is based on a JFET circuit. One neat little feature right off the bat: a three-way input switch that lets it will work with virtually any instrument – not just guitar!
Electro Harmonix Nano Operation Overlord
The Nano Operation Overlord is a compact, feature-laden overdrive and distortion pedal. The tones are generated by a JFET circuit. Before looking at the tone controls, though, I'm immediately taken by a three-position input level switch. This lets you set the input gain level to suit many different instruments. This pedal will play nicely with bass and keyboards, for example, making it a versatile little overdrive.
JFET Drive & Boost Mode
Now let's take a look at the tones. In Normal Mode, there are three amp-like JFET gain stages. These deliver low to medium gain sounds. Activating the Boost Mode gives you access to classic overdrive tones. This is then added to the signal chain before the JFET stages to increase overall distortion, pushing the pedal into heavier tones.
Blend it
I like the fact that the Nano Operation Overlord has a Dry blend control. This makes it far more useful for bass and keyboards, as you can keep the definition and attack of your sound to prevent it all getting too mushy. The ¼" jack input that lets you use an external footswitch to toggle the Boost mode.
The EQ section consists of Active Treble, Mid and Bass controls to sculpt your drive tones to taste. The controls are rounded off by Volume and Gain. A nice simple layout overall, that belies the pedal's complexity. The new EHX Nano Operation Overlord is available now and includes an EHX 9.6 DC 200mA power supply.
RRP – TBC
More Information
Video
Image Sources:
EHX Nano Overlord: Electro Harmonix
EHX Nano Overlord drive pedal - Not just for guitars!: Electro Harmonix