Best free plug-ins this week: Reducktion, SeeSaw and Olitanh
This week's collection of free plug-ins features Reducktion, a polyphonic software synth. SeeSaw is a useful tilt EQ and Olitanh is a compressor and waveshaper with a vintage flavor.
You'll find many more free plug-ins in our archives.
Dead Duck Software Reducktion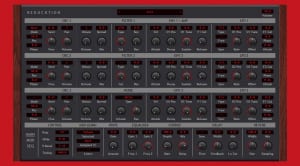 Reducktion is an impressive software synth with three oscillators. In addition to continuously variable saw, square, triangle and sine waveforms and PWM, Reducktion offers sine wave FM with carrier and two modulators. Two resonant filters, three LFOs and three envelopes are available for further sound shaping. The included drive, EQ, chorus, delay and reverb effects are the icing on the cake, and there's a 16-step arpeggiator/sequencer to set things in motion.
Reducktion is available as a VST plug-in for Windows.
lkjb SeeSaw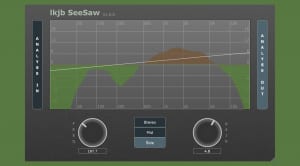 SeeSaw is a free tilt EQ plug-in that allows you to quickly balance out the frequency distribution in a track or mix. A tilt EQ affects frequencies above and below a center frequency simultaneously: as one side increases, the other decreases. SeeSaw offers an analyzer to help you find the appropriate center frequency, which you can set using the Freq knob. The plug-in can also be used to process the mid or side signals separately, which is useful on stereo tracks.
SeeSaw is available for macOS and Windows in VST, VST3 and AU formats.
John Crosby Acoustics Olitanh
Olitanh by John Crosby Acoustics combines a compressor with a distortion and wave shaping unit. The developer says that it adds warmth to bass, guitar and vocals, and can also be used as a glue compressor for mixes. The distortion section comes with a drive control and a power knob, which affects the distortion curve. The compressor offers all the essential parameters, and then some. There's also a low pass filter and a mix control for parallel processing.
Olitanh is available for macOS and Windows in VST, VST3 and AU formats.
Image Sources:
dead-duck-software-reducktion: Dead Duck Software
lkjb-seesaw: lkjb
john-crosby-acoustics-olitanh: John Crosby Acoustics