Best free plug-ins this week: ModSynthMono, Crunck V2 and Spread Delay Lite
It's Sunday, and that means it's time for a fresh round of free plug-ins! This week, the gods of the internet have sent us a fun little synth with lots of modulation, a free guitar amp and a unique stereo delay. Get ready for ModSynthMono, Crunck V2 and Spread Delay Lite!
If you just can't get enough free plug-ins, our archives are the place to be!
D10Labo ModSynthMono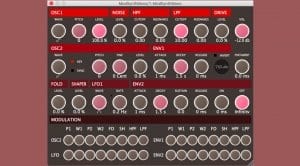 Like D10Labo's LowBitMonoSyn, the new ModSynthMono is a free, monophonic offspring of a polyphonic synth. D10Labo says that its sound is inspired by the EMS SynthiA, Sequential Circuits Prophet-5 and Oberheim Xpander. Those are some big names to throw around, but the ModSynthMono and Modsynth do look quite ambitious. They feature two oscillators, noise, fold, waveshaper, HP and LP filters, two envelopes (one of which is loopable) and an LFO. Most importantly, there is a complete modulation matrix which lets you map the modulation sources to almost any parameter, with separate knobs for each parameter. In addition to the LFO and envelopers, Oscillator 2 can be used as a modulation source. Not bad at all! D10Labo ModSynthMono is available for Windows and macOS as a VST plug-in (32/64 bit).
Download D10Labo ModSynthMono here
Nembrini Audio Crunck V2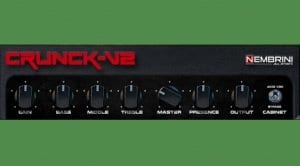 This free guitar amp is an evolution of Crunck 1, which Igor Nembrini says got him hired by Brainworx and marked the start of his career in plug-in development. Now he's running his own company, and what better way to celebrate this than by updating Crunck to V2. It's a one-channel guitar amp simulation. With gain, a 3-band EQ, presence, and an included 4×12 V30 speaker simulation, Crunck V2 has all the ingredients for a variety of guitar sounds. Will it make our list of the Top 7 free amp sims? We'll see! Crunck V2 is available for Windows 7 and up and Mac OS X 10.9 and up in VST2, VST3, AAX and AU formats.
Get Nembrini Audio Crunck V2 here
Audec Spread Delay Lite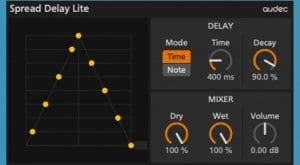 This interesting little stereo delay lets you control the panning "path" of alternating left and right echoes. A visualization with dots lets you define how quickly the echoes should move to the left and right sides, and how far our they should end up (check out the video below). That's a pretty cool way to add spatial depth to a track without using up too much space. Spread Delay Lite is the free version of Spread Delay, which costs a mere 7 bucks and adds HP and LP filters. Spread Delay Lite is a 64-bit plug-in for Mac OS X 10.11 or newer. It comes in VST and AU formats.
Download Audec Spread Delay Lite here
Videos
Image Sources:
d10labo-modsynthmono-02: D10Labo
nembrini-audio-crunck-v2-02: Nembrini Audio
audec-spread-delay-lite-02: Audec