Best free plug-ins this week: GreenWave, Dual Delay, ThrillseekerVBL mkII
This week's collection of the best free plug-ins is off to a good start with GreenWave, a colorful software synth that packs a punch. Kilohearts has a cool new dual delay, and Variety of Sound updates another freeware classic.
ReplicatAudio GreenWave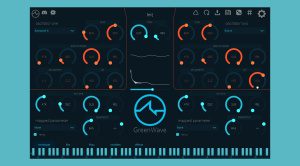 ReplicatAudio has introduced its first free software synth named GreenWave. It's currently still under development, but you can already download it and have a go at its unique GUI. GreenWave offers two oscillators with "10+ handcrafted waveforms", a filter, and a multitude of ADSR envelopes and LFOs for modulation. In addition to a built-in analyzer and oscilloscope, it's even got "function level waveform morphing", which sounds pretty sweet!
GreenWave is available as a stand-alone application and VST3 plug-in for Windows.
Kilohearts Dual Delay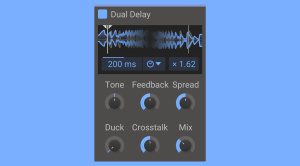 Dual Delay is a new addition to the free Kilohearts Essentials collection. The plug-in's two delay lines crossfeed into each other to create complex echoes and even reverb-like textures. In addition to the Delay Time, you can adjust the Tone, Feedback, and Spread. There's even a Duck feature that automatically lowers the delay volume when the input level is high. A versatile delay with a carefully chosen set of features, as you'd expect from Kilohearts.
Dual Delay is available for Windows and macOS in VST, VST3, AU, and AAX formats.
Variety of Sound ThrillseekerVBL mkII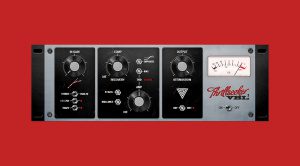 Only a few weeks after TesslaPRO mkIII, Variety of Sound has updated another one of its freeware classics. Like the original, ThrillseekerVBL mkII emulates a vintage Vari-Mu limiter used in broadcasting. Besides bringing the plug-in up to today's standards (64 bit!), the developer has added some refinements to give you even better sonic control and a wider range of available tones. Many free plug-ins become abandonware way too soon, so it's great to see a developer updating its classics.
ThrillseekerVBL mkII is a VST plug-in for Windows (32/64 bit).
Head over to our archive for many more free plug-ins!
Videos about free plug-ins
Image Sources:
replicataudio-greenwave: ReplicatAudio
kilohearts-dual-delay: Kilohearts
variety-of-sound-thrillseekervbl-mkii: Variety of Sound