Best free plug-ins this week: AutoTremWahLight, fircomp and Tiny F
It's Freeware Sunday here at Gearnews, and we've got three awesome free additions to your plug-in folder this week: a modulated filter, a no-nonsense compressor and a guitar amp simulation. Check out AutoTremWahLight, fircomp and Tiny F!
For many more free plug-ins, be sure to visit our huge archives!
PechenegFX AutoTremWahLight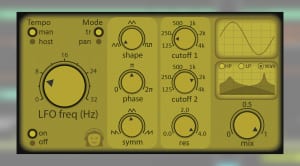 AutoTremWahLight is the free version of the developer's AutoTremWah plug-in. It's an LFO-modulated filter / auto wah / tremolo with two independent cutoff frequencies that can operate in high pass, low pass or wah (band pass) modes. The LFO syncs to your host tempo and offers plenty of tweaking options such as shape, phase and symmetry. AutoTremWahLight lacks the envelope follower capabilities of the full version, but it's a great freebie nonetheless.
AutoTremWahLight is currently only available as an AU plug-in for macOS, but a Windows version is in the works.
Jon V Audio fircomp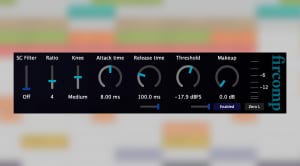 Fircomp by Jon V Audio is a "free compressor with perfect curves", as the developer puts it. It's designed to provide clean compression with punchy attack and musical release for tracks or busses. In addition to the usual controls like threshold, ratio, attack, release and makeup gain, fircomp has an adjustable knee and even offers a sidechain filter. There's also FIR lookahead smoothing for the minimum possible distortion. The developer claims that fircomp has very low latency and uses very little CPU.
Fircomp is available for macOS and Windows (64 bit) in VST3 and AU formats.
EXE Consulting Tiny F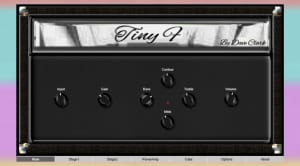 What kind of product would you expect from a company named EXE Consulting? I'm sure it's not a guitar amp simulation, but that's just what Tiny F is. According to the developer, it's a stripped-down version of his Classic F amp simulator paired with the distortion model from the Classic Thirty plug-in. Tiny F consists of a two-stage preamp, power amp and cab simulation. Each tube stage offers a number of adjustable parameters. The developer says that Tiny F can be used for guitar and bass.
Tiny F is a VST3 plug-in for Windows (64 bit).
Videos
Image Sources:
pechenegfx-autotremwahlight: PechenegFX, Gearnews
jon-v-audio-fircomp: Jon V Audio, Gearnews
exe-consulting-tiny-f: EXE Consulting, Gearnews