A Friedman Smallbox amp in a pedal? Yes please!
Dave Friedman does it again with the new Smallbox overdrive pedal
Friedman's new Smallbox pedal squeezes its popular amp head of the same name into a compact, pedal-sized enclosure. Now you can get those same fantastic tones without having to lug around a whole amp head. Dave Friedman has established quite a solid reputation for his amp tones, and the new Smallbox pedal is a great way to cop those tones and fit them on your pedalboard. The pedal was first announced during Winter NAMM earlier this year.
Friedman Smallbox
As with all Friedman products, the Smallbox pedals are built in California. I expect that they will be as well made as all my other Friedman pedals, which are pretty bomb-proof. The Smallbox gives you access to everything from vintage Plexi sounds to modern high-gain amp tones in a manageable pedal format. And for considerably less than the amp it's named after.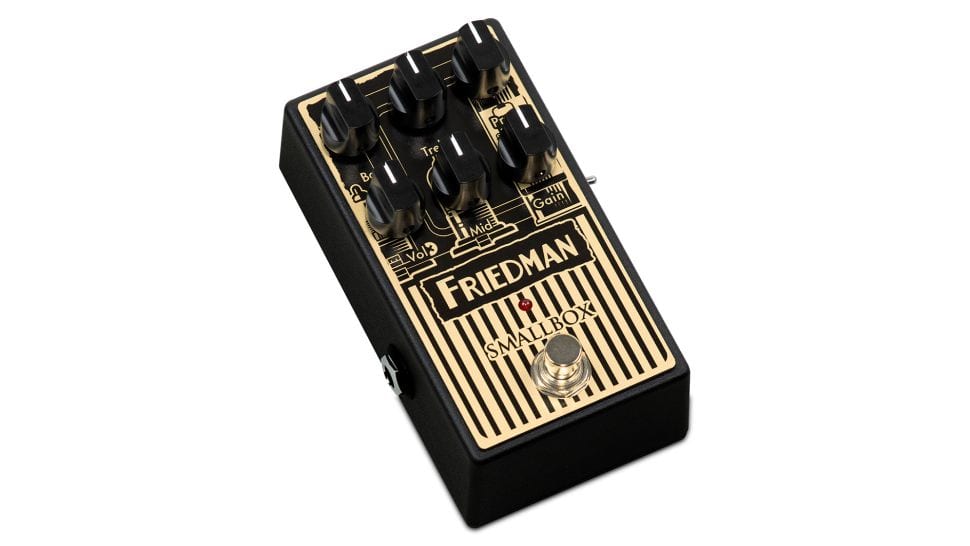 Gain Structure
The Smallbox overdrive pedal has knobs for Volume, Gain and Presence, plus a three-band EQ with Bass, Mid and Treble controls. The controls are self-explanatory and should be simple enough to dial in and shape your overdrive tones with. There is also a side-mounted two-position Gain Structure switch that allows you to go between classic Plexi-style gain to the more modern higher-gain settings, making this pedal quite versatile.
According to Dave Friedman, the pedal works just as well with both clean and dirty amps, and will respond to your guitar controls and picking nuance just like the amp version does. I have no reason to doubt this, as all the Friedman gear I own does exactly that. The man clearly knows how to build great sounding amps and pedals.
All in all, the Friedman Smallbox sounds like a versatile pedal that should be a welcome addition to any pedalboard. It's also priced fairly reasonably, and you can pick one up from 20 November on.
RRP  – USD 199
More Information
Video
Image Sources:
Friedman Smallbox with Gain Structure switch: Friedman