Yamaha STAGEPAS 200 – Perform anywhere with this tiny PA system!
Yamaha STAGEPAS 200 is the company's tiniest and most portable, self-contained PA system to date. Featuring battery/mains power, a built-in mixer, Bluetooth connectivity and 180w power output, this pint-size powerhouse promises to bring the noise anywhere, anytime.
Yamaha STAGEPAS 200
So what do we have here then? This seemingly innocuous cube from Yamaha houses an entire, self-contained PA system. Power amplifier, mixer, speakers, and more are all housed in a tiny cube only 30 cm square.
You can use your STAGEPAS 200 pole mounted, like a conventional loudspeaker, or angled on a stand like a monitor speaker. You can even use it table-mounted like a giant, supercharged Bluetooth speaker!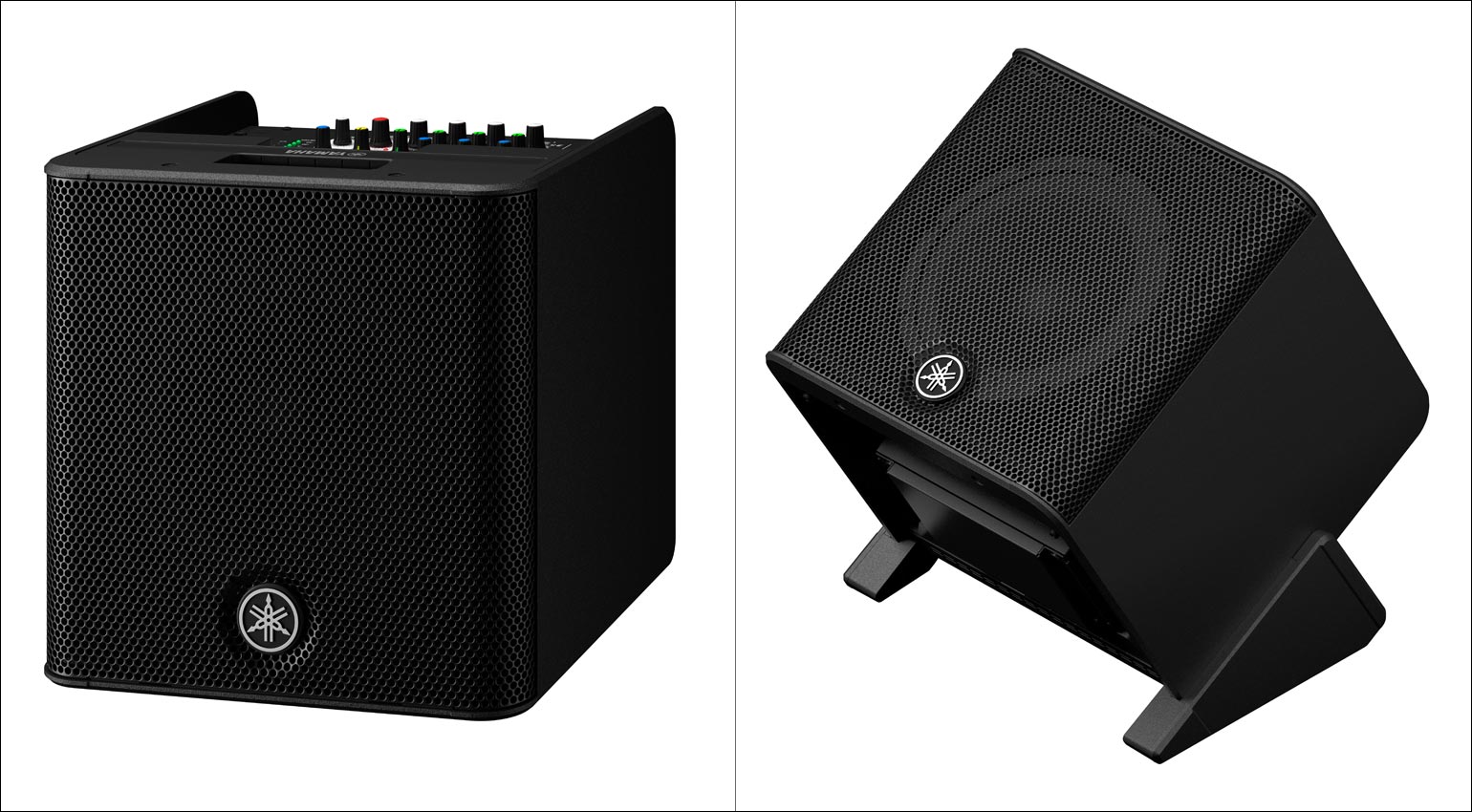 Coaxial powered
I'm a big fan of coaxial speaker designs; they generally tend to provide better phase cohesion and hence a more natural sound with uniform coverage. It's therefore great to see Yamaha using an 8-inch coaxial speaker with a 1/4-inch tweeter
Powering the STAGEPAS 200 is a 180w class D power amplifier. Class D amps usually offer better efficiency and lighter weight; ideal characteristics for a PA speaker aimed at spontaneous performances and portability.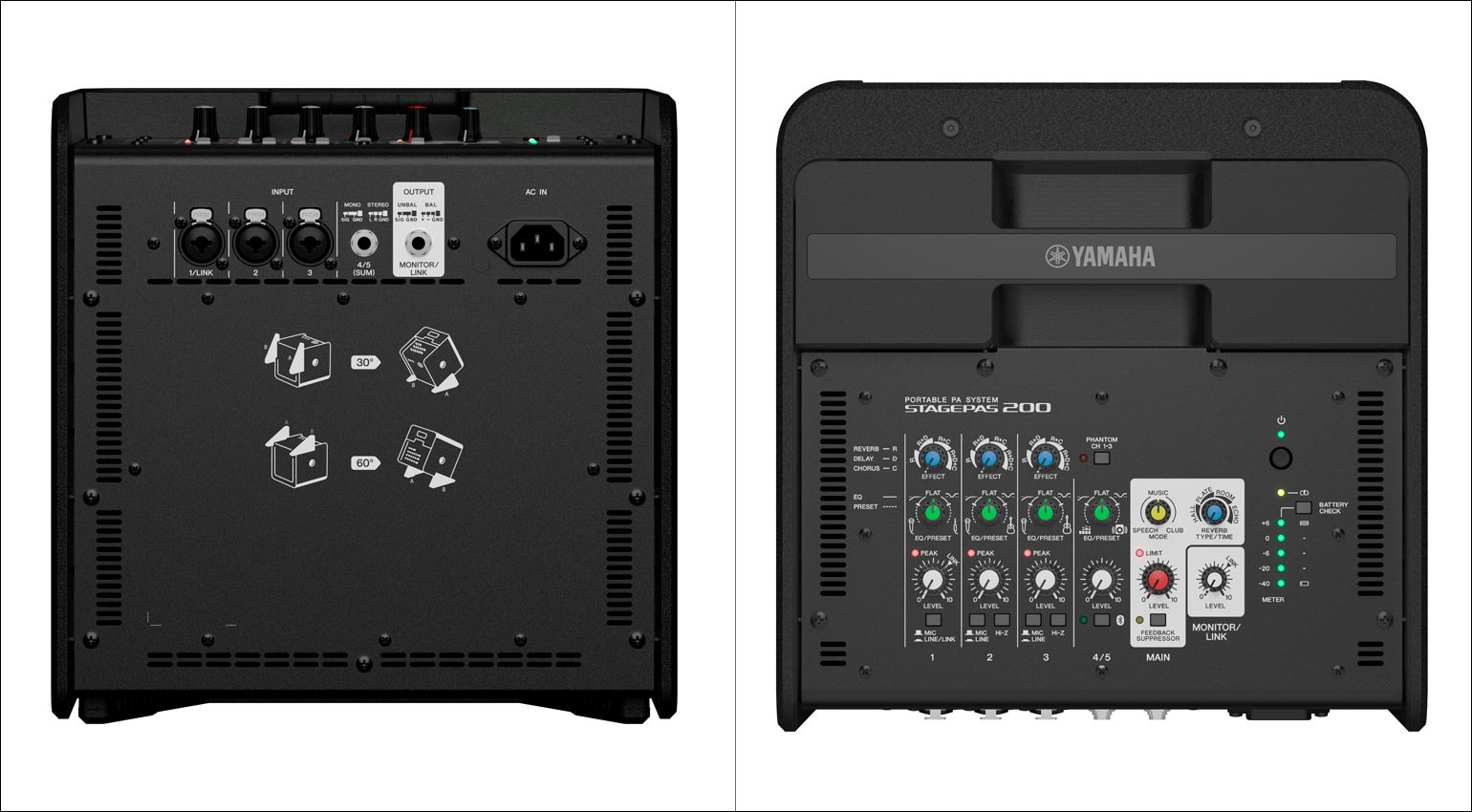 Digital mixer and FX
Onboard you'll find a built-in digital mixer with three mono channels and a stereo input. You can also connect via Bluetooth, ideal for backing tracks or background music!
Adjustments are made easy with A one-knob EQ and A selection of presets including a microphone simulator. Need some reverb or delay? Integrated effects can also be operated with a single button.
Yamaha hasn't stopped there, however, packing the Stagepas 200 with some additional specialist processing. You'll find a sum compressor and a built-in automatic feedback suppression as well as an auto ducker!
You can save and recall mixer settings at any time. The Yamaha STAGEPAS 200 can also be controlled remotely via a dedicated iOS or Android app. Neat!
Portability
Portability is undoubtedly a big selling point for the STAGEPAS 200; you'll no doubt be pleased to hear that a built-in lithium-ion battery gives you up to 10 hours of running time! If that's not enough then there's an additional battery pack available for longer running times.
Yamaha is also offering an optional, wheeled transport case; Ideal for travelling on public transport, moving the STAGEPAS from car-boot to venue, etc.
Price and Availability:
The base version of the STAGEPAS 200 begins at around €699 with the price rising to over €800 depending upon which battery option you choose. If you think that's expensive, then you may have a point; you can buy much power powerful powered speakers for much less.
If your primary requirements are portability, ease of use, and great sound quality, then this could be a great buy!
It's available soon from your favourite retailer.
More about Yamaha: