Virtuoso Ensembles: The playable orchestra from Kirk Hunter Studios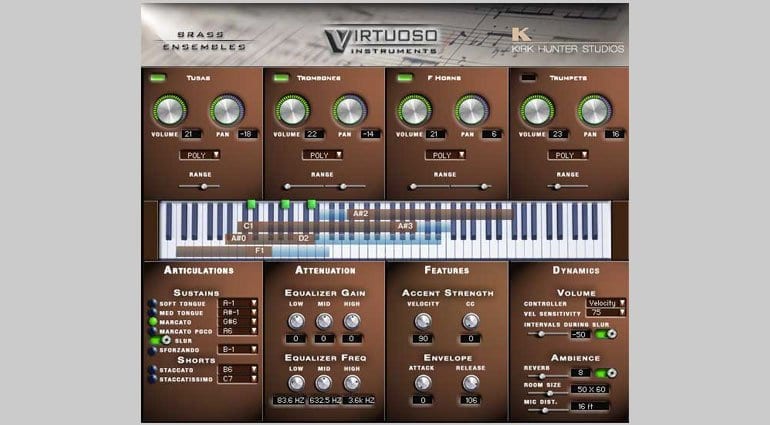 Kirk Hunter Studios Virtuoso Ensembles · Source: https://www.kirkhunterstudios.com/products/virtuoso-ensemble/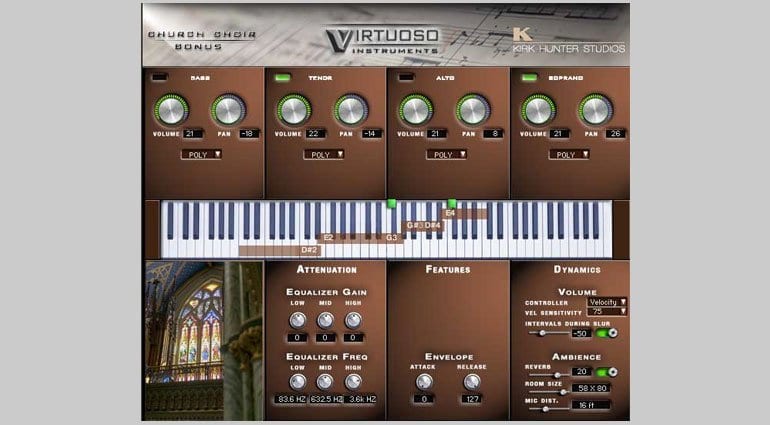 Kirk Hunter Studios Virtuoso Ensembles · Source: https://www.kirkhunterstudios.com/products/virtuoso-ensemble/
Kirk Hunter Studios, producers of a range of orchestral library, have released a newly compiled library focused on bringing an enhanced level of playability. Virtuoso Ensembles lets you map different sections across a MIDI keyboard for a realistic feel of an entire orchestral at your fingertips.
Virtuoso Ensembles
You get all the usual suspects of strings, woodwinds, percussion, brass but there's also a welcome piano and choir section. There's all the expected multiple articulations, dynamics and round robins. And it all runs in good old Native Instruments Kontakt. Is it possible to dig out anything different about this set of sounds in a very crowded market of sampled instruments? Quite possibly yes. From the long list of very familiar features what catches my eye is the layering up of 4 sections . It says it "Control four instrument sections, (strings, brass, woodwind solos) mapped across the keyboard for a realistic feeling of an entire orchestral compliment."
Ensemble Control
The video talks about having "Ensemble control" which means that you have control over the ranges and mix of instruments within the group to form your own customised ensemble. This could be great for live performance, but also for composition where you want to be creative with the body of the orchestra. Rather than recording cello strings and then adding violins you can have all four string sections mapped realistically across the keys so you can dip in and out as you play. I really like that. It's the sort of thing you could accomplish with most orchestral libraries but with a lot of fiddling and mapping. Virtuoso Ensemble make this process really easy. For instance, when you load up the strings you'll see the four sections of basses, cellos, violas and violins. Beneath them is a virtual keyboard that displays the overlapping ranges of these instruments. The ranges can be edited with the simple tug of a slider. You can do the same with the brass, woodwinds, and choir.
Epic Hits
The percussion side is also larger than most and worth noting. There's a lot of timpani going on but also Giant Metal Logs, Drumble and Big Plastic Bottles. The library includes what they call Epic Hits – everyone needs Epic Hits in their life.
The sounds coming from the video and sound examples are sublime unlike the GUI which is disappointingly brown and lifeless. Perhaps I've just gotten used to stunning interfaces in Kontakt instruments. The Virtuoso Ensemble GUI is just a bit bland.
However, all the usual power and control that you'll find in every orchestral library is present and correct. It can run in Kontakt Player as well as KontakT 5.5 which is a bonus. It comes with 4404 samples in 2.5GB of compressed library, which is not huge. But they also talk about how light it is on the CPU and combined with the smaller size of library this could make it ideal for a laptop or hybrid. It's current on a special introductory deal of $199.99 rather than the usual £299.99 and sounds like a worthwhile investment to me.
More information can be found on the Kirk Hunter Studios website.