UVI Super-7: The Roland MKS-7 sampled and supersized
Super-7 comes packed with the sound of the Roland MKS-7 which includes the analogue engine of the Juno-106 and PCM percussion from vintage drum machines.
Super-7
UVI has pushed this beyond what you usually find in a decent multi-sampled emulation. They did multiple multi-samples to capture the character of the MKS-7. They swapped effects, went with chorus, kept the noise switched in and then introduce the samples to their synthesis engine built on the concept and structure of their Program 24 library. So while they've captured the presets of the original they give you the space and architecture to shape and synthesize your own sounds.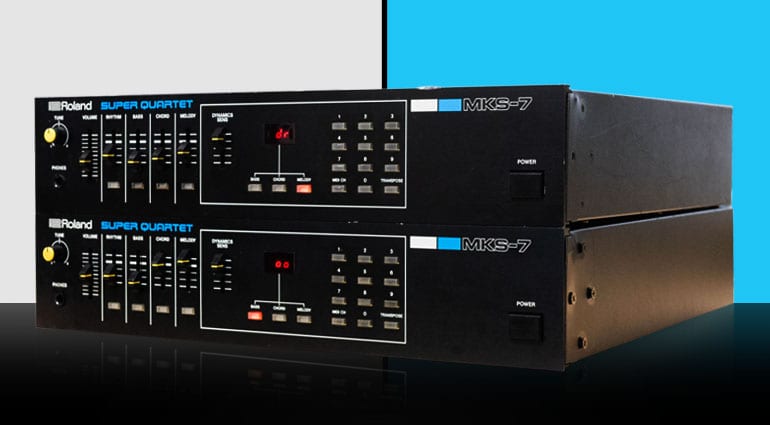 The MKS-7 came with the PCM sounds from the TR-707 drum machine. UVI has added to that and included sounds from all the other XOX machines they found along the way. And it's not just the sounds but you have full drum machine control over each sound within the kit.
Super-7 has 6 discrete layers of sound and you have independent control over 8-tracks of drums, bass, melody and 3 general-purpose synth parts. You can layer these up for huge sounds or treat them separately to build songs.
Each instrument layer has its own envelope, filter and effects like drive, phasor and EQ plus reverb and delay on send effects. There's also a complex arpeggiator and phraser to keep things moving and animated.
Super-7 is like have a multi-layered Juno-106 wrapped up with a full range of drum machines with both individual and combination control – that sounds epic! It's available now for VST, AU, AAX and standalone and runs within the free UVI Workstation host software.
More information
Video
Image Sources:
Roland MKS-7: UVI
UVI Super-7 Drum editor: UVI
UVI Super-7 synth editor: UVI