Thump One, Spiral Delay, epicPLATE mkII: Free Plugins of the Week
Thump One by Toybox is a unique and fun little synth that pairs a wavetable kick drum engine with a supersaw. Next up in our weekly roundup of free plugins is Spiral Delay, a twisting ping pong delay. And Variety of Sound have refreshed another freeware classic!
Toybox Thump One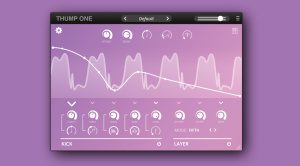 Here's a free software synth you won't want to miss if you're into massive kick drums, huge basses, and glitchy leads! At the heart of Thump One by Toybox is a wavetable-based kick drum engine that delivers a real punch thanks to its drive and buzz circuits. The second engine emulates the classic Supersaw and offers various interval and cross-modulation modes. You can shape the sound using a multi-segment envelope. Thump One is great fun – and it delivers some very unique timbres.
Thump One is available for free for macOS and Windows in VST3 and AU formats. There's also an iPad app that costs $3.99.
Davisynth Audio Spiral Delay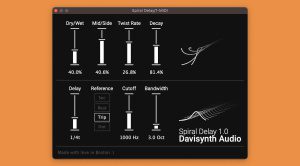 Spiral Delay by Davisynth Audio picks up where standard ping-pong delays leave off. This one doesn't just ping-pong from left to right – it spirals back and forth at an adjustable speed. In addition to the basic dry/wet control, a mid/side slider helps control the stereo image. Moreover, Spiral Delay includes a bandpass filter with adjustable bandwidth for additional sound shaping. The delay syncs to your song tempo with triplet and dotted note values as an option for more rhythmic variations.
Spiral Delay is available for macOS and Windows in VST3 and AU formats.
Variety of Sound epicPLATE mkII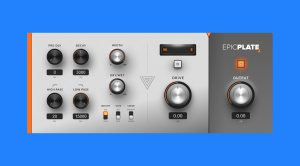 Variety of Sound is on a mission to bring its classic free plugins up to speed. Just last week, we reported on the new version of NastyDLA. This week, Variety of Sound released the updated epicPLATE mkII. Like the original, epicPLATE mkII emulates a classic plate reverb. For sound shaping, there's a width control, highpass and lowpass filters, and a drive section. Besides a new GUI, the new version offers higher-quality processing and VST3 support. Great news!
epicPLATE mkII is available for Windows in VST and VST3 formats.
Looking for more free plugins like Thump One, Spiral Delay, and epicPLATE mkII? Check out our huge archive!
Videos about Thump One, Spiral Delay and epicPLATE mkII
Image Sources:
toybox-thump-one: Toybox
davisynth-audio-spiral-delay: Davisynth Audio
variety-of-sound-epicplate-mk2: Variety of Sound