Best free plug-ins this week: epicPLATE, BasicLimiter and NoisePalette
In this week's collection of the best free plug-ins, we've got a little bit of everything. Along with an excellent plate reverb plug-in, this week's lineup includes a true peak limiter and a versatile noise generator. Here's epicPLATE, BasicLimiter, and NoisePalette.
If free plug-ins are your thing, don't look any further than our huge archive!
Variety of Sound epicPLATE
Variety of Sound has released epicPLATE to bring you an authentic recreation of a classic plate reverb. The developer says that its quick build-up, distinct tonality, and unique diffusion make it a perfect fit for vocals, drums, and anything else you decide to throw at it. You can choose from bright and dark modes, adjust the pre-delay, decay, and width, and even apply some input drive for a grittier reverb sound. There's also a filter for additional sound shaping.
epicPLATE is a VST plug-in for Windows.
Uuhyou BasicLimiter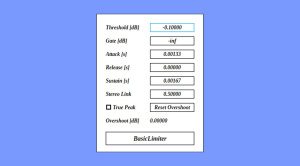 While Uuhyou's BasicLimiter plug-in may not look like much, it's got everything a limiter needs. In addition to threshold and gate parameters, you can adjust the attack, release, and sustain to shape the response. It's also got a stereo link mode. Last but not least, Uuhyou has integrated a true peak mode whose design he calls "a bit luxurious". You can also download an advanced version called BasicLimiterAutoMake that offers mid-side processing, along with some other advanced features.
BasicLimiter is available for Windows and Linux as a VST3 plug-in.
SirenFX NoisePalette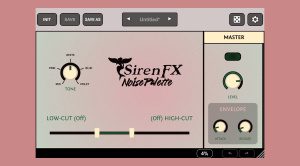 Sometimes a bit of noise is all you need! NoisePalette by SirenFX delivers noise in a wide variety of flavors. Using a spectral tilt filter, you can dial in the precise spectral roll-off to generate red, white, and pink noise, and anything in between. There's also a simple attack and release envelope. SirenFX says that the resulting noise works great for sound effects, and you can use it as a starting point for all sorts of synthesis experiments.
NoisePalette is a VST3 and AU plug-in for Windows and macOS. However, the developer says that it doesn't currently work in Ableton Live, due to that DAW's inability to load instrument plug-ins without a MIDI input. They're working on a solution.
Videos about free plug-ins
Image Sources:
variety-of-sound-epic-plate: Variety of Sound
uhhyou-basiclimiter-01: Uhhyou
sirenfx-noisepalette: SirenFX