The Gretsch 6128: How I ended up with one, and why you should get one too
Earlier this year, due to a series of circumstances beyond my control, I ended up getting a Gretsch 6128 guitar. It was a fun and interesting journey, and I couldn't be happier with the result. And now I want everyone else to have one too.
Silverburst
Before last year, I had planned on getting a vintage Silverburst Gibson Les Paul Custom at some point in my life. I like the finish and the way it ages. The Silverbursts that would turn up for sale often had blemishes, so the Silverburst Custom from '79 wasn't high on my list. But prices were usually reasonable for a guitar of that age. Then Gibson announced the Adam Jones Les Paul Custom and that plan went to pot.
Sky high
Prices of the vintage ones sky-rocketed and some person or people even stole an entire shipment of 13 of the newly announced models! Even the Silverbursts from more recent years started going up in price. On my local classifieds, a 2008 model had been put up at €3900… the last time I saw it, the price had crept up to €4800. And that seems to be about the lowest you could hope to pay for a Silverburst model now, vintage or more recent.
I desperately scoured the internet for a Silverburst that might have escaped the hype. But, sadly, no vintage green'd-up Gibson Silverburst Custom models for me.
Gibson ES-335 Chris Cornell Olive Drab
Same thing happened with the Gibson ES-335 Chris Cornell signature model in Olive Drab. They would pop up from time to time in the local classifieds, and priced fairly reasonably for limited run signature guitars. So I thought that sure, some day, I'll get one. But, after he died, the next time I saw the same model up for sale, it had almost doubled in price, and kept going higher.
So when Gretsch announced a reissue of Cornell's 6128T from 1989, I thought, not this time! Before the prices shoot up, I'm going to hunt a Gretsch 6128T from 89-90 down. One with similar specs used by Soundgarden on their landmark Superunknown album.
I don't need any more guitars
Said no one ever. With every new (different) instrument, I learn so much more. How different scale lengths, materials, construction, pickups, all play a part and give every different guitar its unique flavour. And each new purchase has always felt like the best thing since the last one, until the next one. So many guitars to try and so little cash.
Gretsch
Gretsch has been making electric guitars as long as anyone, but isn't always the first name to crop up in guitarversations. Perhaps that's because of the connection with the early Beatles, Chet Atkins, Roy Orbison or Brian Setzer, among others. Not your typical guitar heroes. Often coming with a Bigsby, and bearing names like Country Gentleman, and Tennessee Rose, the guitars have a '50s, and country and rockabilly music, and early rock n' roll vibe.
But the recent announcement of Gretsch reissuing Chris Cornell's Jet model reminded me of the gold sparkly guitar he had in the Black Hole Sun video. And then I remembered the video to Pretty Noose, where he had a silver one. And then I remembered what happened with the Olive Drab ES-335 and Les Paul Custom Silverburst (Cornell has also played a Silverburst). If there was any chance of getting this model, I had to act fast!
So I went headfirst into the world of Gretsch guitars. The company has had an interesting history (check the links below). It suffered during the "Baldwin-era", when the Baldwin Piano Company owned Gretsch (1967-1985). But was eventually bought back by the family and things started to change. During this post-Baldwin and pre-Fender (since 2002 Fender controls marketing, production, and distribution of Gretsch guitars, the family still owns the company), Gretsch started re-introducing classic models, which weren't always faithful to the originals. Nevertheless, they saw popularity, helped, no doubt by the Travelling Wilburys.
Gretsch Jet 6128T
This included a reissue of the 6128T. The original 6128T Duo Jet was introduced back in 1953, and had a chambered mahogany body with a laminated maple top, and a mahogany neck. The chambered construction made it a bit different compared with its two main competitors, the Gibson Les Paul and the Fender Telecaster. The 'T' in the model name denotes the presence of a Bigsby. George Harrison acquired his famous 1957 model in 1961, and it's the guitar he can be seen with in early photographs, and can be heard on early Beatles recordings. It's also the guitar on the cover of his 1987 Cloud Nine album. He eventually moved to another Gretsch, the Chet Atkins Country Gentleman, and then later the Tennessean.
The 80s Gretsch reissue included some changes. The necks were now maple, and the chambering was different, along with the inlays, headstock shape and logo. The DeArmond Dynasonic pickups were switched for Filtertron humbuckers. This was the model that found its way into the Bad Animals Studio, an '89 Gretsch 6128T Duo Jet. You can also see black and gold versions in the Premier Guitar Soundgarden Rig Rundown on YouTube. And this is the variant that Gretsch is reissuing this year.
The search begins
After checking the usual websites, I had almost given up. It wasn't a cheap guitar by any means, but also not obscenely expensive. You could still find it cheaper than what the ones being reissued this year will go for. A couple of sellers did have list prices as high as €3000!  And, since I had very little experience with this kind of instrument, I didn't want to sink money in just to find I'm not particularly happy with it.
Then one showed up locally. It was the non 'T' variant, without the Bigsby, and a Gretsch tailpiece instead. Otherwise it was identical in every respect. And from 1994, not '89-'90, but the specs were still the same. And at an extremely reasonable price.
I looked around to see how much a Bigsby would set me back. I'd still be paying considerably less than the cheapest version of the 6128T model I found elsewhere. And I could try it out in person; if I didn't bond with it, I could move it along and not take too much of a hit.
I went to check the guitar, and everything seemed in order. It had obviously seen considerable action. You could tell by the dings and scratches on the back and sides, but the top was still in pretty good condition. It had been through a few mods. The tuners had been changed and the bridge Filtertron had been swapped out for a TV Jones Super'Tron. But the frets had been recently dressed and the electronics were all in working order. After some polite haggling, I became the proud owner of a 1994 Gretsch G6128-1957 Duo Jet.
Ripping it
First impression, opening the case: it looks awesome! Like a guitar in a tuxedo. The big plexi pickguard, the detailed pickup rings, the binding and the chrome tailpiece and knobs with the G-arrows against the black arched top looks really nice. The Hump-Block inlays and the horseshoe on the headstock, which is also black, are nice touches too. It doesn't look like a guitar that belongs to a certain era, it looks really cool. There is a stripe along the back of the neck, which strays off slightly towards the right on the headstock. Otherwise, it is well-built.
The neck is relatively slim. Not shredder slim, more like a modern Fender C-shape, maybe a hair skinnier. And compared to my other solidbody guitars, it's louder unplugged, thanks to the chambering that Gretsch does on these models. But because the chambering is significant, it has this 'aftersound', that reminds me a lot of a Danelectro 56 U2 I once owned. Like a tiny little built-in echo chamber. The guitar also has an unusual scale length of 24.6". Closer to the scale length on the PRS 594 than any other popular models I'm aware of. The same gauge of strings definitely feel slinkier on this.
Master Volume
The electronics are also interesting. The three knobs next to the tailpiece are individual volume controls and a master tone control for the pickups. Then there's the standard 3-way toggle to select the pickups. But there's also a master volume control on the lower horn. This is especially useful if you are using both pickups and have set each pickups' volume differently. With the master volume, you can mute the guitar, or adjust the total output, without affecting the blend of both pickups.
I did wonder what the impact of the shorter scale-length on dropped tunings would be. Soundgarden often used dropped and altered tunings. But then I recalled Kim Thayil talking about how the band liked the sound of the strings flapping around. Anyway, I tuned it down to Drop D and turned my Plexi clone up, engaged my overdrive pedals and ripped into Spoonman. Yes! It definitely had a 'Superuknown'-ish character. I think it's a mixture of that chambered body (I say chambered, but you can find x-rays which show the body to be largely hollow), the scale-length, and the maple neck. And, of course, those pickups. I realise that the bridge pickup had been swapped out, but as I understand it, the Super'Tron is just a higher output version Filtertron.
The sound is airy, and round, and using the controls will get you nearly any useful tone you're after. If you look around, you can find Gretsch guitars being played in pretty much every genre of music. Even metal. To say I was pleased with this find would be an understatement. It was a fun journey, and I had a guitar that I am sure I will enjoy for many years to come.
Bigsby
But my journey was not quite yet over. Cornell's model had a Bigsby and mine didn't. Many players prefer the tone a Bigsby provides, even if they don't use it. And Chris Cornell seemed to have one on most of his guitars. So I figured I'll give it a go. Unfortunately, the replacement Gretsch V Style B3C Bigsby turned out to not be a direct fit. The screw holes for the Bigsby and the tailpiece didn't lineup, so the originals had to be filled in before putting the Bigsby in place.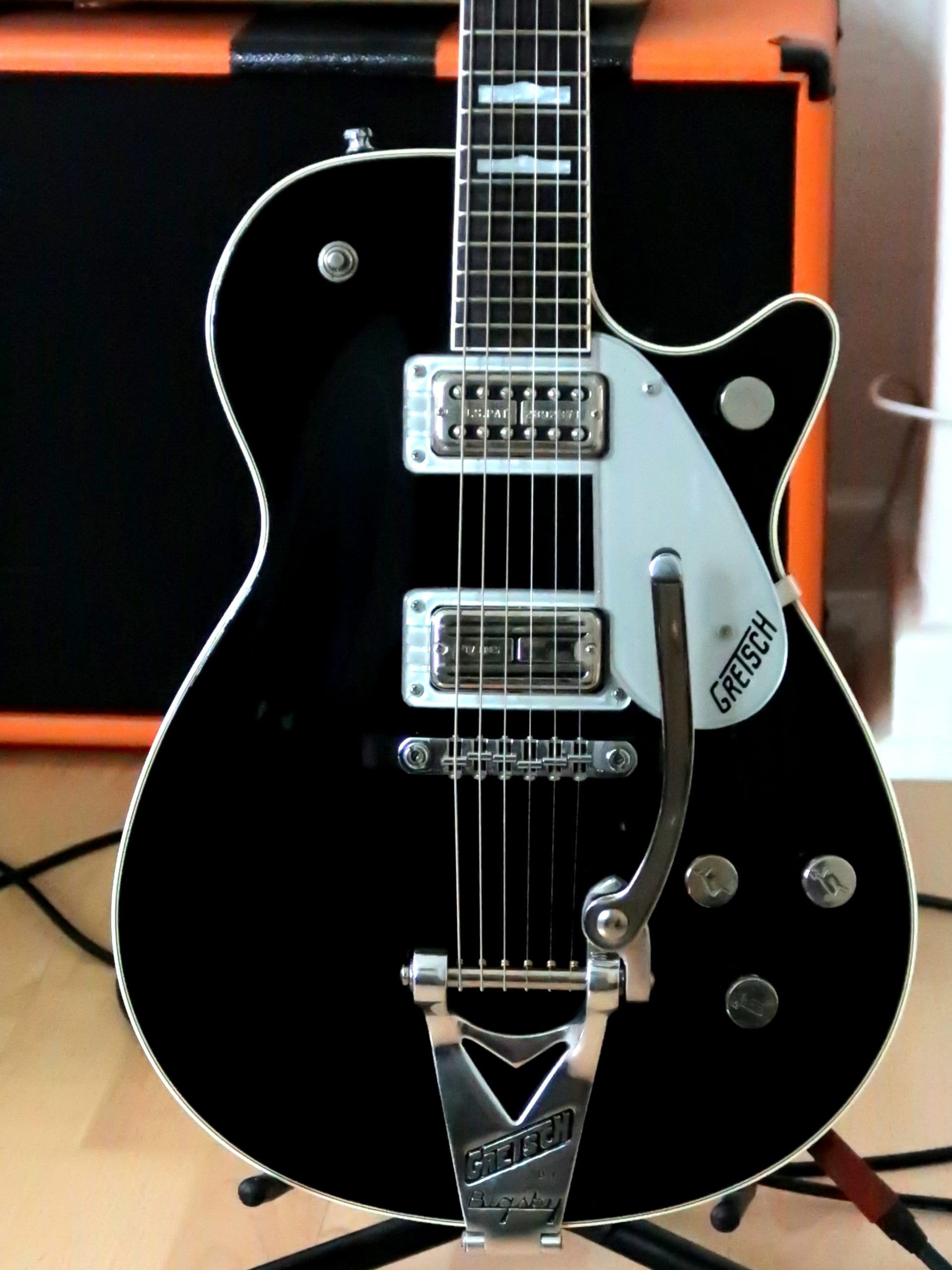 I was worried that with the Bigsby, open notes might go flat when bending strings. But, the internet reassured me that there are a variety of ways to alleviate this. So I went ahead with the swap.
Conversion to 'T'
I had my local luthier install it, just in case the saddles needed any adjusting, and to make sure it ran smooth. When I went to pick up the guitar, and opened the case to check it, well, you could see my smile through my mask. I think a Bigsby adds a touch of class. It also has elements of '50s chrome motorbikes, unsurprising as Paul Bigsby, its designer, used to design components for motorcycles and was a motorcycle racer.
In practice, a well-installed Bigsby shouldn't cause any more tuning issues than any other vibrato system. Apart from maybe a Floyd Rose. It's not an extreme vibrato, but adds a nice colour, and when not needed, can be easily swung round to the back where it neatly disappears out of the way. If I don't need it, I can always move the arm back, and if I do, well it's there.
Try a Gretsch!
I'm very glad I ended up getting this guitar! And for what I was willing to pay. With my luck, I bet there's no crazy rise in prices! But I don't care, I think it's a great instrument. And it was a fun journey chasing it, and the tone, down. If you haven't yet tried a Gretsch, I highly recommend it. There are so many models out there, at about every price range. It's difficult to keep up with Gretsch model names. It can, as Keith Williams of 5 Watt World says, drive you to madness. If you have an artist that has inspired you who plays a Gretsch, that could be a good starting off point.
If you don't want to pay for a high-end version, or look around for a used model, you can always find a budget version. Or a used version of the budget version. Good luck on your journey!
More Information
This post contains affiliate links and/or widgets. When you buy a product via our affiliate partner, we receive a small commission that helps support what we do. Don't worry, you pay the same price. Thanks for your support!
Image Sources:
Chris Cornell in 1994 with his black Gretsch 6128T: YouTube
My Gretsch 6128T.: gearnews.com
The three control knobs on the 6128T: gearnews.com
gretsch_6128T electric guitar body: gearnews.com