The Best Plug-ins of 2020: Top 10 Compressors, EQs, and Creative Effects
As this dreck of a year's end approaches, it's time to take a look back at 10 of the more interesting plug-ins which saw light amidst all the cacophony and destruction caused by the pandemic. This isn't a cherry-picked list of personal favorites – it's the 10 plug-ins you, our dearest readers, were most interested in over the past 12 months. I'd like to commend you on your taste! Check out our Top 10 Studio gear choices if you haven't, and look forward to some more end-of-year lists in the weeks ahead.
FirePresser (Firesonic & United Plug-ins)
FirePresser showcased an innovative concept of blending between four familiar compression characters through the use of a clickpad. This idea builds on the practice of chaining compressors in series in the hardware or software realm. Rather than tweak each compressor individually, you can adjust compression from a simple set of controls and proceed to blend between four emulated models – Varimu, Stress, DB160, and 76. You can shape the sound further with adjustable Turbo and Saturator controls. Firepresser is a forward-thinking multi-compressor with a fresh sonic approach.
Comeback Kid (Baby Audio)
Comeback Kid earned its popularity by being a powerful, yet non-complicated delay plug-in. The built-in audio degradation and tape saturation features make it particularly fun! Later in 2020, developer Baby Audio brought in a paired-down version called Baby Comeback, which you can have for free. It ended up being one of this year's finest freebies!
Midas Heritage 3000 (TC Electronic)
The PEQ 3000 and DYN 3000 plug-ins are inspired by the Midas Heritage 3000, a widely used console from the early 2000s. TC Electronic claims that they bring the "true tone and feel" of the mixing desk to your DAW. And if you're a die-hard fan, you can spring for the optional hardware controllers, which aim to recreate the actual hardware experience. MH 3000 is the latest incarnation of TC's concept of pairing gear emulations with controllers recreating the actual hardware. It's a really cool way of paying respect to the originals, rather than releasing them as yet another plug-in.
Valhalla Supermassive (ValhallaDSP)
Valhalla Supermassive is among the most praised reverbs of 2020. It's based on the concept of feedback delay networks, which is a different approach from your typical algorithmic or convolution reverb. This pays off in great audio quality, and the best part is you can get the plug-in absolutely free!
SP950 (waveTracing)
SP950 accurately replicates the gruff sonic character of two vintage samplers – the E-MU SP-1200 and the AKAI S950. The plug-in combines an emulation of the SP-1200's 12-bit sampling with a model of the S950's Butterworth filter. It even honours the practice of sampling vinyl records at high speeds then pitching the samples down to fit in more seconds of audio. It was a necessity, for memory was very expensive back in the day. This practice contributed to a telltale sound, which you can easily recreate with the plug-in's RPM fader.
Silika (Kush Audio)
Silika is a great-sounding compressor plug-in with a vintage flavour owing to emulated components from respected units – ADR Compex transformers and the Neve 2254 diode-bridge gain reduction circuit – along with a bespoke harmonic distortion generator. It's the kind of software compressor that would be considered in high regard if it existed as actual hardware.
soothe2 (oeksound)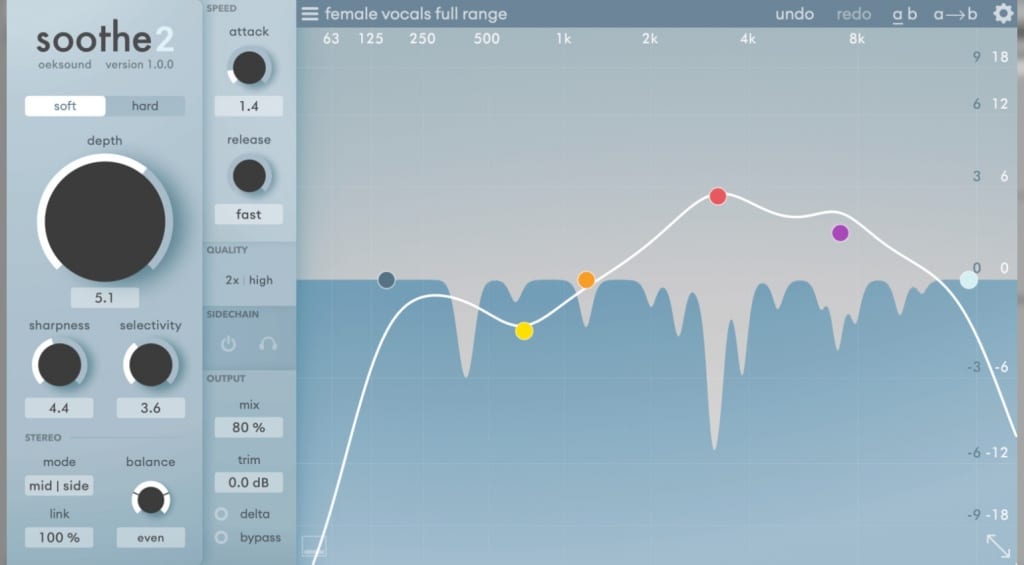 The original soothe plug-in from 2017 pioneered the concept of a self-adjusting dynamic EQ which automatically corrects unpleasant resonances and harshness. The sequel deals away with the three-band limit of its predecessor by acting across the full frequency range with adjustable Attack and Speed parameters, dual processing modes, and performance improvements.
Polygon 2.0 (Glitchmachines)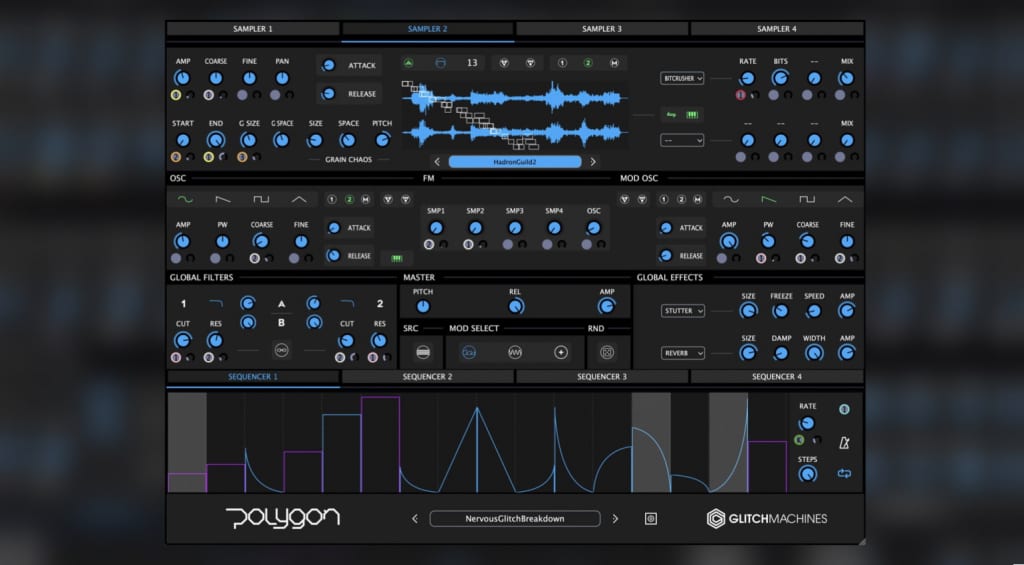 Polygon 2.0 takes granular sampling and synthesis to the next level with 4 granular samplers, dual oscillators, 4 modulation sequencers, 8 LFOs, and dual insert effects per sampler. Other facilities include a global filter, a pair of global effects, a randomizer for individual or global parameters, and polyphony. Whatever audio you feed into this beast will be rendered completely unrecognisable!
Big FrEQ (Empirical Labs)
Big FrEQ is manufacturer Empirical Labs's second foray into plug-ins after a long and esteemed career in studio hardware. It's a six-band parametric equalizer which successfully combines the old and the new in terms of look and feel. The EQ section is finished off with a saturation module for added heft and grit.
Molot GE (Tokyo Dawn Records)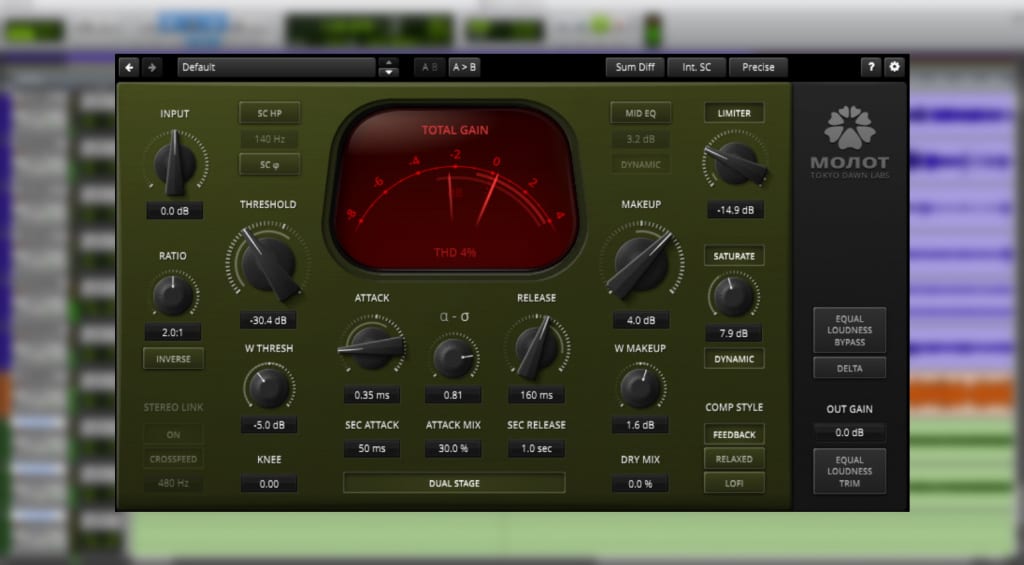 Molot GE is a modern re-incarnation of developer VladG's old Molot compressor plug-in. Molot is a freeware classic that made a serious case for how realistic and colorful analog-modeled plug-ins can actually sound. At heart, this is a Fairchild-style tube compressor, expanded with very detailed controls and a formidable saturation stage. Honoring Molot's freeware origins, developer TDR released the paired-down Molot (2020) for free.
Image Sources:
The FirePresser GUI: United Plugins
Baby Audio Comeback Kid: Baby Audio
TC Electronic Midas Heritage 3000 plug-ins: TC Electronic / Gearnews
valhalla-dsp-supermassive-01: Valhalla DSP
waveTracing SP950 effect plug-in: waveTracing / Gearnews
Kush Audio Silika: Kush Audio / Gearnews
oeksound soothe 2: oeksound
Glitchmachines Polygon 2: Glitchmachines
Empirical Labs Big FrEQ: Empirical Labs
Tokyo Dawn Molot GE: Tokyo Dawn Records