Techivation T-Compressor: serial compression in one plug-in
Deal
T-Compressor is a new plug-in from developer Techivation's T-series. It presents a clever take on the concept of serial compression – that is, processing audio using two or more compressors wired in series (one after another). This way, each unit ends up being pushed less because gain reduction is no longer designated to a single comp. It's a means to gentle, fine-tuned compression with blending the sonic characters of different units. To that, T-Compressor has three compressors working in series inside the same plug-in!
Techivation T-Compressor
In short, T-Compressor lets you add up to 3 compressor instances with full control of each within the same plug-in. You can choose between 4 character modes – Clean, Crispy, Warm, and Thick. In one of many possible use cases, you can dial in exactly how much you want out of 3 different characters at once. I'm aware of only one plug-in that does something similar – FirePresser.
Other important features T-Compressor has are oversampling (up to 4x), real-time gain reduction visualizers (analog VU and digital graph), Wet/Dry mix blend, side-chain high-pass filter (stop bass frequencies from triggering the compressor), linked compression (automatic adjustment of Attack, Release, and Ratio parameters with the turn of the Compression knob), global and individual (for each compressor) presets, smart auto-gain, and usability touches (scalable GUI, undo/redo, and A/B comparisons) that are greatly appreciated.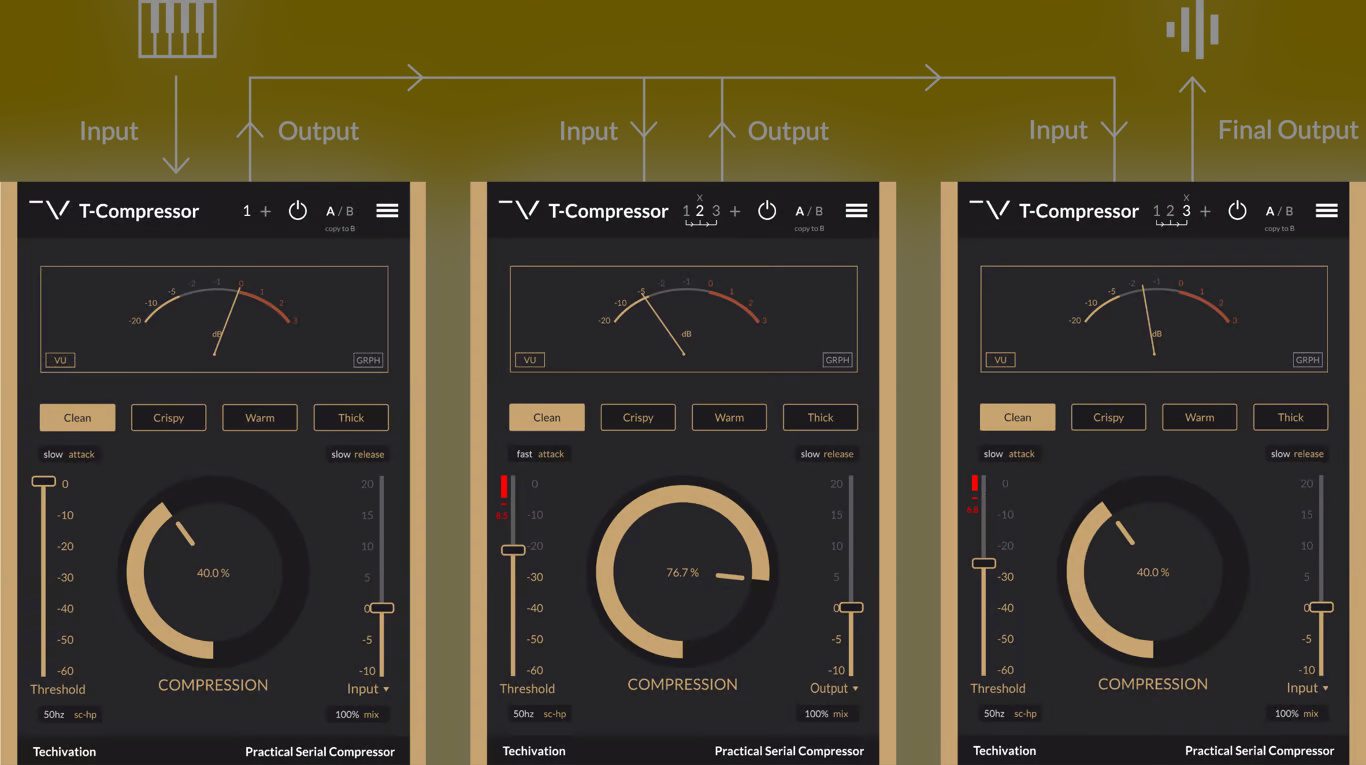 All in all, T-Compressor is another competent, thoughtfully designed Techivation plug-in. We are lucky to have such developers coming up with great software and selling it at incredibly modest prices.
Price and availability
T-Compressor is on an introductory sale for USD 39, down from USD 49. Owners of Techivation's excellent T-De-Esser Pro plug-in will be charged USD 29. A free 14-day trial version is available from the website.
The plug-in works under Windows 7+ in 32 and 64-bit VST and VST3 formats, as well as 64-bit AAX for Pro Tools 11 and up. Under Mac OS X 10.11 to macOS 11.6 (Big Sur), it works as a 64-bit VST, VST3, AU, and AAX plug-in.
Learn more about T-Compressor
Video
Image Sources:
Techivation T-Compressor series: Techivation