PreSonus adds 7-inch Eris E7 XT to its studio monitor range
PreSonus has expanded its Eris studio monitor range with a new 7-inch model, the Eris E7 XT. Like its brethren, the E7 XT features a custom Eliptically Boundary Modeled waveguide which is designed for a 100-degree wide "sweet spot".
PreSonus Eris E7 XT
Other characteristics include 7-inch woofer, 1.25-inch silk dome tweeter, 100-watt class AB power amplifier (same as the larger E8 XT), acoustic tuning controls, and three kinds of input connections (XLR, TRS, RCA). The tuning controls include Low-cut, Mid, High, and a 3-way acoustic space tuning to compensate for placement against walls or corners. The 7-inch woofer does not go quite as far down as the larger model, but 42 Hz should still be enough for a powerful and focused bass reproduction. In addition to the gain control, the panel for acoustic tuning allows you to raise and lower mids (1 kHz) and treble (10 kHz) up to 6 dB.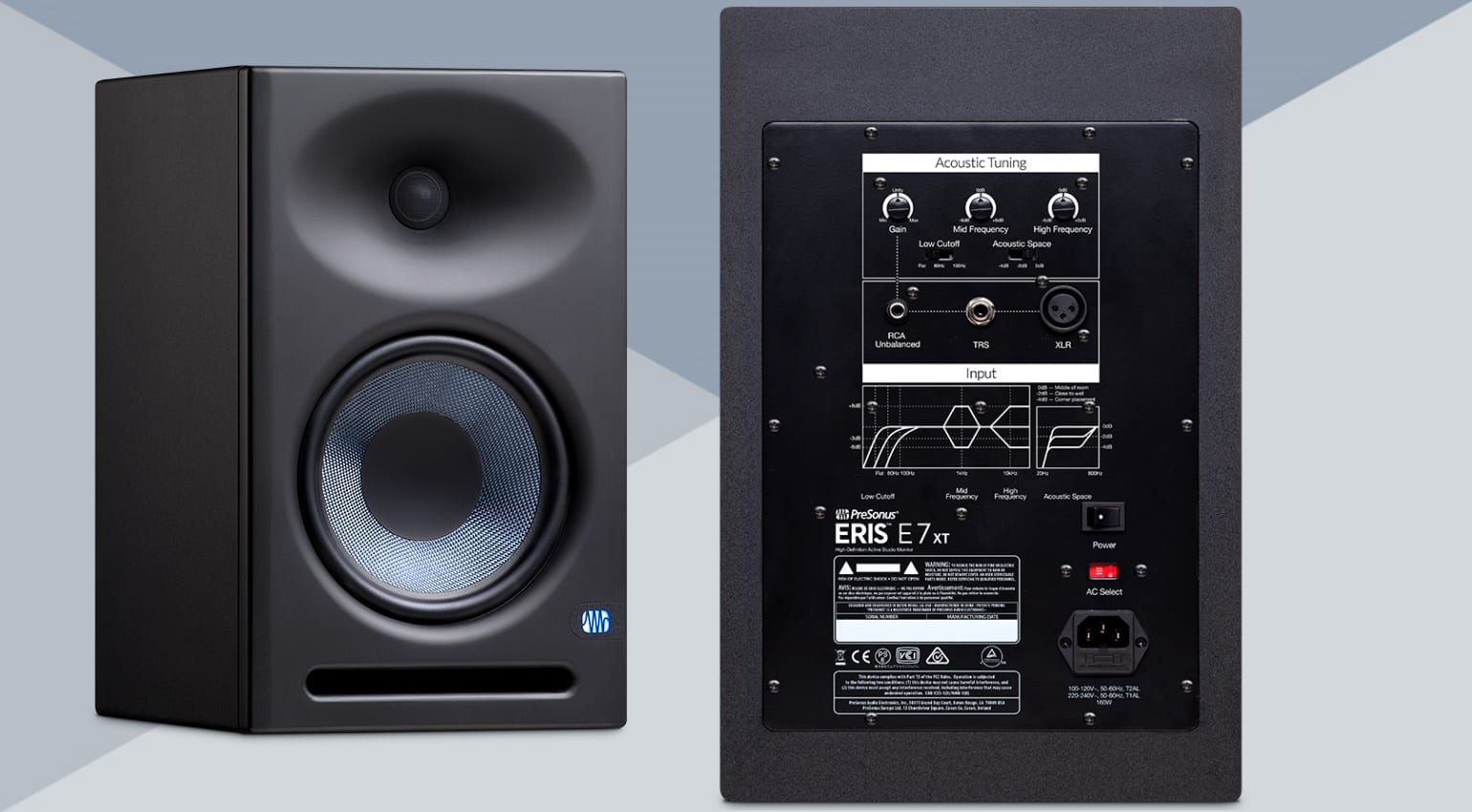 Specs
Frequency range: 42 – 22,000 Hz

Crossover frequency: 2.5 kHz

Center control: Bell EQ, 1 kHz, +/- 6 dB

Altitude control: low-pass filter 10 kHz, +/- 6 dB

Low Cut switchable at 80 or 100 Hz

Acoustic space switch -2 dB, -4 dB

LF amplifier power: 70 W.

RF amplifier power: 60 W.

Maximum level: 104 dB (continuous operation)

Dimensions (W x D x H): 240 x 242 x 365 mm

Weight: 8.4 kg
Price and availability
At USD 230 per speaker, the Eris E7 is comfortably priced – typical for PreSonus. Close to this price, you can find Focal's Alpha 50 monitors, the ASM7, and the KRK Rokit RP8 G4. Though PreSonus' offering is the most affordable of the bunch and presents a compelling set of specs. The monitors are available now and will be arriving at dealers shortly. You can already pre-order them using the link below (affiliate) for a cozy EUR 199/GBP 166. Delivery is scheduled at two to three weeks.
More information
Video
Image Sources:
presonus eris e7 xt front back: PreSonus