New from Antelope Audio: Zen Q Synergy Core USB interface
New products come with integrated Synergy Core effects
UPDATE (January 18, 2022): Antelope Audio today announced the Zen Q Synergy Core USB interface. Apart from USB-C connectivity and a price adjustment (it's EUR 100 cheaper), the functionality and feature set appear to be identical to the Zen Q Thunderbolt™ 3 interface described below.
Antelope Audio comes out swinging with two new additions to its Synergy Core line-up – the Axino USB modeling microphone and Zen Q Thunderbolt™ 3 interface. What the two have in common is Antelope's high-quality audio conversion, 64-bit digital clocking, and FPGA + DSP low-latency effects processing. Let's see what Antelope has been up to…
Axino Synergy Core USB modeling microphone with integrated effects
The Axino mic is a single-diaphragm cardioid condenser borrowing Antelope's discrete preamp design, 192kHz AD/DA conversion with 64-bit clocking and 124dB dynamic range, as well as Synergy Core effects processing. It seems to do a lot of what the manufacturer's audio interfaces can in the form of a USB microphone, making it quite an upgrade from any USD 99 to USD 199 USB mic out there.
Antelope bundles the Axino Synergy Core with 10 of its analog effects emulations to get the point across, including recreations of Neve, UREI, and Teletronix classics. With up to 12 effects instances per session, you can put together a tight vocal or instrument recording chain with just the mic into your computer. Furthermore, a catalog of 18 microphone emulations lets you add a bit of vintage microphone coloring. All that is running on the FPGA + DSP processors in the microphone, which is an impressive feat.
At USD 399, the Axino Synergy Core may be too much for most podcasters and bedroom recordists in terms of both price and features. Intermediate to advanced recordists and producers with the budget to spare ought to recognize the very good value offered by the Axino. While USB microphone manufacturers seem to be caught in a price race to the bottom, Antelope makes an example of USB mics' potential as viable studio gear.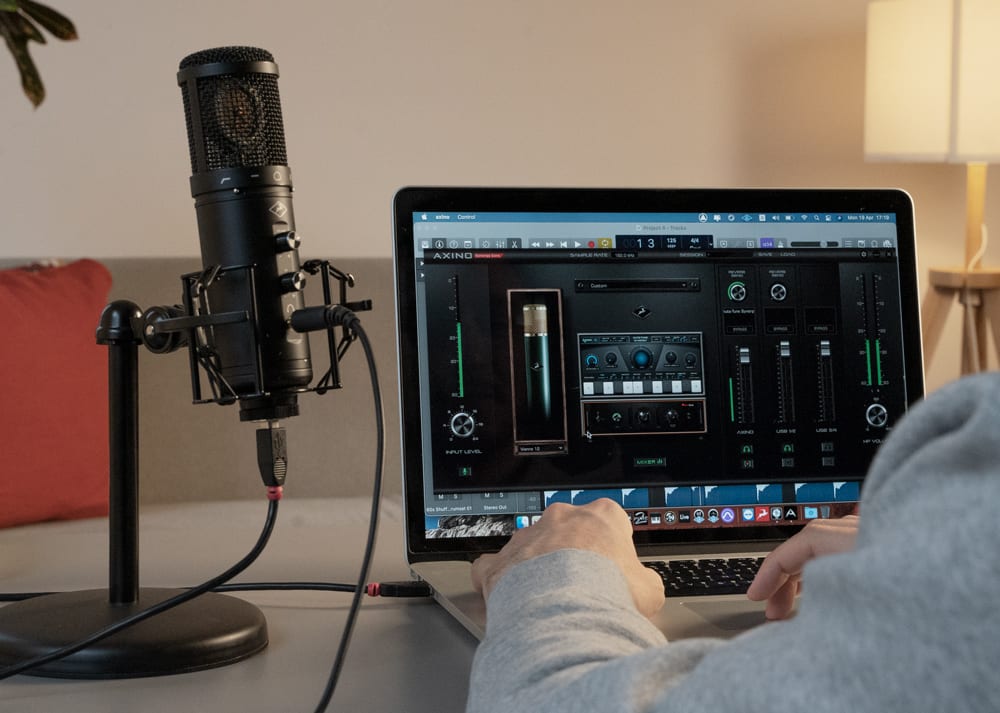 Zen Q Synergy Core Thunderbolt™ 3 desktop interface
Hot on the heels of the Zen Go Synergy Core interface comes the Zen Q, a studio-oriented unit which exchanges the dual USB ports for Thunderbolt™ 3 and adds ADAT expansion alongside line and instrument connections. It still offers the dual headphone outputs, dual mic/combo inputs, and S/PDIF I/O from the Zen Go. Conversion tops out at 192kHz with a healthy 127dB of headroom.
At EUR 999, the Zen Q is not a budget proposition, but it does fine as an interface that's smaller and more affordable than the EUR 1085 Discrete 4 Synergy Core while keeping Antelope's core features and audio quality. The new Zen Q USB costs EUR 899.
All units are available from Antelope dealers such as Thomann.
More information
Image Sources:
Antelope Audio Axino Synergy Core: Antelope Audio
Antelope Audio Zen Q Synergy Core - top: Antelope Audio
Antelope Audio Zen Q Synergy Core - front: Antelope Audio
Antelope Audio Zen Q Synergy Core - rear: Antelope Audio