Leak: Zen Tour Synergy Core, a potential UAD Apollo killer from Antelope Audio?
Here at Gearnews HQ we wondered what Antelope Audio is up to at NAMM 2020, but we didn't expect the rabbit to jump out the hat so early. A bit of poking around the European manufacturer's website revealed a pretty much complete product page for the Zen Tour Synergy Core audio interface! Oh boy…
Quickly touring through it, we are introduced to what may very well be Antelope's UAD Apollo 'killer'. No joke, UAD's desktop line is a very obvious target for the Zen Tour successor, as its specs and features read like a barely hidden attempt at one-upping the Universal guys in terms of… well, everything! We are not doing any direct comparisons on paper right now, maybe we'll save that for later when everything is official and confirmed. Besides, the price (yet unknown) is a major factor in terms of whether the Zen Tour Synergy Core will spar directly with the Thunderbolt 3 Apollos, or it will be busy carving a niche of its own. Which is still a likely turnout, considering both manufacturers want you to enter their effects ecosystem and stay in it for good (forever).
Still, we think it's worth having a look at what UAD brought to the table last year as a refresher, before checking out the newest Antelope box…
Zen Tour Synergy Core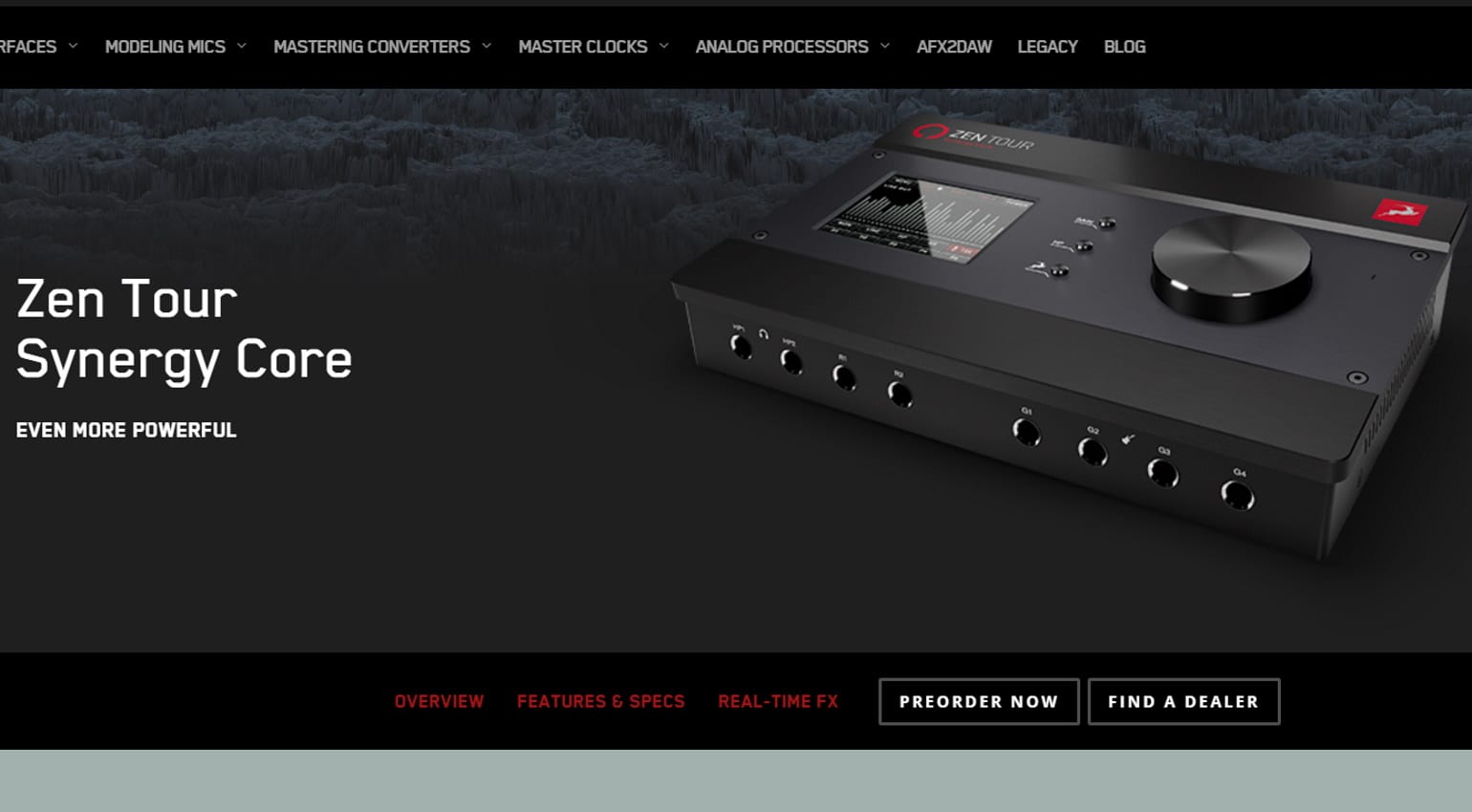 The Zen Tour successor brings major upgrades from the original, which was Antelope's first attempt at a formidable desktop-sized audio interface. For starters, the new Zen Tour sees the addition of 4x DSP chips and a total of 2x FPGA processors, a huge push from the original's lone FPGA FX processing chip. Of note is that Antelope uses ARM-based DSP processors instead of UAD's tried and tested, but also very dated SHARC chips. UA has been catching a bit of flack due to this very reason, but it has no easy way out of the SHARCs it's been using since the 00s. Re-coding all those DSP-accelerated plug-ins it amassed over the years for a completely different platform must be a Herculean effort.
Antelope isn't talking about FX instance numbers from what we're seeing, but with 32 audio channels in place of the original Zen Tour's 16, it's a safe bet that this baby can deal with low-latency FX instances well into the hundreds.
Moving down the list, the mic preamps (of which there are four) are upgraded to the manufacturer's own discrete design with plentiful 75dB of gain and support for Antelope's Edge and Verge family of modeling microphones. The AD/DA converters have been brought up to par with Antelope's Orion Studio Synergy Core rackmount interface and reach up to a hefty 130dB of dynamic range.
Critically, the new Zen Tour gets both Thunderbolt 3 and USB 2.0 connectivity, making for another example of Antelope's liking for cross-platform PC/Mac connectivity. I think that's a great, user-friendly strategy.
Pretty cool: the 8 line outputs on a single DB25 connector are all DC-Coupled. This should put the Zen Tour Synergy Core up for consideration by synth enthusiasts looking to enter the CV game with Ableton and FL Studio's CV synth control plug-ins. There's also something about 'enhanced thermal performance', which indicates Antelope has taken a good look inside the box, instead of throwing high-end specs in the blender to come up with a showpiece for NAMM.
Lotsa connections
The available connections total at 18 inputs and 24 outputs. Breaking them down, the interface features 4 instrument/line inputs, 4 mic/line inputs, stereo monitor outputs, 2 stereo headphone outputs, the aforementioned DC-Coupled line outs, and 2 outputs for reamping DI tracks. Digital connectivity includes ADAT and SPDIF, which is 10 additional I/O channels for expanding the unit. This is an impressive amount of connectivity for a desktop-sized unit, easily rivaling established rackmount interfaces. The integrated Talkback microphone is also a nice touch.
We shall learn more about the Zen Tour Synergy Core at NAMM in the days ahead. Such full-featured desktop units are a rare breed and by the looks of it, the interface has all it takes to stand proud against UAD's formidable Apollos. Remember, competition is healthy. And we have to say, Antelope's recent developments do make UAD's product strategy look somewhat tame and conservative in comparison. It's a classic David vs Goliath type of battle that's quite interesting to observe from an audio nerdery standpoint.
Price
Zen Tour Synergy Core is to cost EUR 1995.00.
More Information
Image Sources:
antelope audio zen tour synergy core leak: Antelope Audio