NAMM 2020: Golden Age Premier GA-800G remakes a legendary condenser
Swedish manufacturer Golden Age's Premier brand targets the higher end of pro audio with exacting replicas of vintage circuits. Perhaps GA is best known for its warm-sounding budget clone of the Neve 1073 mic preamp, still a go-to choice for an external pre to power gain-hungry mics like the home recording darling Shure SM7B.
Speaking of mics, Golden Age Premier's newest is a replica of the old Sony 800G multi-pattern tube condenser. You will find it in most professional studios and microphone emulation packs, and for good reason. It's a crisp, hi-fi condenser mic that's made quite a name for itself in modern recording history.
The GA-800G, as it's called, aims to fully reproduce the studio classic with strict adherence to the original design. The manufacturer claims it has sourced all the original parts (made in Germany and Japan) for the mic and power supply, and let me say, that's one beautiful gutshot indeed!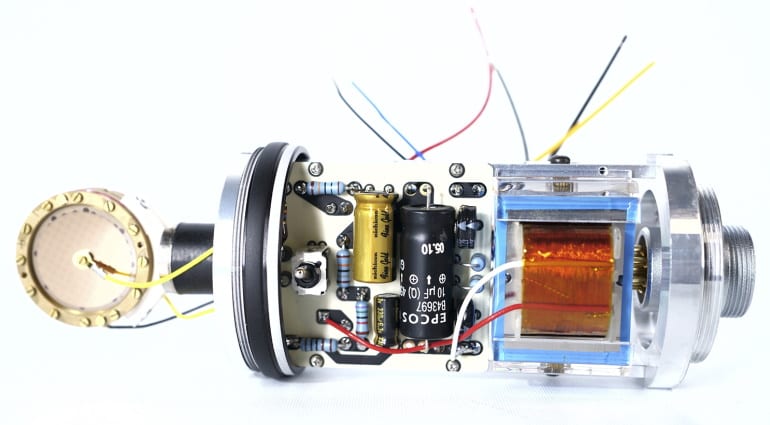 Golden Age Premier GA-800G
Of course, modern manufacturing is a bit different and Golden Age has taken some liberty in the name of a better product. For example, a ceramic gold-plated ROGERS circuit board is used, bringing superior insulation and improved performance. The original coupling and bypass capacitors have been traded for better ones, resulting in deeper low-end reproduction and more delicate-sounding highs.
Golden Age doesn't mince words when it comes to convincing those interested that the GA-800G is the real deal. The manufacturer has reproduced the original's active cooling system and mounted the 6AU6 tube in an aluminum casing with the cooling chip attached to the bottom of the case. The 6AU6 tube used here is made in France and is a characteristically hot-running tube, hence the elaborate cooling implemented in the microphone.
The capsule, an important sonic element, is made on the basis of an original vintage capsule by a respected supplier to match is characteristics. However, the replica is able to handle higher SPLs, which can always come in handy when recording loud sources. The GA-800G can handle a max sound pressure level of 137dB in cardioid mode and 140dB in Omni.
Power Supply
The big ol' brick powering the microphone is a solid-state design, chosen by Golden Age for its subjectively superior sound to that of tube rectification. This means you won't be replacing tubes in it, eliminating a potential worry. It's a significant deviation from the original, though, which used a pair of 6AU6 tubes. But we have to trust Golden Age knows what it's doing, right?
Price and release
While availability is unannounced yet, the price is a cool EUR 3800. Obviously not a mic for your homebrew black metal project, but likely a desirable addition to any well-rounded studio that can't be bothered acquiring and servicing a vintage original.
More information