NAMM 2019: Apogee Hype 24/96 USB mic with built-in analog compressor
Apogee Electronics is hitting NAMM with a brand-new USB mic – the HypeMiC. The USD 350 desktop microphone builds upon previous Apogee USB mics with the addition of an integrated analog compressor that offers three preset settings. Setting One (shape) is for subtle compression to tame peaks in voice and instrument recordings. Setting Two (squeeze) is medium compression for voice leveling and bringing out detail. Predictably, Setting Three (smash) is straight-up limiting for that larger-than-life Voice of God radiophonic quality.
Something tells me there's some more on-board processing going on in addition to analog compression, but there's no way to know for sure, as Apogee has every right to keep its "secret sauce" tech a secret.
Aside from the undeniably useful compressor, Apogee's Hype MiC is straight-to-USB, with the manufacturer's acclaimed 24-bit/96kHz conversion taking care of business. Of course, being an Apple darling, they also include a Lighting cable for plugging into your iOS device for high-fidelity mobile recordings. The mic itself is a cardioid condenser designed to reject sound coming from the back of the capsule in an effort to minimize background noise. This is important, for compression tends to make any recording imperfections sound quite apparent. It's why the manufacturer suggests finding a quiet spot to record, despite the cardioid pattern helping with noise rejection.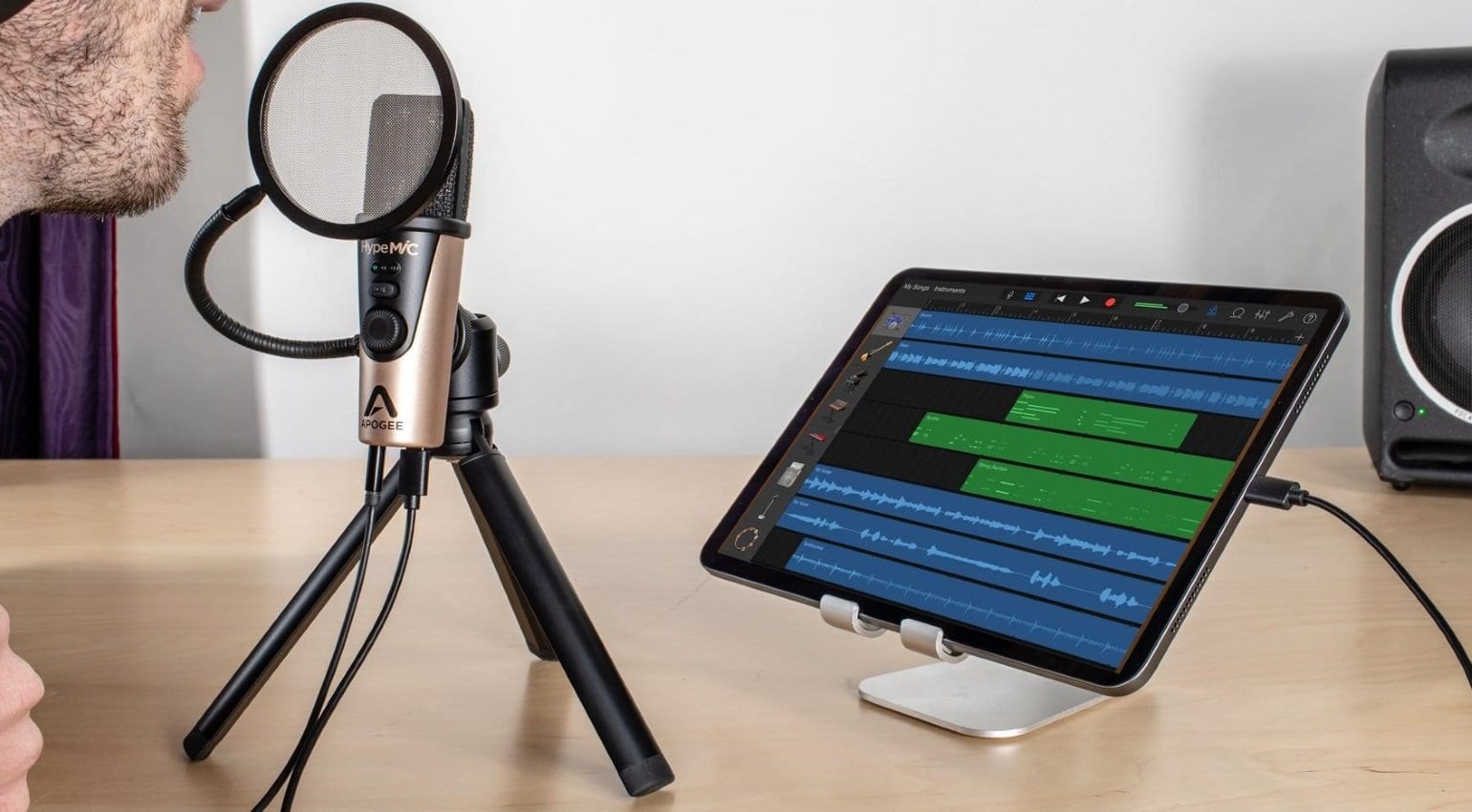 Record monitoring is accomplished through a headphone output for plugging in your favorite pair of cans or studio monitors. Coming before the AD/DA conversion stage, the monitor audio is latency-free in the true sense of the term. Control over the sound is mainly hands-on, with Gain and Mute controls incorporated into the mic body. Input gain is rated at 46dB, which is plenty enough for a condenser, and maximum SPL is rated at 130dB – again, very good. There's a Blend control for mixing between input and playback (processed) signals while monitoring. Apogee also added some LEDs to indicate status, input level, compression and Blend mode.
Price and availability
All in all, the Hype seems worth the hype around it, if you'd excuse the lazy pun. At USD 350, it's priced comfortably and it's certainly going to help its target audience – podcasters, vloggers, musicians, streamers, lecturers and such – sound more polished and professional. The mic is up for pre-order at Apogee's dealers.
Live Gallery
Image Sources:
Apogee Hype MiC: Apogee Digital