LiquidSonics Lustrous Plates Surround: 10 reverb modes for distinguished ambiance
Expired
Developer LiquidSonics has a new reverb plug-in out: Lustrous Plates Surround. Technically, Lustrous Plates is a finely aged reverb from 2019 or so. But it still holds up splendidly and now, its distinct plate reverb character can be had in full Atmos glory!
LiquidSonics Lustrous Plates Surround
Lustrous Plates Surround is a contemporary plate reverb plug-in with ten different reverb models. They can be used in Surround and Atmos mixes up to 7.1.6, so chances are moviegoers be hearing this one a lot! Designed with multi-channel mixing in mind, Lustrous Plates Surround is also a fully decorrelated multi-channel plate reverb which is still something rare. According to the developer, it's actually non-existent. I'd take LiquidSonics' word for that – they are smart people!
Anyway, the reverb is said to be excellent at artefact-free fold-down, which is considered essential for mixing home and headphones-focused Atmos audio. Along these lines, you may be bringing classic tracks featuring plate reverbs into Atmos, or working on original surround material calling for plate reverbs. That's delicate work, and Lustrous Plates claims to be the right tool for the job.
Surround Edition
The Surround edition has all the features from the original Stereo plug-in, including the even diffusion and spectral decay of ten real hardware plates. It also brings along many enhancements and features meant for modern surround production workflows. For example, Lustrous Plates Surround offers independent control over direct and cross-feed signals, which is crucial for great-sounding surround reverbs. While plate reverbs typically have an immediate onset, the Surround edition provides bloom and delay controls to let the reverb spread gently across the surround field. Likewise, level and delay let you control when and how much of the signal propagates into adjacent surround channels.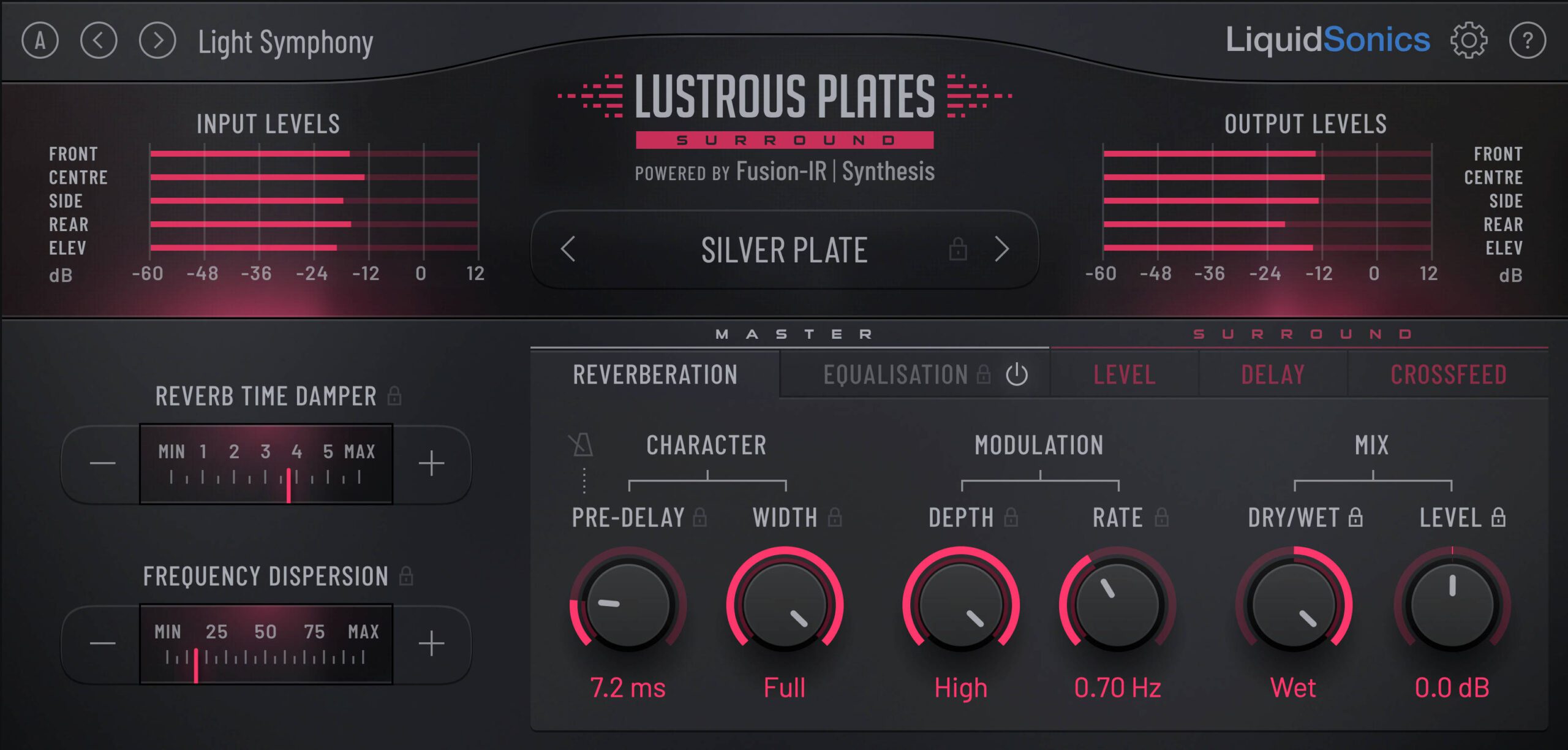 Additionally, plate reverbs typically have solid low end, especially with decay times headed towards the upper end of the range. High and low-cut filters with selectable roll-off curves can be used to dial in as much weight and sizzle as needed.
10 reverb models
Lustrous Plates Surround offers 10 different reverb models:
Chrome: rich and full-bodied, with a classic multi-band decay profile
Silver: light and airy, with attenuated low-mids for added clarity
Steel: similar to the chrome plate, but with a reduced low frequency decay time
Rhodium: bright and rich, with neutral decay
Beryllium: highly reflective metal plate with a bright tone
Corbomite: dense and heavy-sounding plate reverb
Iridium: dense, with highly emphasised low frequency decay
Osmium: rich reverb capable of clean, short ambience
Platinum: bright and dense, with rich lows on longer decay times
Gold: emulation of the rare 'gold foil' 240 compact plate reverb
Lustrous Plates Surround – Price and availability
Available in 64-bit VST/VST3, AU and AAX plug-in formats for Windows (7 or above) and Mac (10.9 or above), Lustrous Plates Surround is on sale at an introductory price of USD 179 until December 5, 2021. The regular price is USD 249. Note that a Surround edition license will also unlock the Standard edition. Also, current owners of a perpetual license for Lustrous Plates may upgrade for USD 50. A demo version is available as well, although it requires the free iLok License Manager app for authorization.
More information
Video
Image Sources:
Lustrous Plates Surround: LiquidSonics