LiquidSonics Reverberate 3: an advanced reverb for convolution lovers
Convolution-based reverbs are pretty cool. Impulse responses – small frequency response snapshots taken from real rooms or hardware effects – make for a very realistic sound. They also tend to be inexpensive, giving you access to reverbs from otherwise expensive hardware effects or places beyond your reach. One such reverb plug-in is LiquidSonics' Reverberate. The developer has updated it to version 3 with the goal of possibly sounding better than the impulse response source material.
LiquidSonics Reverberate 3
A key new feature in the new LiquidSonics Reverberate 3 is Fusion-IR, which enables more ways of combining IRs. For example, it lets you mix the early reflections from classic hardware with the reverb tail of another effect. The IRs used for this – i.e. impulse responses – are divided into several components to produce the full effect.
The true stereo simulation has also been improved. Not only are there crossfeeds between the left and right channels, but you can also modulate them! This makes for a livelier, more motion-infused sound. There's also the split modulation function that lets you send the parts of the impulse responses to two different convolution engines and modulate each individually.
On the surface, Reverberate's interface gets to shine in a new light and is also scaleable in size. Support for the VST3 plug-in format is also new, as well as two new IR packs (FS-24x and FS-48) which come bundled with version 3.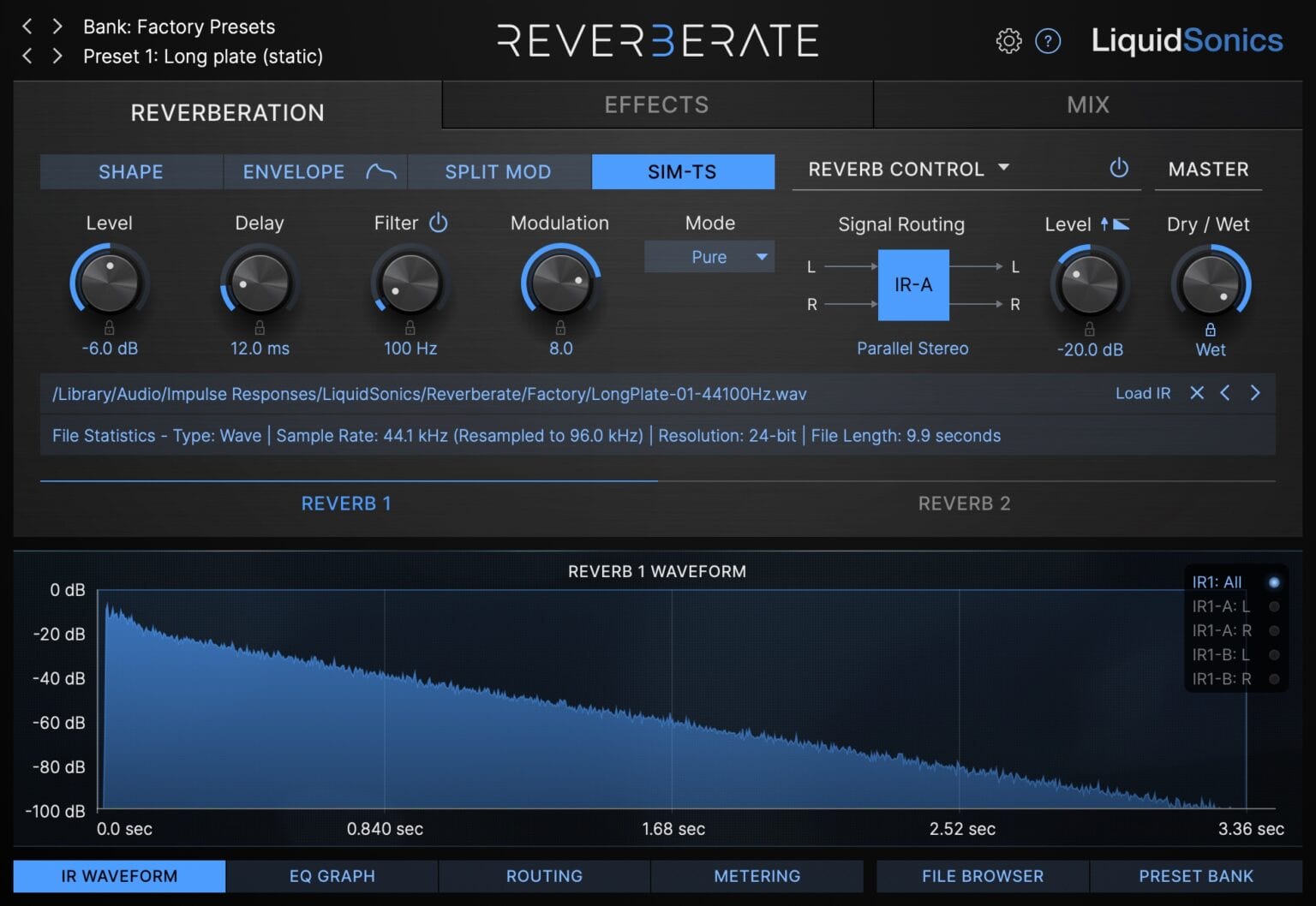 Specifications and price
LiquidSonics Reverberate 3 runs as a VST2, VST3, AU, and AAX plug-in on macOS 10.9 and higher and Windows 7 64-bit computers. Authorization is handled via iLok – your options are the iLok License Manager, an iLok 2/3 dongle, local authorisation and/or iLok Cloud. So a USB dongle ownership is not necessary. Being a convolution reverb, and a fancy one at that, Reverberate 3 eats up around 500 MB of disk storage. A free 14 days demo version can also be downloaded from the manufacturer's website.
The price has also been updated. With the release of version 3, Reverberate now costs USD 99. Owners of earlier versions get to pay half that. Additionally, anyone who's bought Reverberate 2 after June 1, 2020 will receive Reverberate 3 free with an online voucher.
More information
Video
Image Sources:
Reverberate-3-Sim-TS-1-1536x1058: LiquidSonics