Keeley Super AT Mod LTD Overdrive: Andy Timmons' Blues Driver
New Andy Timmons overdrive pedal
The Keeley Super AT Mod LTD Overdrive contains the legendary Blues Driver circuit. Due to the two modes "AT" and "Phat" it can be adapted to both humbucker or single-coil pickups. Designed with Andy Timmons, this is a very touch sensitive overdrive, perfect for expressive playing styles.
Keeley Super AT Mod LTD Overdrive
The Keeley Super AT Mod LTD Overdrive was created from a collaboration between Robert Keeley and Andy Timmons, who have already developed the Halo Dual Echo together.
Blues Driver Phat Mod 
Inside, there is a Blues Driver circuit that clips asymmetrically based on regular diodes and LEDs. Which is based on a 20 year old modification first performed with the Keeley Blues Driver Phat Mod.
Apparently, the topology of the pedal is similar to classic California tube amps, according to Keeley, and they substitute JFET transistors in place of tubes.
This all helps to give the pedal an amp-like feel.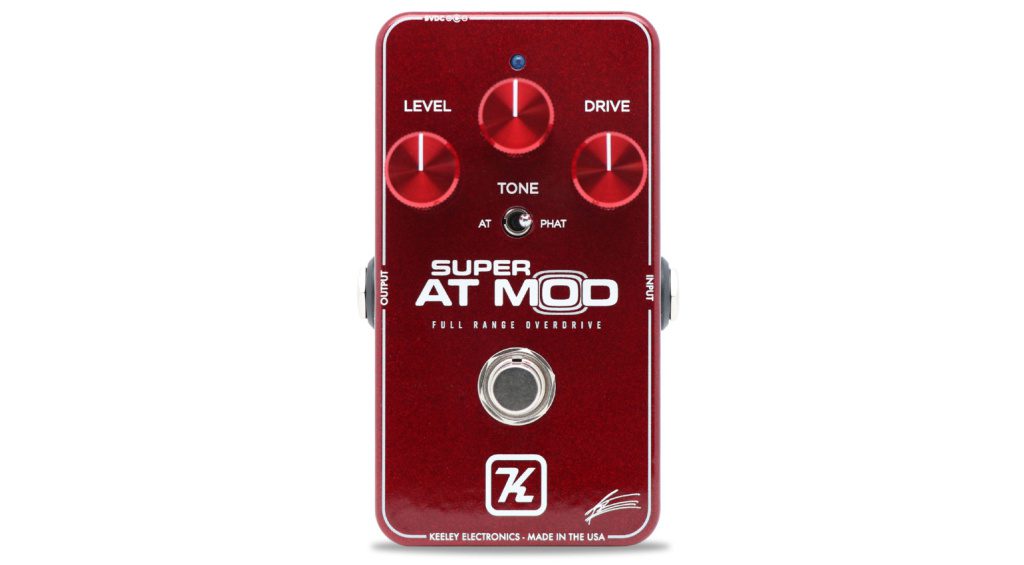 AT Mod + Phat Mode
The special feature of the red pedal are the two variants or Modes that are set with the small toggle switch. Either you use the AT mode, AT stands for Andy Timmons, and the sound is a little tighter and more transparent in the voicing.
In addition, there is the Phat mode, with which you can give your single coils a little more depth and body.
Plus, it has the standard level, tone and drive controls that control the basic overdrive parameters. Apart from the two modes, it is a pretty simple pedal to dial in and use.
The video demoes below give a good indication of wha to expect from this overdrive circuit.
MSRP – EUR 259 *
More Information
Videos
* This post contains affiliate links and/or widgets. When you buy a product via our affiliate partner, we receive a small commission that helps support what we do. Don't worry, you pay the same price. Thanks for your support!
Image Sources:
Robert Keeley and Andy Timmons: Keeley
Keeley Super AT Mod LTD Overdrive: Keeley