Keeley Halo Andy Timmons Dual Echo
Signature delay pedal for Andy Timmons
The Keeley Halo Andy Timmons Dual Echo features the guitarist's signature setting. It uses dual delays and up to 1500 milliseconds of delay time, along with plenty of useful features. All powered by a Dream multi-core DSP chip.
Halo Andy Timmons Dual Echo
The new Keeley Halo Andy Timmons Dual Echo works like having two separate delay pedals. One is routed to the left footswitch, the other to the right footswitch. The pedal offers up to 1500 milliseconds of delay time and has five delay settings: Quarter, Dotted Eighth, Halo, Bucket Brigade and Tape. Keeley used what they call a Dream multi-core DSP to achieve all the delays/echoes.
Signature Preset
The signature Halo preset is what the pedal is named after, and is based on Timmon's signature sound. There are 7 further presets available, each with varying levels of delay and modulation. The Halo has soft stomp footswitches, so you can control things like tap tempo, infinite hold, preset save/recall and more. It also has a status light which indicates when the knobs have been from the home settings of presets.
Pro-Spec?
Further features include remote switching and expression pedal control, which makes it a pretty versatile delay pedal. It also has true bypass functionality, so won't mess with your core tone when not in use. This signature effect pedal comes across as a well-thought-out delay effect and one that is also highly flexible. Sure, it is not the cheapest delay on the market, but it isn't ridiculously high priced either.
I would suggest you check out the demo videos below to hear the new Halo Andy Timmons Dual Echo in action. The Halo comes across, as an always-on effect a lot of the time, which could be perfect for some guitarists. Mr Timmons already has a signature Carl Martin Compressor * and JHS AT+ * drive pedal, along with his signature Ibanez * model.
MSRP – USD 299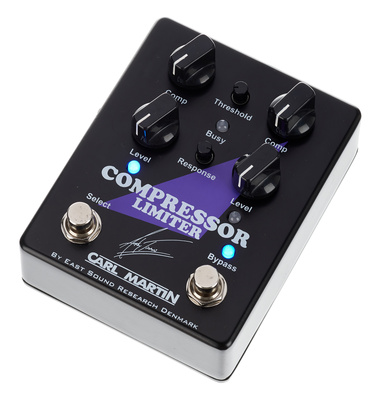 Carl Martin Andy Timmons Compressor



Ibanez ATZ10P-STM Andy Timmons
More Information
Videos
* This post contains affiliate links and/or widgets. When you buy a product via our affiliate partner, we receive a small commission that helps support what we do. Don't worry, you pay the same price. Thanks for your support!
Image Sources:
Keeley Halo: Keeley
Lots of useful connectivity : Keeley