Guitar Gear Gems: Jackson Rhoads, Arborist V2 & Supernova Wrap Trem
Jackson MJ Series Rhoads RR24MG and more
This week we take a look at the Jackson Rhoads RR24MG finished in black and ready to rock. Then we check the Spruce Effects Arborist V2 overdrive pedal, which is an updated and expanded version of the original drive pedal.  Then we check out the new Buzz Feiten Supernova Wrap Trem that aims to sweeten intonation and tuning issues for guitars with trem systems.
Randy Rhoads
The Jackson MJ Series Rhoads RR24MG has an alder body, with a through-body three-piece maple neck with graphite reinforcement rods and a 12"-16" compound-radius ebony fretboard with 24 jumbo frets and a set of pearloid sharkfin inlays.
It comes fitted with a pair of EMG humbuckers, with an 81 in the bridge position and an 85 in the neck position.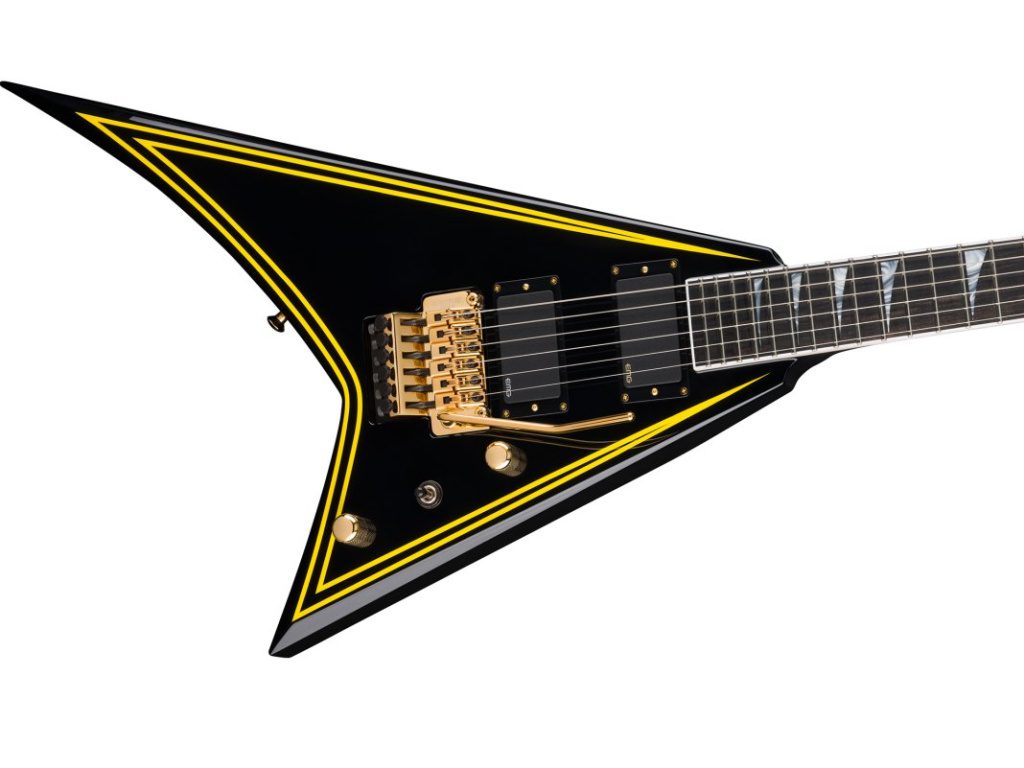 Pinstripes
It has a gold Gotoh GE1996T Series double-locking tremolo system and matching gold hardware. Though the most striking feature of this guitar is the Gloss Black with Yellow Pinstripes finish. The Arctic White version was pretty stunning, but this black one looks pretty mean with those yellow stripes.
This Japanese-made Jackson looks great and I'm sure a lot of players will love it.
MSRP – USD 2999 / EUR 2599 *
Spruce Effects Arborist V2
The Spruce Effects Arborist V2 is the newly updated version of the pedal. The Arborist was born as the silicon side of the former Giganteum Drive. The pedals are all hand wired and assembled in California, so expect a high-quality build from these.
Expanded
This new V2 version has an expanded tone stack with independent passive treble and bass controls, along with a versatile three-way voicing switch with smooth, dynamic and comp modes. These various modes are based on a unique germanium feedback/diode clipping arrangement and offer users some great drive tones from the one pedal.
It is available in Dana Sage and Vintage Green finishes.
MSRP – USD 180
Supernova Wrap Trem
Buzz Feiten has released a video detailing his latest invention called the Supernova Wrap Trem and it aims to simplify intonation issues for Stratocaster players that use a vibrato system.
Sweetened Tuning
Essentially, it looks just like a lightning bar compensated wrap over bridge has been mounted to a standard Fender Trem system.
As it has fewer moving parts, the theory is that it should cause fewer issues once set up to intonate.
With any fretted, stringed instrument intonation is never 100%, so this system offers a sweetened tuning. Much like the Buzz Feiten tuning system you often see fitted to guitars. Nuno Bettencourt is just one of the artists that use the system and has it installed on his Washburn N4 signature guitars.
* This post contains affiliate links and/or widgets. When you buy a product via our affiliate partner, we receive a small commission that helps support what we do. Don't worry, you pay the same price. Thanks for your support!
Image Sources:
Jackson MJ Series Rhoads RR24MG: Jackson
Arborist V2: Spruce Effects
Buzz Feiten: YouTube/Buzz Feiten