Jackson Pro Series Signature Mark Heylmun RR24-7
Suicide Silence guitarist gets 7-string signature model
The Jackson Pro Series Signature Mark Heylmun RR24-7 is a modern 7-string V-style guitar in the classic Rhoads design. With many pro features that are perfect for metal guitarists.
Pro Series Signature Mark Heylmun RR24-7
This new Jackson Pro Series Mark Heylmun RR24-7 is a 7-string  model based around the Randy Rhoads style Flying V body shape.
The Suicide Silence guitarist has chosen some great specifications for his signature model.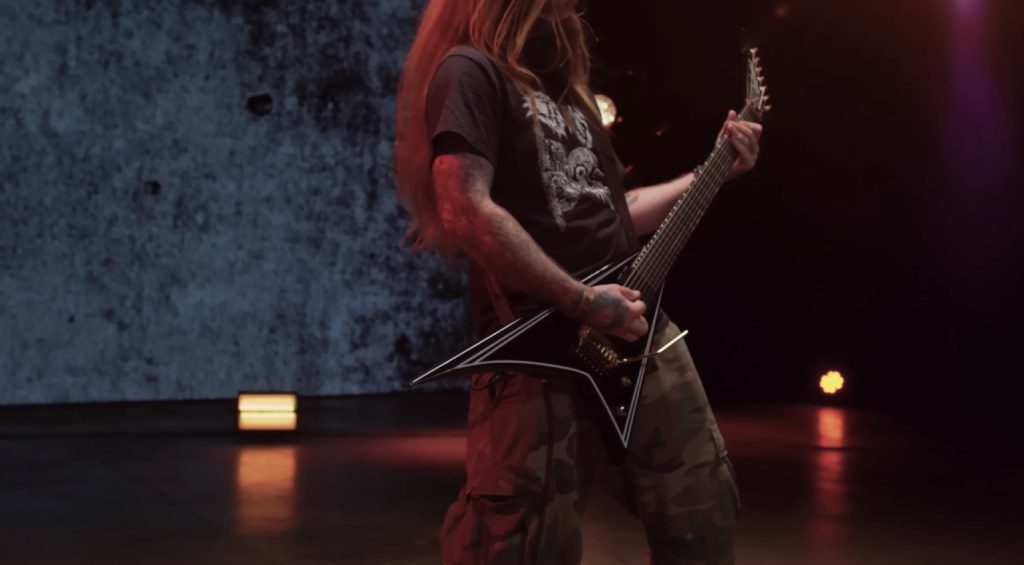 Specifications
It has a Nyatoh body that is paired with a graphite-reinforced, thru-body maple neck. With a 12-16′′ compound radius ebony fretboard fitted with 24 jumbo frets and a multiscale scale of 26.5′. This should be a pretty comfortable guitar to play.
It is painted black at the front as well as at the back, there is a chic pin stripe around the body, which highlights the very sharp-edged shape and it has a reverse headstock. The gold matching hardware also suits the aesthetic of this model, though I guess it will tarnish over time.
This model features a Floyd Rose 1000 bridge double-locking system perfect for divebombs and whammy bar abuse.
Fishman
It comes with a set of two active Fishman Fluence Modern PRF-MH7 humbuckers installed. These are controlled via a 3-sway selector switch and a single volume control with a push function for the two pickup voices.
MSRP – GBP 1219
More Information
More Jackson Guitars news
Video