Guitar Gear Gems: EBMM Short Scale StingRay Limited Run and more
Limited run basses, Prog Metal 7-strings and double boost pedals
Guitar Gear Gems this week features the limited run EBMM Short Scale StingRay Bass in a variety of hot colours. Plus the very prog metal looking Vola Djinn signature 7-string guitar and finally the new Black Bobbin Boostdual boost pedal.
Guitar Gear Gems
This week on Guitar Gear Gems we take a look at the latest limited run of short-scale basses from Ernie Ball Music Man, each with some clever switching options and neodymium-powered pickups. Then we check out the new Vola Guitars signature model 7-string for Malek Ben Arbia, called the Djinn. Then we take a peek at the new Boost pedal collaboration between Old Blood Noise Endeavors and Black Bobbin.
EBMM Short Scale StingRay Bass Limited Run
Ernie Ball Music Man has recently unveiled their new limited edition Short Scale StingRay bass guitars in five new finishes: Candy Man, Plum Crazy, Burnt Ends, Silver Shadow and Vincent Blue. They also come with the choice of ebony, rosewood or maple fretboards, depending on the finish selected.
All models feature an ash body paired with the shorter scale length  30″ necks. The necks themselves come fitted with 22 stainless steel frets and you get that super solid 5-bolt contoured neck joint to the body.
Neodymium Powered
Each bass has a passive humbucking pickup that uses higher output neodymium magnets designed specifically for the shorter 30″ scale length. They also have a three-way rotary switch featuring parallel, true single-coil and series modes. Plus, the volume pot features boost when engaged via the push function.
This limited run features 25 of each colour being released worldwide.
MSRP – USD 2399
Vola Djinn
Vola has teamed up with Tunisian band Myrath's prog metal guitarist Malek Ben Arbia for the new Origin 7 Djinn. This 7-string beast of a guitar is available in two finishes: Void (Purple Burst) or Sands (Natural Buckeye).
Prog-tastic!
It features neck-through construction, with a mahogany body and birdseye maple neck, with an ebony fingerboard. The design is pretty striking and certainly looks very metal. Especially when you see the two SP Custom humbuckers, the Savage Beast neck and Chaos Land VIII bridge. They are etched with artwork from Myrath which suits the overall prog metal vibe of this guitar.
The pickups are wired to a master volume, tone and a three-way switch.
Hardware
The Djinn comes with a Hipshot 7 strings tremolo bridge and a set of Hipshot locking tuners all finished in black. Certainly, this is a guitar aimed squarely at the genre of music it was created for. Check it out in the official video below.
MSRP – USD 4239
Black Bobbin Boost
American boutique pedal makers Black Bobbin have worked n collaboration with Old Blood Noise Endeavors. Together they have developed the Black Bobbin Boost. It combines two great boost circuits in one case and gives you the freedom to use them anywhere in your signal chain.
The BUMP side was developed to optimize the thrust of a beautiful transparent overdrive. Since it is an "always on" boost, the front only has an output control. However, there is an internal tone trimming potentiometer. This can also be adjusted to taste if necessary and is a set-and-forget type of control.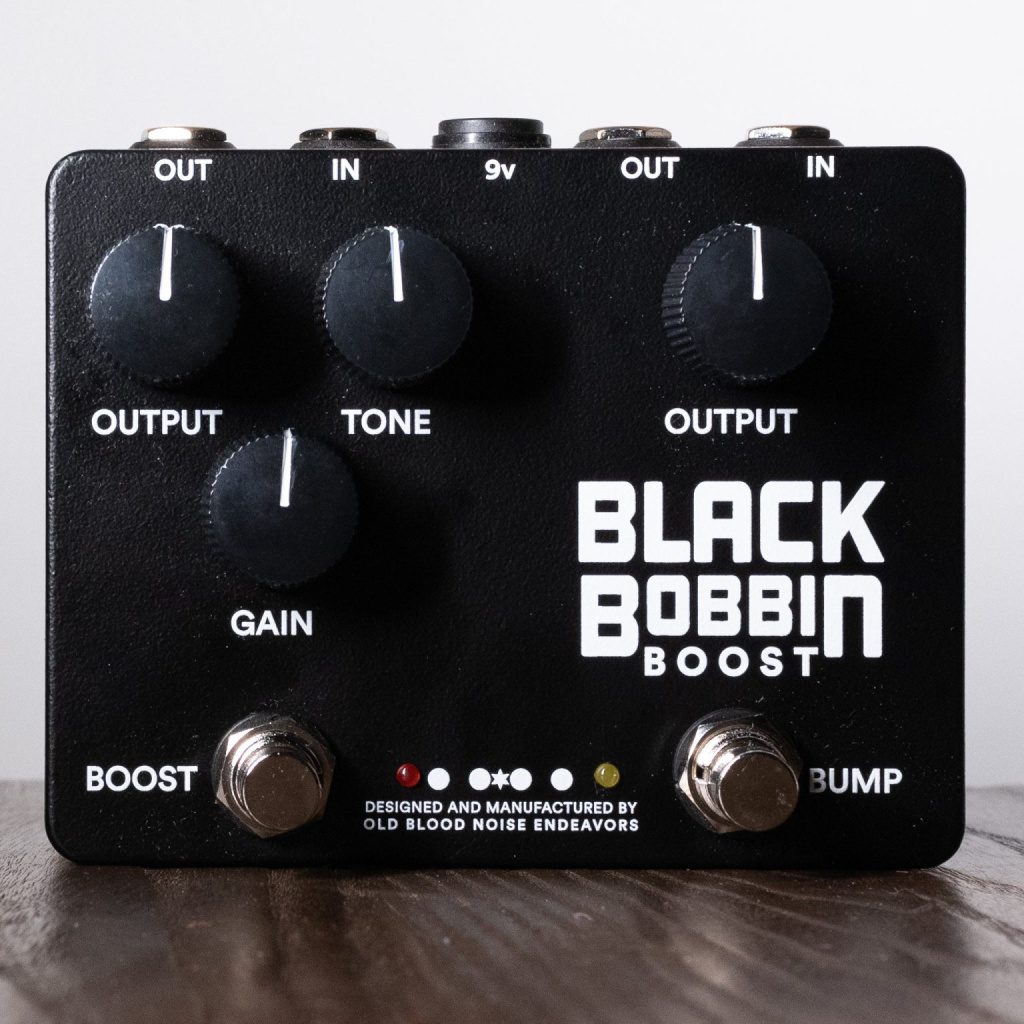 Echoplex boost
The BOOST side was designed in the style of the EP booster and can be used in various ways. Originally, the BOOST was to be placed at the highest gain level and serve as a decibel boost for solos or to pull fuzzes out of the dirt and bring them into the mix. However, the BOOST page also works wonderfully immediately after the BUMP as a secondary gain level if you want to keep it simple.
The Black Bobbin Boost can currently be pre-ordered and will be delivered within 3-4 weeks.
MSRP – USD 249 
Image Sources:
EBMM Short Scale StingRay Bass Limited Run: EBMM
Vola Djinn in Sands finish: Vola
Vola Djinn: Vola
Black Bobbin Boost: Black Bobbin Boost