Gibson has two new, limited Jimi Hendrix models: a '67 SG Custom and a '69 Flying V
Approximate reading time: 2 Minutes
Gibson has announced the Jimi Hendrix '69 Flying V and Jimi Hendrix '67 SG Custom in celebration of the late guitarist's 78th birthday. Though he is predominantly known for playing Fender Stratocasters, he did, on occasion, wield Gibson guitars in public, and there is no doubt he used them in the studio as well.
Gibson Jimi Hendrix '67 SG Custom and '69 Flying V
Gibson has recreated two very iconic guitars to commemorate what would have been Jimi Hendrix's 78th birthday. Jimi played a Flying V with the Band Of Gypsys, no doubt because the symmetrical designs and upper fret access appealed to him, as he was of course, a left-handed guitarist. Both models are made in the Gibson Custom Shop.
Jimi Hendrix '69 Flying V
Gibson has recreated the left-handed Flying V Hendrix ordered from the company in 1969, that he used with the Band of Gypsys, including on their 1970 Isle of Wight Festival appearance. There will be 125 right-handed ones, along with 25 left-handed versions. The guitar features a mahogany body and neck, finished in Ebony by the Murphy Lab. The neck has a '67 Flying V profile and 22-frets. You have a set of three knobs with two volumes, and a single tone control, for the two Custombucker humbuckers.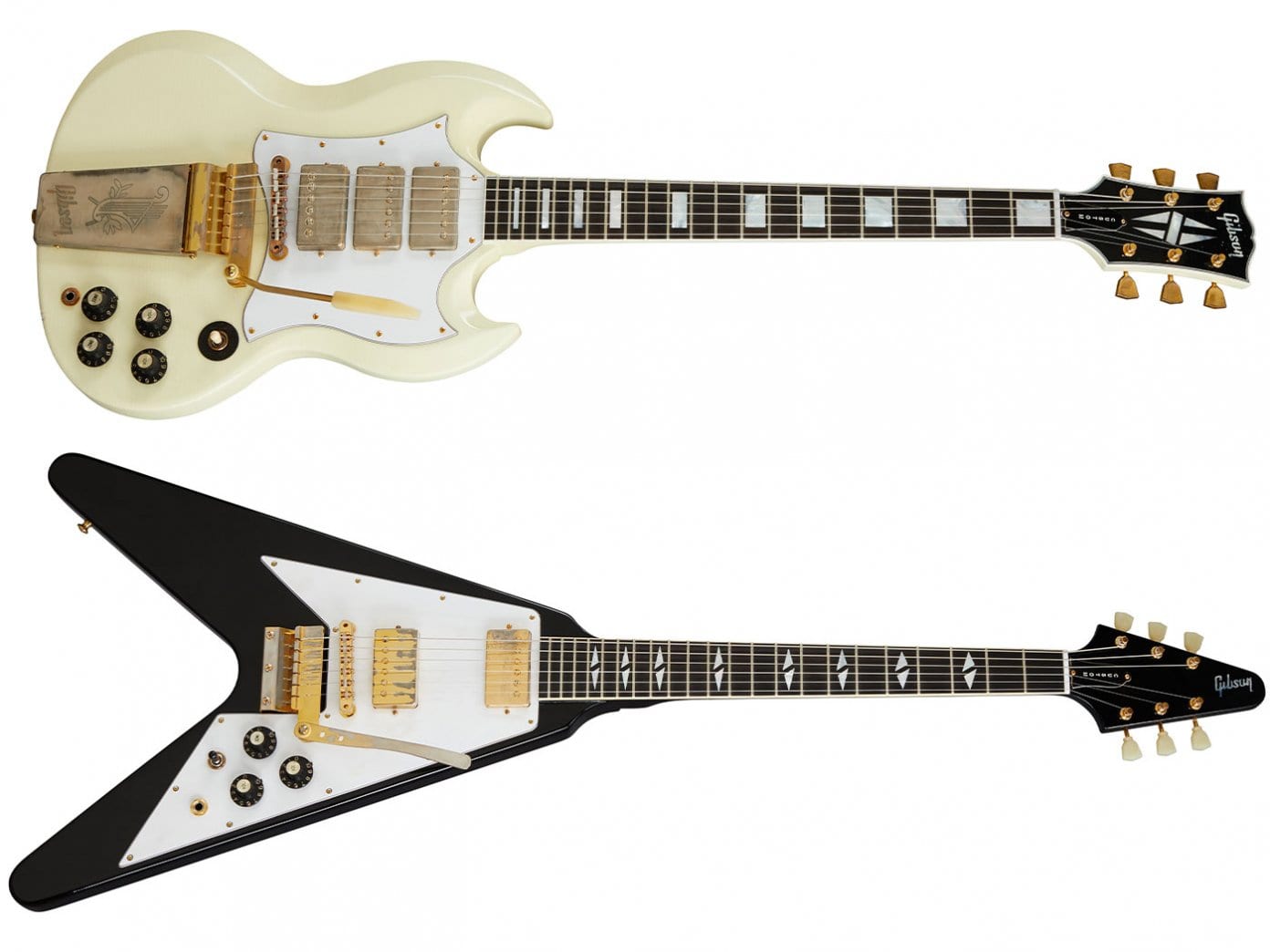 Gibson Hendrix '67 SG Custom and '69 Flying V
Dick Cavett Show SG Custom
The SG Custom is based on the one Hendrix played in 1969 on the Dick Cavett Show. The guitar uses a mahogany body and a 22 fret '63 Slim Taper mahogany neck. This time you have a Polaris White finish by the Murphy Lab, and aged gold hardware. Only 150 models will be produced, with no left-hand versions this time. It comes with three '68 Custom humbuckers, Kluson Waffle Back tuners, and a Long Maestro Vibrola.
Both guitars have a load of 'case candy' which includes pictures of Jimi Hendrix performing with the original instruments and snapshots from engineer Eddie Kramer's personal collection. If you are a big Hendrix fan with a big wallet, then these may be worth checking out.
RRP –  USD 9999.00
More Information
Video
*This article contains affiliate links that help us fund our site. Don't worry: the price you pay always stays the same! If you buy something through these links, we will receive a small commission. Thank you for your support!