First Look: IK Multimedia AmpliTube Joe Satriani guitar tone suite
Do these tones match up to the legendary guitar sounds from Satch's album's?
Back at Winter NAMM, we were excited to see IK Multimedia announce an AmpliTube bundle with Joe Satriani. The AmpliTube Joe Satriani suite recreates three of Satriani's amps and cabinets, plus five of Joe's stompbox effects, all in one easy-to-use package. I was lucky enough to be sent a copy before release – so here is a quick look at what this box of tricks can do. And how do these sounds compare with the tones on the album recordings? Let's find out!
Surfing With The Alien
My first impressions of this new AmpliTube Joe Satriani were good. Installation on my Mac was easy, using the latest version of IK Multimedia's Authorisation Manager. From there I added the serial number and get this amp running within minutes.
AmpliTube Joe Satriani
The new Satriani set includes three amps and three cabs, along with five pedals to help you tweak those amp tones. The Satch VM is based on his signature Marshall JVM410HJS. Also included are the SJ50, a Peavey 5150 head, and the Boston 100, a recreation of the old Tom Scholz Rockman X100 amp sim.
These are accompanied by the Satch Green, a'69 Marshall speaker cab loaded with 4×12 20-Watt Greenback Celestion speakers. The Satch 60 is a Marshall 1960B cab with 4 x12 G12T-75 Celestion speakers. Last but not least comes the Boston Cab Sim based on the cabinet emulation section of the old Rockman X100.
You can easily tweak the cabs and how they are mic'd up within AmpliTube and this is an important element in tailoring the tones for your own tracks.
Joe's Effects
The five effect pedals are all pretty simple and perfectly suit this setup, they include a Satch Wah that is modelled on Joe's Vox Big Bad Wah, the Satch Distortion which is based on an old Boss DS-1, the Satch Overdrive again based on a Boss but this time the OD-1, a Tube Overdrive based on the Chandler Tube Driver with a 12AX7 in and the Satch Octave which is an Ultimate Octave, Octavia fuzz with a Fat / Bright switch.
The pedal emulations work really well. The factory settings are a good jumping off point to then go build your own patches. I particularly liked the Satch Distortion, which works well with lots of amps, not just the ones in this bundle. That Satch Octave is also a lot of fun and well worth messing about with.
Another positive: These pedals stack well. I also found they have lots of applications outside of this set of Satriani amps. My advice would be to use them elsewhere within AmpliTube, because the modelling is very well implemented.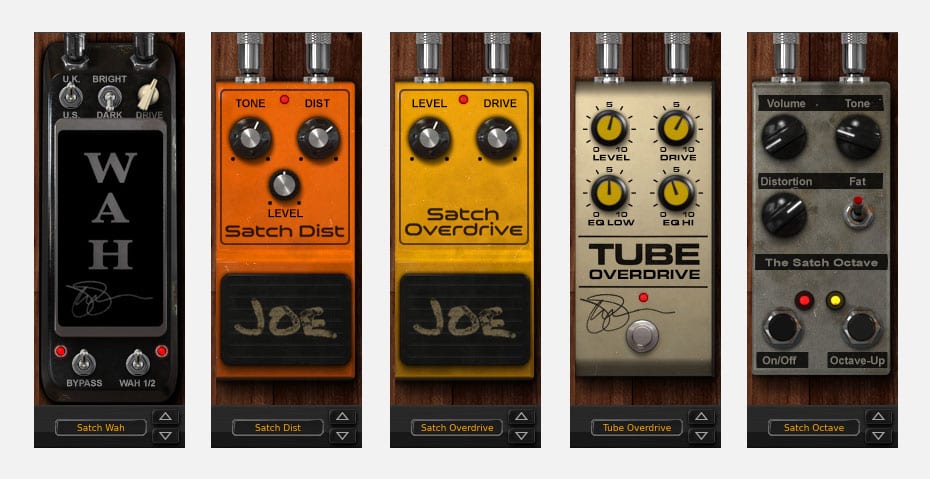 The A/B Test: Comparing with the albums
I A/B tested  the tones on the presets against the original recordings and IK has done a very good job of recreating some of those classic Satriani guitar tones. That in itself makes it worth the price of admission. For most of this review I was using my USA Peavey Wolfgang as it has a sustainer in the neck and a Floyd Rose. But I also used a few of my other super Strat guitars, including a Charvel SoCal with Seymour Duncans and an old late '80s RG550 loaded with DiMarzio pickups. The clarity was good across the board.
Weirdly enough, even with all those great Marshall tones, I really enjoyed slotting the Rockman X100 simulations into presets and building my own tones. I think many Satriani fans will enjoy the great note separation and clarity of many of the factory presets, even when they are boosted with the built-in effects.
IK states that it uses a technology called Dynamic Interaction Modelling. Whatever voodoo is in that code is doing a great job of making these pedals and amps sound natural within your DAW. I own a lot of the IK software already, having been a fan of their virtual amp tones for many years, even in direct comparison with the competition. You don't need to tweak them much, but if you do then it is super simple to achieve. For a Luddite like myself, this is a god send.
Value for money?
For the price you get a neat set of very nicely modelled virtual amps, cabs and effects. IK has thrown in some classic gear, plus a few oddities. Overall, this is a useful addition to your recording setup. Now factor in all the album track presets that are pretty much bang on, and it becomes a no brainier for Satriani fans.
You can also download a trial of the software from the link below. AmpliTube Joe Satriani runs on Mac and PC in 64-bit, either standalone or as Audio Units, VST 2, VST 3, AAX plugin formats.
RRP – EUR 99.99 plus tax
More Information
Video
Image Sources:
IK Multimedia AmpliTube Joe Satriani virtual rig: IK Multimedia
IK Multimedia AmpliTube Joe Satriani includes this little blue box based on theTom Scholz Rockman X100: IK Multimedia
Joe's cabs are mic'd and ready to go: IK Multimedia
Joe's Effects: IK Multimedia
Joe Satriani's virtual guitar rig: IK Multimedia