Developers supporting Ukraine with plug-in and instrument charity sales
Several hardware and software developers have started charity sale campaigns supporting the nation of Ukraine. Some are sharing 100% of profits, which is remarkable. We will be collecting and sharing links to charity sales in this post. These are a great opportunity for producers to help out and get something in return.
Note: There are NO affiliate links below. We are only spreading the word!
Sonuscore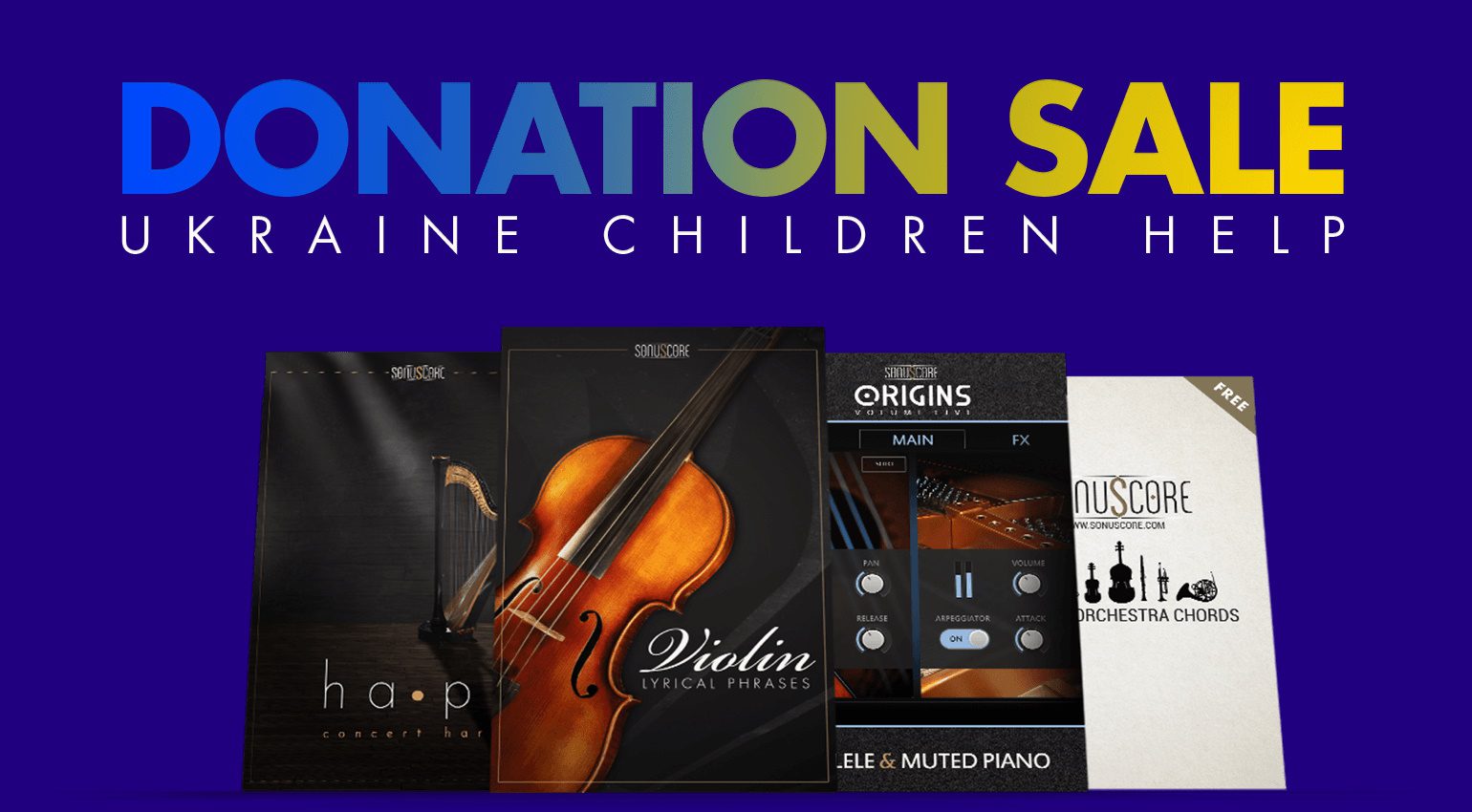 Sonuscore has announced the launch of the Spring Donation Bundle, a promotion on a collection of 4 Kontakt instrument libraries offered at a 95% discount in support of children in Ukraine.
Plugin Boutique
In solidarity with humanitarian causes, Plugin Boutique curated the United For Peace bundle offering products from Native Instruments, iZotope, Cableguys, and Sinevibes for EUR 30. All proceeds from sales will be donated directly to UNHCR.
A Sound Effect
A Sound Effect launched an initiative where everyone can instantly download 1000 premium sound effects for free with attribution, or buy the full (non-attribution) version for USD 10 (ex. VAT, 90% discount). All profits will be donated to the Red Cross in support of Ukraine.
G-Sonique
Anyone who sends G-Sonique a grant confirmation of any Ukrainian charity will receive free plug-ins. Send grants to contact(at)g-sonique(dot)com. More information along with the developer's statement is available on Facebook. You don't need to have an account to read it.
Erica Synths
Latvia's Erica Synths is donating all income (manufacturing costs and profit) to humanitarian aid organizations helping in Ukraine. The sale includes the following instruments – Black Digital Noise, Black Dual EG/LFO, Sequential Switch II & Snazzy FX – Mini Ark, Wow & Flutter, Tracer City.
As of March 9th 2022, the manufacturer raised and donated EUR 37 319.45 to humanitarian aid organisations in Ukraine. The process maintains full transparency in regards to what money goes where. What a fine bunch of humans!
LVC Audio
Developer LVC Audio generously offers 40% off site-wide along with a USD 10 discount code for purchases before 1 July. Half of all profits will be donated to help in Ukraine. Use the code MakeMusicNotWar at checkout. The coupon code is active till the end of March but it may be extended further.
Rast Sound
All net income from Rast Sound's Slavic Vocals library (recorded in Ukraine) goes for humanitarian crisis relief. The library is recorded with 2 female performers and offers a wealth of solo and duet performances, playable instruments, patterns, and phrase composer tools. Slavic Vocals is available in Kontakt and WAV formats.
Seed Audio
Seed Audio offers 10% off all libraries added to cart. 100% of profits gets donated to the Ukrainian Red Cross organisation through 31 March, 2022. Seed Audio sells preset and sound packs which sound quite a bit different from others you may have heard.
Triple Spiral Audio
Triple Spiral Audio is donating 100% of profits to the Red Cross and CARE (Ukraine Crisis Fund). During the fundraiser, you can checkout your order with just a guest account.
Audio Brewers
Audio Brewers decided to re-release its Limited-Edition '2021 Collection' library and give it away to whoever donates directly to the NGO. In their words, 'this is not a "revenue donation", we want NO MONEY from you and any distribution and bandwidth costs of the library will be on us.' Champs! Donations should be of at least USD 10.
Music benefitting Ukraine
Ever on point, Peter Kirn of CDM put together the king & queen of all articles about artists and musicians creating and releasing art in support of Ukraine. Be sure to check it out, it's a worthwhile read.
Image Sources:
SONU DonationSale2022: Sonuscore