Cesar Gueikian now officially Gibson CEO
Cesar Gueikian takes the helm
Cesar Gueikian is the new Gibson CEO. Gueikian succeeds James "JC" Curleigh, Gibson's president and chief executive officer since November 2018. What will this mean to the future of the US guitar brand?
11/07/23 UPDATE
Gibson has officially announced that Cesar Gueikian is now the CEO of the company.
Taking him from an interim role to the full role has now been decided by the company and could be a great move for the brand.
He also has some pretty famous supporters who have all chipped in with statements for his new position within the company.
"I can't think of a more natural fit for CEO of Gibson than Cesar Gueikian. He's one of if not THE smartest, most passionate Gibson guitar enthusiasts I've ever met, and he is a keen businessman; you can't go wrong.-Slash
"I can't believe how Cesar has transformed Gibson from a brand on its way down and out to the success it is today. He went out of his way to meet with musicians and take note of what we were saying, gathering a great team around him. It's now a company I'm proud to be associated with. Thank you, Cesar." -Tony Iommi
"When I first met Cesar, I was blown away by his knowledge and deep commitment to music. Truly, Cesar's soul drips with integrity and passion, and his dedication to Gibson's quality and legacy is beyond reproach. I feel very proud to know him. We have developed an amazing working relationship but beyond that, I now consider Cesar a close friend." – Adam Jones
Official Gibson statement
"I am honoured and humbled to take on the permanent CEO role! Gibson is a passion project for me. Our board of directors, chaired by Nat Zilkha, has been incredibly supportive over the last five years, giving me an opportunity to merge my biggest passion, which is not just music and guitars, but Gibson guitars with my business background, and I don't take this for granted" – Cesar Gueikian, President and CEO, Gibson Brands
Cesar Gueikian joined Gibson in 2018, merging his business background with his lifelong passion for music and guitars. He has been instrumental in the resurgence of Gibson, setting a successful new strategy centred around instruments and sound, relaunching the portfolio of brands, shaping a new portfolio architecture, creating Gibson Media, launching Gibson TV, and securing partnerships with Gibson artists to bring their music to the world​ and keep Gibson culturally engaged and connected to music.
Cesar Gueikian
Official Gibson statement below
Gueikian joined Gibson as chief merchant officer in 2018 and was appointed as brand president in 2021. In those roles, Gueikian has spearheaded pioneering solutions for brand momentum, product innovation, media evolution and artist relations. He has been instrumental in the resurgence of Gibson, setting a new strategy centred around instruments, sound and an expansion into media. He brings 20 years of experience as an entrepreneur, investor and financier, and a lifelong passion for music and guitars.
"We are transitioning to new leadership at a time of strength to ensure the company continues its momentum and is well-positioned to execute on its next phase of growth," said Nat Zilkha, chairman of Gibson's Board of Directors. "Cesar has played a huge role in the company's recent success, including securing critical artist partnerships and overseeing the evolution of many of our most iconic product lines, and the Board has full confidence in his leadership."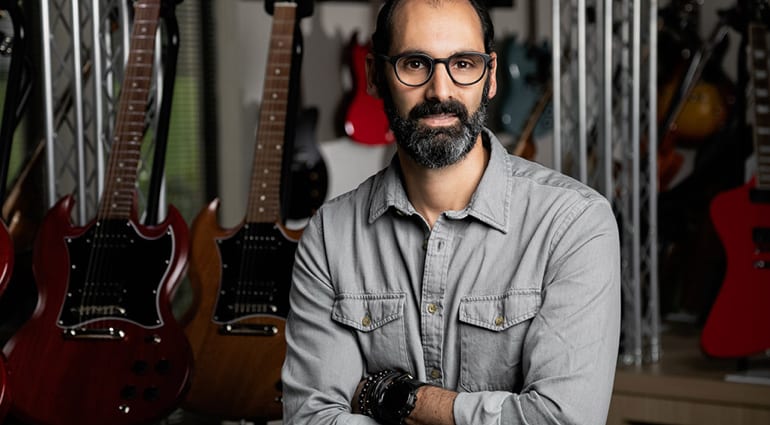 "I am honoured to take on this important role with a company that means so much to me," said Gueikian. "Gibson has shaped sound for the last 130 years, and we now have the opportunity to drive the future of music and touch people's lives for the next 130 years. We have an obligation to continue innovating across instruments, sound, and media and to continue inspiring fans and artists of all levels to create music. I look forward to working closely with our experienced senior leadership and team of incredible craftspeople to ensure the long-term success of the business."
Zilkha continued, "On behalf of the Board, I want to thank JC for helping to return Gibson to its status as an iconic brand over the last five years. We are grateful for his leadership and contributions to our partners, customers, and the music industry, and we wish him the best in his next chapter."
"It has been a privilege to lead Gibson, and I'm tremendously proud of what we accomplished as a team," said Curleigh. "I am ready for my next challenge and want to thank the Board and the Gibson team for the opportunity to guide this company. I look forward to seeing all they will accomplish in the future."
What does this mean for Gibson?
I would hazard a guess that this will be a positive move for the guitar brand. Because Cesar has created some great artist relations, plus he is very good at social media marketing. The fact he is also seen playing the guitar will be a huge positive for many customers as well.
Whereas, James "JC" Curleigh was known for being ex-Levis and hadn't really done anything music related, let alone guitar orientated throughout his tenure as CEO of Gibson. I reckon JC got Gibson back in ship shape after Henry Juszkiewicz pretty much destroyed the brand's reputation whilst he was in charge.
For me at least, Cesar is a good bet for the Gibson brand and I think he will do a decent job as the CEO.
More Information
Video
Image Sources:
Cesar Gueikian is the now officially the new Gibson CEO: Instagram/Gibson
Cesar Gueikian with new Gibson version of Richie Faulkner's signature flying V: Instagram/Cesar Gueikian
Gibson CMO Cesar Gueikian: Gibson
Cesar Gueikian teases Epiphone Adam Jones: Instagram/Cesar Gueikian
Gibson buys Mesa:Boogie. Cesar Gueikian, Randy Smith and James "JC" Curleigh: Gibson