Catalinbread Formula 51: Neil Young style Tweed Champ tones in a stompbox
5F1 Tweed Champ tone in a pedal?
The Catalinbread Formula 51 overdrive emulates a classic Fender Tweed amp drive tone. If you want Champ-like tones in a pedal, then this could be one to check out. If you fancy some Neil Young-like guitar tones, this could get you there.
Catalinbread Formula 51
This new Catalinbread Formula 51 pedal aims to capture classic Tweed amp overdrive and make it easier for you to access those vintage Fender amp-like tones. Without the cost and ongoing maintenance of a vintage 1950s amp.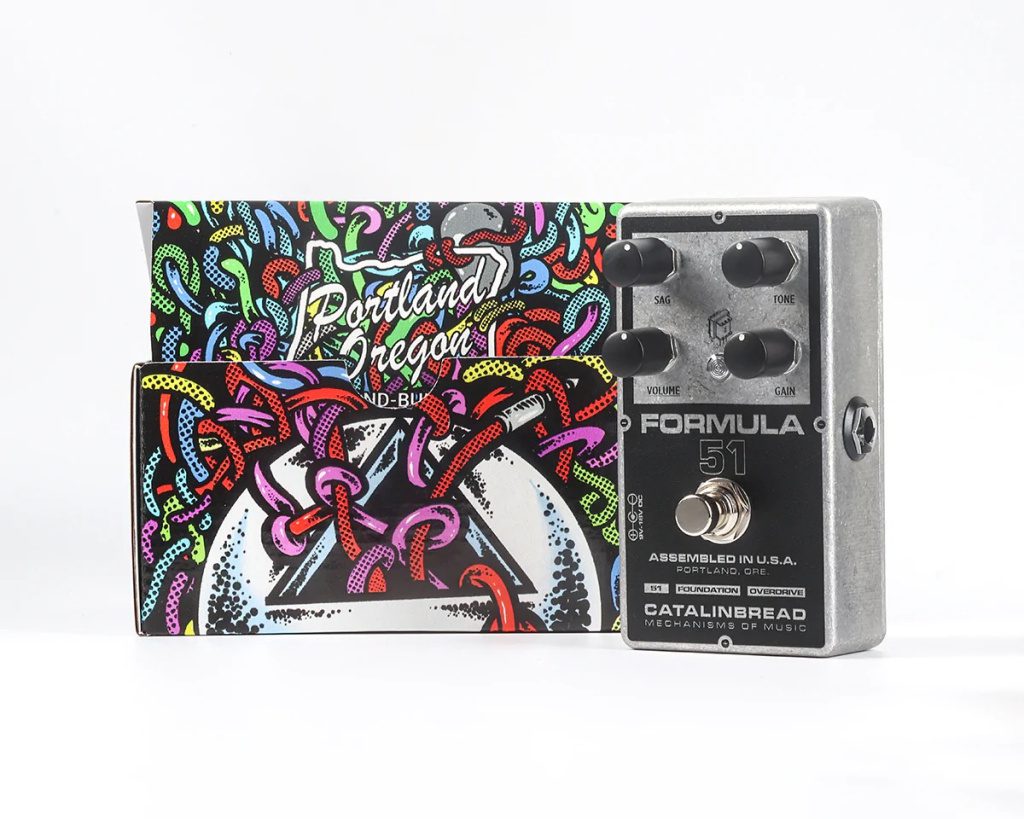 5F1 Tweed Champ
Those original Fender 5F1 single knob amps are now very sought after and many players associated that tone with Neil Young and so it is a popular tone for many musicians. That Tweed Champ amp tone is well known and having it in a pedal format is going to be desirable for many guitarists.
Simple Controls
The new pedal features controls for Sag, Tone, Volume and Gain, which gives you more control than the original tube amp itself. Though, I would guess to emulate a tube driven 1950s combo using an analogue circuit requires some hard work. Catalinbread has managed to squeeze in a preamp, power amp sim and an output transformer into the pedal design.
Therefore, having these extra controls makes sense, as tube amps react differently depending on how hard you drive them, how you bias your tubes and what power they receive from the mains. So having a Sag control makes a lot of sense to me, as does having a basic Tone control. Though, the tone control actually does a lot more than you might expect.
As the Tone control has a mid scoop control, the same as used in the Framus Cobra amp to create a mod that can scoop the Tweed mids to Blackface and later era Champ amp voicings.
This pedal can also be run at 9V or 18V for increased headroom.
New Look
Their Formula 55 Tweed Deluxe * and Formula 5F6 Tweed Bassman pedals have also been given a new look to match the Formula 51.
Overall, this new overdrive pedal, on paper at least, offers a lot of nice features. I would suggest that you check out the video demos below, to get an idea of what to expect.
I've always loved that Neil Young guitar tone that they captured on Weld and Arc Weld albums in the late '90s. I'm guessing that this pedal could get you there when set to more extreme settings.
MSRP – USD 179.99/GBP 151.55
More Information
Videos
* This post contains affiliate links and/or widgets. When you buy a product via our affiliate partner, we receive a small commission that helps support what we do. Don't worry, you pay the same price. Thanks for your support!
Image Sources:
Neil Young tone in a pedal?: Catalinbread
Catalinbread Formula 51: Catalinbread