Catalinbread Callisto MKII revamped analogue chorus
New updated analogue chorus
The Catalinbread Callisto MKII is an analogue chorus that borders somewhere between a chorus and flanger. All thanks to the pedal's versatile feedback control.
Catalinbread Callisto MKII
This updated Catalinbread Callisto MKII makes their all analogue chorus pedal into a more versatile modulation effect. The designers have kept the true analogue signal path of the original circuit. They have just tweaked the effect and it now seems to be more than just a chorus/vibrato.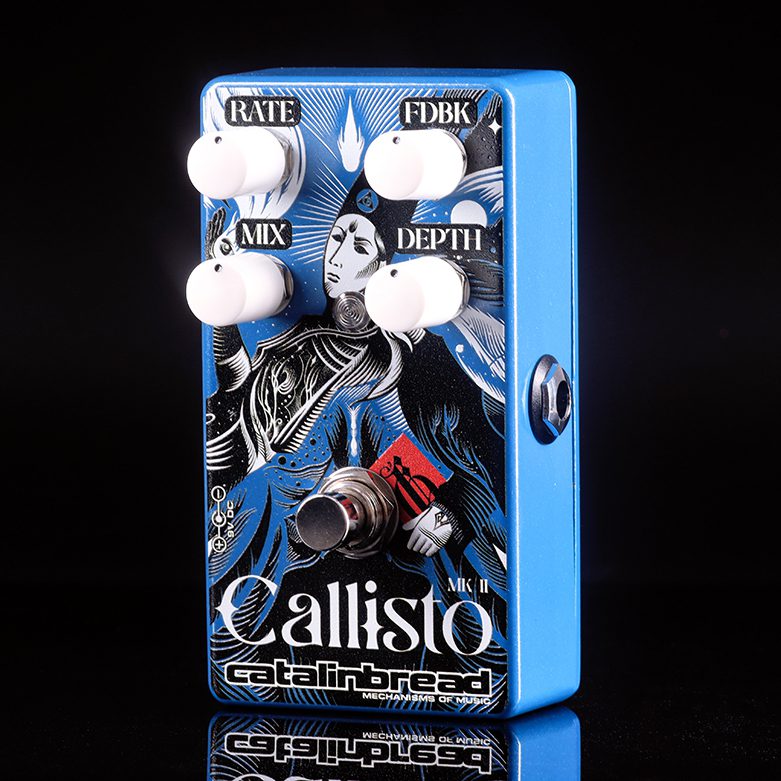 Updated analogue chorus
Analogue Chorus
The Mix control allows users to achieve a full 100% wet or dry signal at extreme settings.  It retains the Rate, FDBK and Depth controls, all of which you would expect from a chorus effect.
The Rate controls the effect's LFO speed. Clockwise for faster and counter-clockwise for slower LFO speeds. Then FDBK sends the modulated signal back into the input of the bucket brigade. All the way down gets a clean chorus sound, but turn it up if you want a more intense modulation effect, bordering on phase shift/flanger style modulation.
Finally, the Depth knob controls the amount that the wet signal is modulated.
The Callisto MKII accepts a 9V centre-negative DC power supply and needs at least 10mA of power.
Check out the video demos below to hear the new Catalinbread Callisto MKII in action. It has all the analogue sounds you would want and expect from a design such as this.
MSRP – USD 209.99 *
More Information
Videos
* This post contains affiliate links and/or widgets. When you buy a product via our affiliate partner, we receive a small commission that helps support what we do. Don't worry, you pay the same price. Thanks for your support!
Image Sources:
Updated analogue chorus: Catalinbread