Blacked Out:17 leading effects pedal brands partner to release 19 pedals!
Is this cool, or what?
So that's what the fuss was about! Earlier this week I wrote about the Instagram #BLACKEDXOUT campaign. Now 17 boutique effects pedal brands have partnered to release 19 pedals in a limited-edition, never-before-released  "Blacked Out" finish.
#BLACKEDXOUT
The Reverb store has 100 or less of each pedal. Some are pedals of a type the manufacturer has never made before, which kind of adds to the excitement. John Snyder of Electronic Audio Experiments says:
"It is an honor to have our work be a part of this shop—it's a group containing some of the finest creative minds in the musical instrument industry. Right now is a golden age for pedal makers and enthusiasts alike and we're thankful for Reverb, where we can all coexist and grow the industry together."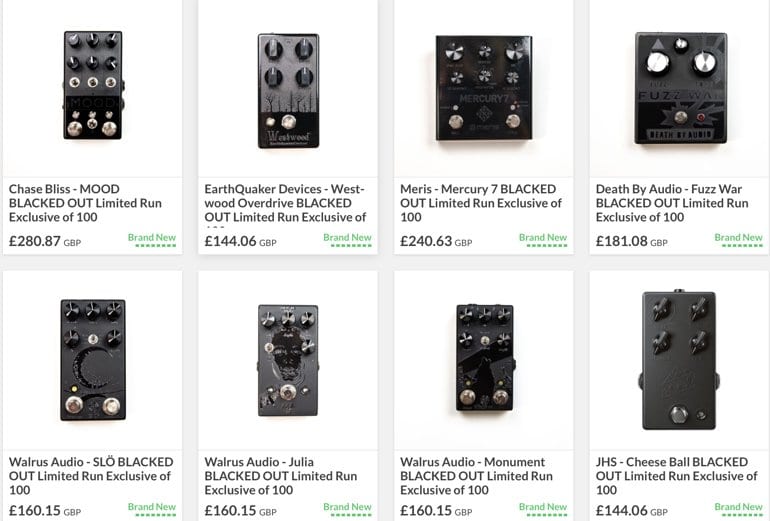 Reverb Blacked Out Store boutique pedal page
The list of pedals includes:
Death by Audio  Fuzz War (first-ever limited-variant release)

Land Devices / Farm Pedals No Masters (first-ever limited-variant release)

JHS Cheese Ball (first-ever limited-variant release)

Friedman BE-OD (first-ever limited-variant release)

Wampler Tumnus Deluxe (first-ever limited-variant release)

Caroline Guitar Company Somersault

EarthQuaker Devices Westwood Overdrive

Red Panda Tensor

Spaceman Polaris Overdrive

ZVEX Fuzz Factory Vertical 

Walrus Audio will be releasing three limited edition black pedals—the Julia, the SLO, and the Monument
Meris has released a limited edition Blacked Out Mercury 7 Reverb. A pedal  inspired by the 1982 "Bladerunner" soundtrack. Chase Bliss are releasing the  M O O D micro-looper/delay pedal.
Adventure Audio are introducing their new Fuzz Peaks II, a Twin Peaks-inspired take on the Russan Big Muff.
Old Blood Noise Endeavors  have announced the new Minim Reverb Delay and Reverse, a new pedal built from the foundation laid out by the company's Rêver pedal.
Blacked Out Limited Run
Of course, you will need to get in quickly or they will al sell out. I'd expect some of these to raise much higher values on the used market after the event as well.  It is a seriously limited run worldwide and so worth taking a look at.
I'll update you all with more details as they become available.
More Information
Image Sources:
Reverb Blacked Out Store boutique pedal page: Reverb