Best Synthesizers 2021: Top boutique, reissue, Eurorack and DIY synths of the year!
Which hardware synthesizer modulated your waveforms this year? Was it a vintage reissue, an up and coming boutique, or a workhorse synthesizer that took your fancy? Here are my favourites from 2021.
Best Synths in 2021
It's been quite a year for hardware manufacturers, many of whom have been dealing with component shortages and shipping issues in the midst of a global pandemic that affects both staff and logistics. However, we've still had quite a bunch of lovely sound-making machines emerge from the fog. Having a real-life Superbooth helped bring a focus to the latter half of the year and I think gave us all hope that getting together around our love of synthesis is something we'll be able to do more of.
This year, rather than trying to compare huge synths with tiny synths and decide which is best, I'm going to find the synths that best represent different aspects of our diverse genres and intentions. I was also lucky to get my hands on many of them. Is your favourite amongst mine? Let's find out.
Best DIY Synth
Building synthesizers is a whole area of music technology that I didn't imagine getting into, but I love it! While DIY is more prevalent in Eurorack you do find some intriguing and tempting kits for whole synthesizers. We saw projects like the TubeOhm Jeannie, Oskitone and the very impressive looking MSW-810 based on a Roland synth. But for me, the sweet spot was the delightful Dysphonia from Dreadbox.
Dysphonia is a perfect little modular synthesizer that has more interest and variation that you would normally find in a little monosynth. While it has a single oscillator you get 4 waveforms, 2 filters and 3 VCAs. Alongside the regular LFO and envelope, you get a digital modulator that can be all sorts of things. And it has a cool Echo module with some lo-fi crunch and a MIDI interface.
The build isn't difficult as it mostly involves the front panel pots and sockets but it's very satisfying. It can be a desktop synth, fully standalone or you can drop it into a Eurorack. It's versatile, sounds great and looks great. At €185 they sold out almost immediately but more stock has started to appear at some DIY stores.
Best Value Synth
Behringer usually corners the budget market with their cut-price synths but they haven't been able to get many new models to market this year. So, looking elsewhere I was impressed by the Sound Object #5 from Russian synth builders Sound Objects.
Sound Object #5 is a 2-oscillator analogue synthesizer with a Polivoks style filter and a very versatile modulation engine that massively increases the fun you can have with this machine. Everything seems to cascade into everything else routing the Sample & Hold back to the envelopes or looping the envelopes into the VCOs while modulating the fiercely exciting filter. You can even play the oscillators separately for some duophonic action with paraphonic articulation. It has a real groovy vibe to it and it's immensely enjoyable to play with.
Perhaps €350 doesn't really qualify as "budget" but I feel that you can get an awful lot for your money in this synthesizer and, Behringer aside, there's no better value synth around at the moment.
Best Digital Synth
There's a lot of interest in wavetable synths at the moment and that's something Waldorf hopes to capitalise on with the "M". But for me, it was Korg that really nailed the wavetable game this year with the Modwave.
Modwave follows the same format as the Wavestate and Opsix that Korg released last year and so it's a compact, cool-looking synth with lots of controls and buttons. This is all about movement, motion and modulation. Just surfing the presets you are dazzled with the way the sound moves and flips and bounces around in the most exciting ways.
You have 2 layers of synthesizer each with 2 oscillators running one of 200 wavetables or you can use the PCM sample content. All of it can be morphing and filtering, modulating and transforming. And then you have the Motion Sequencer which lets you animate everything for each step of a sequence and finally you have a Kaos Pad for throwing physics into the mix.
Modwave is a fabulous synthesizer.
Best Clone
The cloning or reimagining of ARP synthesizers seems to have become a bit of a synth-off between Behringer and Korg. Korg brings on board original ARP designers and engineers and you feel there's a certain reverence in how Korg builds its homage to the ARP originals. Behringer on the other hand seems to crash on in and builds perfectly judged replicas that everyone can afford. In both cases, according to people who have both and the originals – they sound about the same.
This year we've seen the very cool ARP 2600 M from Korg that brings the size down to 60% of the original while retaining the classy looks. While the €1,700 price tag is very welcome when compared to the full-sized version it's not a patch on the Behringer 2600 Gray Meanie and Blue Marvin at £545.
So, perhaps controversially I believe the new, enhanced Behringer clones are going to bring synthesizer joy to far more people than the Korg one will and while price isn't everything it is for that reason my vote goes to the Behringer 2600 variations. There's no doubt that the Korg comes with added kudos, some extra smugness and assurance of impressing anyone who walks into your studio but I can buy one of each of the three Behringer 2600 versions for the same price and that's no small thing.

Behringer 2600 Blue Marvin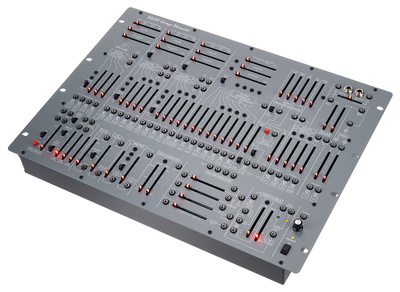 Behringer 2600 Gray Meanie
Best Boutique synth
I adore the work of Arthur Joly out in Brazil. There seems to be a constant rollout of evolutionarily interesting and classically built synthesizers from the workshop of Reco-Synth. This year there was the Mutuca which was closely followed by the Mutuca FM which did not throw in a bunch of digital operators but instead opened up the Mutuca to more modulation making it a peach of a 2 oscillator synth.
While there's nothing revolutionary going on in terms of synthesis, the physicality is constructed of pure joy. It's beautiful from the wooden case, to the VU meter, to the button keyboard, to the contrasting colour of the front panel and knobs.
It's just lovely.
Best Eurorack Synth voice
Eurorack tends to be more about parts of synthesizers but there are several modules out there that can act as a voice all by themselves. The Dysphonia is a good example that we saw earlier but in this case it has to be the simplicity and sound of the Poly Cinematic from Knobula.
Poly Cinematic is an 8-voice polyphonic synthesizer featuring 56 oscillators of virtual analogue waveforms. There are 3 sections of control with the envelope at the top in blue, the filter in pink and the oscillator in grey. The colours are strikingly unusual and to me at least very pleasing. While Eurorack usually deals in monophonic voltages the oscillators can be detuned into 5ths, chords and octaves in a deliciously thick form. But it probably gets more interesting once MIDI is involved. You can play it straight from a MIDI keyboard or store chords inside the module that can be select via CV.
It's playful, soft and versatile while being exactly what you want from a synth in a Eurorack environment.
Best Updated Classic
There had to be somewhere to get the Buchla Music Easel into this list and so I've invented the Best Updated Classic award. Although you could also include the Prophet-5 update and the Oberheim TVS Pro SE in this category.
The new Buchla Music Easel hasn't been seen anywhere outside Marc Doty's briefcase at Knobcon and then Superbooth so it has not become available as yet. It combines the new 208C Easel Command Module with a redesigned 218E keyboard with an integrated ribbon strip. There's a new input/output module that is stuffed full of features and includes patch saving. In the natty briefcase housing there's room for another module.
It's achingly cool and preorders were expected to open by the end of the year for $3,999. Hopefully, we'll get to see them for sale very soon.
Best Monosynth
I really liked Malevolent when we saw it at Superbooth this year. It's smart, funky, kind of punk-looking synthesizer that has a great rumble to it and is the sort of thing you wouldn't think twice about chucking in a bag and taking to a gig.
It's semi-modular with lots of patch points letting you push the sound of the 2 VCOs in all sorts of directions. It's got a mini keyboard, arpeggiator, a joystick for some live performance modulation action and a whole bunch of attitude.
We had hoped to see one for review by now but they seem to be still at the preorder stage.
Best Polysynth
Finally, the coveted spot of best Polysynth! It's the Sequential Take 5. Now, it took me some time to warm to this synthesizer because it initially felt a bit bland and the name wasn't very inspiring. And while I still think there were some lazy design decisions the sound and functionality of the Take 5 are winning fans all over the place. You've only got to watch the opening of Matt Johnson's (from Jamiroquai) video.
Like the Korg synths, it's compact enough to be nicely portable yet solid for a gig situation. And it has that Sequential sound of those 2 VCOs running through a Prophet-5 overdriven filter. It has a vintage knob that feeds in the instability of an old synth to keep a bit more character.
I think Sequential has pulled off a synth that isn't special, unreachable or exclusive. Rather it's a genuine Sequential analogue synthesizer that sounds brilliant, is built to last and for just over a grand is a realistic and achievable prospect for many.
Roundup
Did my choices line up with yours or are they all surprises? This past year at Gearnews we've aimed to bring you more reviews and first looks at products which gives us the opportunity to try these things out first hand. It definitely makes producing these lists easier and more genuine. Have a great festive season!