The 15 Best Selling Hardware Synths of 2019 by Behringer, Korg and Arturia
As we wrap up 2019, let's take a look at this year's best-selling synthesizers at Thomann, the European retailer. We've seen a few exciting new releases this year, from the Waldorf Kyra and Moog Matriach to the Ashun Hydrasynth and Modal Argon8. Not unexpectedly, these didn't make the list, whether it's because they haven't been out long enough, or they're just too expensive. It comes as no surprise that this list of best-sellers is dominated by inexpensive synths. Spoiler alert: one brand stands out above all the rest. Here are the 15 best-selling synthesizers of 2019.
When I received the data for this list, I was shocked and impressed at the same time. Behringer makes up no less than two thirds of the list, with ten synths in the top 15! To say that the company has succeeded in its endeavour to shake up the synth market would be an understatement. The main reason being, of course, that Behringer synths are among the cheapest you can buy. Many of them cost little more than a decent software synth. I'm torn – is that a curse or a blessing? What do you think? I honestly wasn't expecting this level of dominance. From a business perspective, it's hard to deny that Behringer has done a few things right in 2019.
For more info on the synths, clicking on the product name will take you to our original post for that synth.
Top 15 best-selling synths at Thomann in 2019:
Arguably Behringer's most original and interesting synth to date, the Crave impressed us at NAMM and finally arrived in October. I'm personally relieved to see this one at the top of the list, rather than one of their many copies of other synths. The Crave is a quirky semi-modular analogue synth with lots of patch points and a sequencer.
The Pro-1 took a little longer in the making than the Crave. After an initial glimpse at Superbooth 2018, it finally made it to the shops in autumn of this year. Unsurprisingly, it's an homage to, or clone of, the Sequential Circuits Pro One, with Curtis oscillators and filters. They've also added a sequencer / arpeggiator, as well as a decent number of patch points.
Behringer's 303 clone faces stiff competition from other remakes of the classic acid machine, but due to its unbelievably low price, it easily comes out on top. What's amazing is that the TD-3 has only been out for a few weeks, but that was apparently enough for third place. They've basically taken the TB-303 and added a distortion circuit to it. Acid on a budget? Here you go!
Ah, here's something else for a change. The Arturia Microfreak is an awesome hybrid synth which made its debut at NAMM 2019. It offers an extremely flexible digital oscillator inspired by the Mutable Instruments Plaits module. Add to that an analogue SEM-style filter, cycling envelopes and a sequencer, and you've got a 4-voice paraphonic synth with lots of character.
Arturia Microfreak at Thomann*
The K-2 is Behringer's take on the Korg MS20. They didn't bother to copy the MS20's form factor and keyboard (which is probably a good thing), but everything else is there. The semi-modular synth needs no introduction, really. It's got two VCOs, low pass and high pass filters, two envelopes and loads of patch points for modular fun. It's an MS20. Excuse me, a K-2.
The Behringer VC340 is of course a Roland clone, but if I'm not mistaken, it's actually the only analogue vocoder which you can buy new today, unless you want to build your own. Roland's own reissue is digital, as is the Microkorg's vocoder. So I guess the VC340 deserves its success in this niche market.
Getting tired yet? Here's the Behringer MS-1, another Roland clone. Behringer's version of the famous SH-101 was initially named MS-101, but was later renamed to MS-1. It's a monophonic analogue synthesizer based upon the 3340 VCO with four simultaneous waveforms, VCF, ADSR envelope, 32 step sequencer, arpeggiator. It even comes with the mod grip and strap!
Here's Behringer's version of the ARP classic. It costs about a third of the Korg ARP Odyssey with full-size keys, and includes a digital effects section and a sequencer. Does it sound as good? You decide.
The Korg volca drum is a unique digital drum and percussion synthesizer. It uses a six-part DSP synth engine, whose waveforms are folded and overdriven for added overtones and distortion. There's also a waveguide resonator effect. Add this to the volca beats and volca kick, and you've got a percussive trio with plenty of character.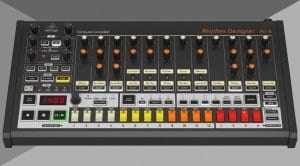 No, we're not done yet. It's no surprise that Behringer's 808 clone is a huge hit. In fact, I would have expected it to be higher on this list. It checks all the boxes: unlike Roland's own reissue, the RD-8 uses analogue circuitry. It expands on the features of the classic drum machine with an added analogue filter and wave designer. It's got 16 individual outputs on 1/4″ jacks. And it's dirt cheap.
It's a Behringer MS-1. A red one.
12. Black Market Modular Monomult black
This isn't a synth and must have slipped into this list due to a categorization error at Thomann. It may be useful nonetheless: It's a passive signal splitter with one input and five outputs (1/8″). Use it to connect your modular or semi-modular synths.
Black Market Modular Monomult black at Thomann*
The Korg Minilogue XD is a great improvement over the original Minilogue. It features the Prologue's hugely flexible digital multi-engine oscillator, which can be expanded with oscillator engines created by the community. It's also got a better sequencer and a new effects engine. And it's still really affordable.
The other one of this year's new volcas comes in fourteenth place. The Korg volca modular offers Buchla-style modular synthesis in a tiny box with even tinier patch cables. It's actually semi-modular, so you don't have to patch anything to get sound out of the synth. But patching is where the fun begins.
Korg volca modular at Thomann*
With the blue version of the Behringer MS-1 in fifteenth place, the red one in eleventh place and the black one in seventh, would the MS-1 be the overall winner if the three were combined?
What do you think? Are your favourite new synths of 2019 on the list? And did you expect Behringer's dominance to be so overwhelming? Let us know in the comments!
(*affiliate links)
Image Sources:
Behringer Crave : Behringer
Behringer Pro-1: Behringer
Behringer TD-3: Behringer
Arturia MicroFreak: Arturia
Behringer K-2: Behringer
Behringer Vocoder VC340: Behringer
Behringer MS-1: Behringer
Behringer Odyssey: Behringer
Korg Volca Drum: Korg
Behringer RD-8 front: Thomann
Behringer MS-101-RD: Behringer
Korg Minilogue XD: Korg
Korg Volca Modular patching: Korg
Behringer MS-101: Behringer